What are you looking for?
The Cosmopolitan Cardiff Food tour - a new tour on the Loving Welsh Food menu
"It's fabulous! A delicious and enjoyable experience and a fantastic gift!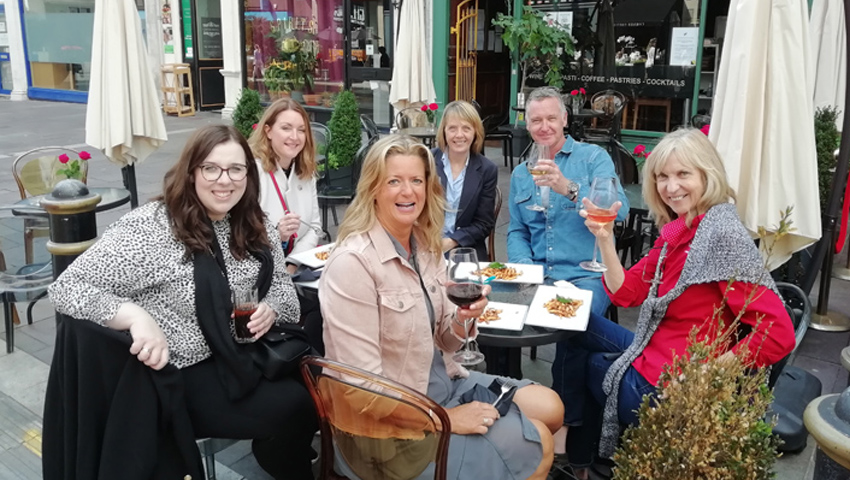 Every Friday from 1st October 2021
Meeting point: Cardiff Castle
10 30 – 15 30
From £62 plus booking fee
At long last, we're able to run our new food tour – the Cosmopolitan Cardiff Food Tour starting on the 1st of October 2021.  We're looking forward to showing our guests the amazing range of cuisines that we have in Cardiff. The variety includes Italian, Portuguese, Spanish, Indian, Thai … the list goes on and on.
During the Cosmopolitan Cardiff Food Tour, you'll enjoy samples of food from all over the world and find out about different dishes /tasters (including Welsh of course) in cafes, delis and restaurants dotted around Cardiff city centre.
As you walk from one venue to the next (at a very leisurely pace with a little time for shopping) you'll learn about Cardiff's varied and lively history, as well as getting the chance to admire the city's wonderful architecture and many landmarks. These include Cardiff castle, the City Hall and Principality Stadium (the home of Welsh rugby).
The Loving Welsh Food guide will share his/her stories with you and offer you a unique and personal tour of Cardiff. You'll also learn a few words of Welsh along the way.
Ideal for visitors and locals – the Loving Welsh Food gift vouchers are perfect gifts.
If you're not here on a Friday, private tours are available, in Welsh, French,  Italian, Spanish and German.
All of our tours run according to Covid-19 guidelines from the Welsh Government. We have been certified by the We're Good to Go Industry Standard.
All Loving Welsh Food guides have been trained regarding Covid-19 procedures and relevant health and safety measures.
Masks may need to be worn in some indoor venues according to Covid-19 Welsh Government guidelines or the venues' own requirements.
Guests must bring their own mask
Maximum number per tour – 10 people
We need a minimum of 4 people to run this tour. We will contact you 48 hours before it there is a likelihood of cancellation.
Choice of dishes vary according to seasonality. Venues vary according to the day of the week. Cancellations made three weeks prior to the scheduled tour date are fully refundable. Our tours run regardless of weather conditions – rain, hail or shine!
The Cosmopolitan Cardiff Food Tours are run by Cardiff-based company Loving Welsh Food – the first and only company offering food tours in Cardiff and the Vale of Glamorgan.  The company offers delicious, different and entertaining days out showcasing Welsh food & drink and providing an insight into Wales' food heritage, its people, culture and traditions.
Loving Welsh Food is run by Sian B Roberts. Sian has produced a range of Welsh cooking DVDs, "Coginio" (cooking in Welsh), and has worked for a number of years promoting Welsh food and drink.  Sian speaks Welsh and English, French, Italian, a little German and has a smattering of Japanese. Sian began her career as a Tour Leader in Europe, and Loving Welsh Food is now combining her experiences in tourism, the media and Welsh food Promotion.
Contact details:  sian@lovingwelshfood.uk
Tel no: 07810 335 137