What are you looking for?
CAFÉ CLOSURE
This weekend will be the last chance to come and enjoy the Castle Quarter Café, it will be closing for the final time on Sun, 18 October. The area will be open for a final foodie fix from 10:00 on Saturday and 11:00 on Sunday, with last entries at 18:00.
Thank you to everyone who has been to visit.
EAT AL FRESCO ON CASTLE STREET
Enjoy some of your favourite city centre eateries in the Castle Quarter Café, an outdoor dining experience set against the picturesque backdrop of Cardiff Castle.
We love this fantastic area as it gives city centre restaurants and cafes access to extra outdoor seating, so they can serve their tasty menus to even more customers.
All you have to do is order your food via Yoello and it will be delivered straight to your table, simple!
NO YOELLO. NO PROBLEM.
Anyone who has bought takeaway food and soft drinks, from any city centre outlet, can now also sit and eat in the café area.
Please note, no alcohol will be allowed in unless purchased with a food order via Yoello. All takeaway customers using the seating area must also participate in the track and trace scheme.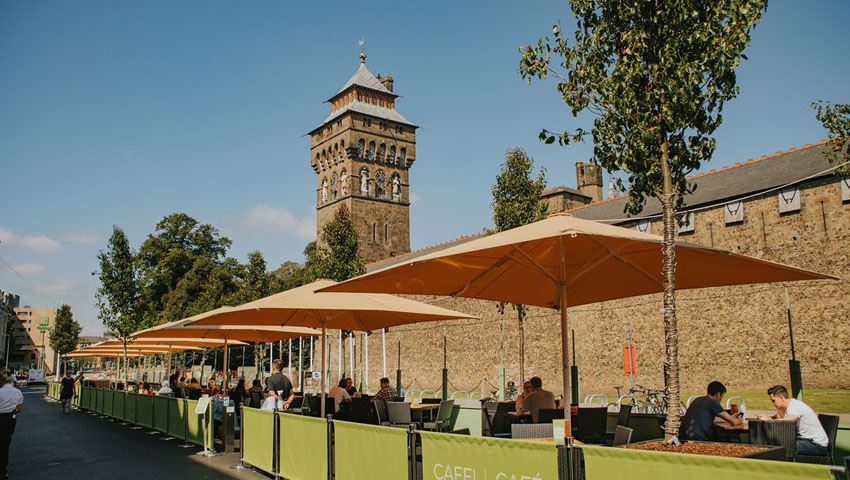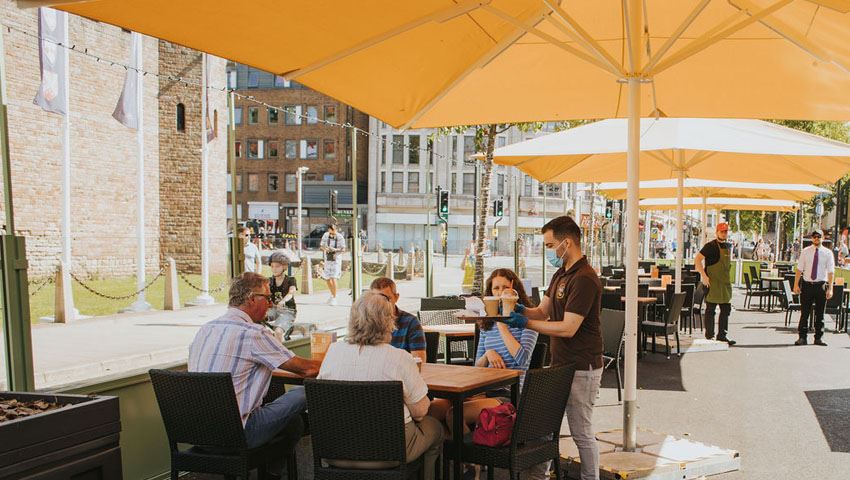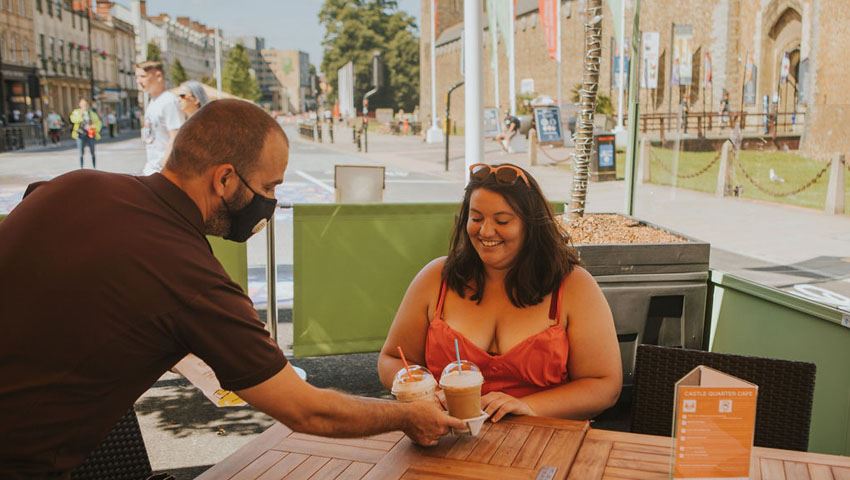 OPENING HOURS & ESSENTIAL INFORMATION
Sunday – Thursday: 11:00 – 19:30 (Last orders at 18:00)*
Friday – Saturday: 10:00 – 21:00 (Last orders at 19:30)*
How long can I stay? Up to 2 hours for Yoello orders, or 1 hour for takeaways.
What is the capacity? 240 covers
Where is the Location? Castle Street
*Please note in severe weather conditions the site may close early. Check this page for updates.
FREQUENTLY ASKED QUESTIONS...
Will I need to book in advance?
There are no advance bookings, so whenever you are ready grab your friends or family and head to Castle Street (maximum seating on a table is six). There are 240 covers arranged in tables for four or six, but if you want to come in on your own or as a couple just grab one of the tables for four.
Will I have to queue?
At busy times you may need to queue but when it's your turn, the host will direct you and your party to one of the empty tables. The facilities are wheelchair and pushchair friendly. The area is flat and chairs can be removed from tables to accommodate wheelchairs and pushchairs (please note, there are no highchairs available).
What types of food will be available?
Here's the fun bit! With plenty of the city's favourite eateries involved, you will be spoilt for choice – so whatever tickles your taste buds, take your time to browse the different venues and menus on your screen.
What about the weather?
Take a seat, and rest assured that the café has been designed with safety and social distancing in mind and our large patio umbrellas will protect you from too much sunshine or the occasional shower. For environmental and energy supply reasons there are no heaters on site. If it's a colder day why not bring a shawl or a blanket to relax with? We are unable to provide them due to risk of contamination.
Will there be toilet facilities?
Customer toilets are located in the clock tower car park and include a disabled toilet and baby change facilities.
Will dogs be allowed?
Dogs are welcome in the cafe area but must stay near their owners and be kept on a lead. Please note that it will not be possible for water bowls to be provided, due to hygiene concerns.
How will I place my order?
You will need to order via your smartphone. To start your order find the QR code sign on your table, open your smartphone camera (if using a Huawei, open the camera and tap the top left icon, then select code scanner) and scan the code – alternatively, click here and you can make your order that way.
We had hoped to offer an ordering service via on-site tablets but, due to the way that payment works and to ensure that we remain Covid compliant, this has not been possible.
How will I pay for my order?
Once you have chosen what menu you would like to order from, please take note of the wait time, and pay with a credit/debit card once you are happy. Though don't forget, if members of your party order from different businesses the orders will be processed separately and may arrive at different times.
Will there be a delivery charge?
If the merchant that you are ordering from delivers by rider then a £4.49 delivery charge will apply. If they are delivering on foot then no charge will apply. This information will be made available to you before you place your order.
Will there be a minimum spend?
There is no minimum spend unless you want to order alcohol. If you do want alcohol you will need to spend at least £10 on food. So if you just fancy a coffee grab a seat and go ahead, but remember, the area is designed to try and help businesses make enough money to survive the fallout around COVID-19 – so spend a bit more if you can afford to and feel good about helping your favourite restaurant through the pandemic.
Will there be an Eat Out to Help Out discount?
No, Eat Out to Help Out is only applicable where food and drink is sold for immediate consumption on a premises. As Castle Quarter Cafe is a takeaway service the scheme does not apply, even if the merchant that you order from is a participant.
Will there be hand sanitiser?
Hand sanitiser will be provided too and cleaning staff will be permanently based on site to keep the area clean and clear of packaging, used plates etc, although customers will be asked to take their waste to the recycling point on the way out.
Will I be able to properly social distance?
We know you are expected to stay two metres away from friends and family outside of your "bubble", so tables have separate chairs. You are responsible for your own social distancing with friends outside your 'bubble' in accordance with your group make up.
Will COVID-19 Track and Trace be in operation?
Castle Quarter Cafe will be participating in Track and Trace. A Track and Trace button will appear when you use the URL cardiff-castle.yoello.com or scan the table QR to access Yoello. Customers will need to click on that and fill out the short form before they make their first order. This will enable us to contact you and your group about any positive COVID-19 results which may affect you.
Will cutlery & drinkware be provided?
Sit back and relax until your food and drinks are delivered directly to your table. Everything you need will arrive with your order. All boxes, drinkware and cutlery will be compostable, so could be wooden or starch based.
What will happen to my rubbish?
Once you have finished, simply gather up your rubbish and visit our recycling/rubbish points. Please put your items in the correct bins; we have separate bins for recycling and non-recyclable waste.
We have asked all our partners to provide compostable packaging. This is reducing our reliance on single use plastic and it requires less carbon to produce in the first place. You will need to put this in the non-recyclable waste bin though. It will provide fuel for our Energy Recovery Facility and provide energy for 30,000 homes in the city.
WHO CAN I ORDER FROM?
Bru Coffee & Gelato

Bute & Co Coffee House

Bwyta Bwyd Bombai (3Bs)

The Coconut Tree

Dusty Knuckle

Eleven's Bar & Grill

FABurgers Ltd

The Grazing Shed

Heavenly Desserts
Keralan Caravan

Marco Pierre White's Steakhouse Bar & Grill

Mother Nature Cafe

Nata & Co

Queens Vaults

Subway

Wally's Deli & Kaffeehaus

Wiwo Noodle Bar

Wok to Walk

Zerodegrees Cardiff
TOP TIPS!
• Order everything together – As you have a two-hour timeslot, it's recommended that you order all food and drinks at the beginning in case you run out of time later on – and if you would like to order alcoholic drinks your party will need to make a £10 minimum food order and they will be operating a 'Challenge 25' policy.
• Make sure to check the wait times – The wait time for orders will be displayed by the app and some may have longer times than others, so if you are in a hurry try to choose a restaurant which can serve you in the time that suits you.
• Order everything from the same vendor – Ordering meals from different menus can be great if your party has varied tastes, but if you order and pay separately, they will arrive at different times. So why not order from the same place, and pay in one transaction? That way you can all eat together.
• Let the vendor know if you have any queries – We hope you have a great visit, but if there are any problems with your food please refer complaints back to the restaurant that you ordered from. Restaurant contact details will be provided via the Yoello App so if you wish to discuss anything or make a complaint they should be referred to the responsible restaurant.
CASTLE QUARTER CAFÉ BUSINESS SIGNUP
If your business is interested in selling food and drink in this space via the Yoello app then please click the link below and fill in the form on the FOR Cardiff website.
STAY IN TOUCH
Sign up to the Visit Cardiff E-Newsletter today for exciting Cardiff news, special offers, the latest content and more from VisitCardiff.com