What are you looking for?
WHO ARE FOR CARDIFF?
FOR Cardiff was previously called Cardiff's Business Improvement District (BID). They are a not for profit organisation with an ambitious plan to transform Cardiff city centre – making it more welcoming, vibrant and influential.
Below you'll find information about two of their exciting projects, City of Arcades and A Gift Card For Cardiff. Visit their website for more info.
CELEBRATING CREATIVES OF THE CAPITAL - VIRTUAL ART EXHIBITION
This St. David's Day, FOR Cardiff, Cardiff's Business Improvement District will be showcasing Cardiff's young creative talent in a big virtual art exhibition across their social media channels.
The creative industry was one of the hardest hit sectors during the pandemic and one that depends on venues being open and audiences to survive. For young creatives aged 18-25, it's been even harder. Getting their foot in the door and getting their name known in the industry is vital step in their career, but for many, this has been put on hold.
FOR Cardiff believe that culture is what makes Cardiff and so it's important to support the young creative community and its budding talent to make sure it can continue to be a cultural hotspot for years to come.
Working closely with Creative Cardiff, FOR Cardiff commissioned 10 young artists to tell their story of Cardiff through contemporary dance, song, illustration, textiles and more.
The online art exhibition aims to celebrate the diversity within Wales and shine a light on Cardiff's incredible young creatives on Wales 'Welshest Day'. Throughout February, FOR Cardiff will be posting updates on the young creators before revealing the final pieces along with the artists' Cardiff story on March 1st.
Join FOR Cardiff in 'Celebrating Creatives of the Capital' this St David's Day by following them on social media and visiting their event page.
A GIFT CARD FOR CARDIFF
'A Gift Card For Cardiff' caters to coffee lovers and vintage fashionistas, culture seekers and sports fans and any other shopper you can think of. The gift card is redeemable in over seventy businesses across Cardiff city centre.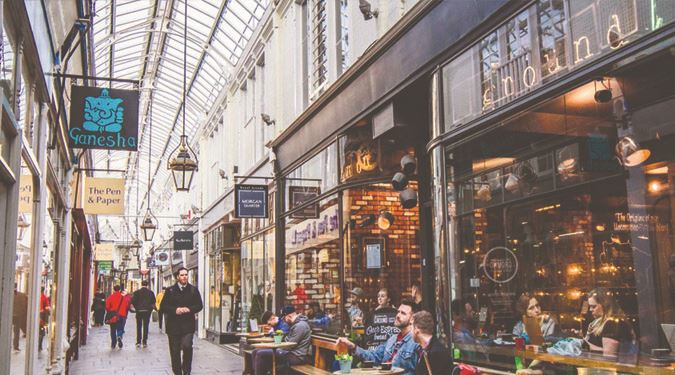 CARDIFF: CITY OF ARCADES
Cardiff, a city of castles and culture, where seven Victorian and Edwardian arcades nestle amongst the biggest names of the high street. Housing over 100 independent cafes, bars and shops right in the heart of the city, the arcades offer a truly unique shopping experience.
STAY IN TOUCH
Sign up to the Visit Cardiff E-Newsletter today for exciting Cardiff news, special offers, the latest content and more from VisitCardiff.com