What are you looking for?
Alpine Food & Drink
Event Info
Opening Hours
Monday – Friday: 12:00 – 18:00
Saturday – Sunday: 11:00 – 18:00
If you're in Cardiff this Christmas season and fancy a tasty treat to warm you up, then head over to the festive Alpine food and drink area on Castle Street.
Take a seat in your own Alpine ski hut, or picnic table, and order from a range of stalls using the Yoello app. Then sit back, relax, and the food and drinks will be delivered straight to your table.
In a hurry? The stalls also serve takeaways so, if you can't wait to hit the shops again – or you want to get away from the hustle and bustle and stroll around Bute Park, they are in the perfect location to grab a bite to eat or a hot drink.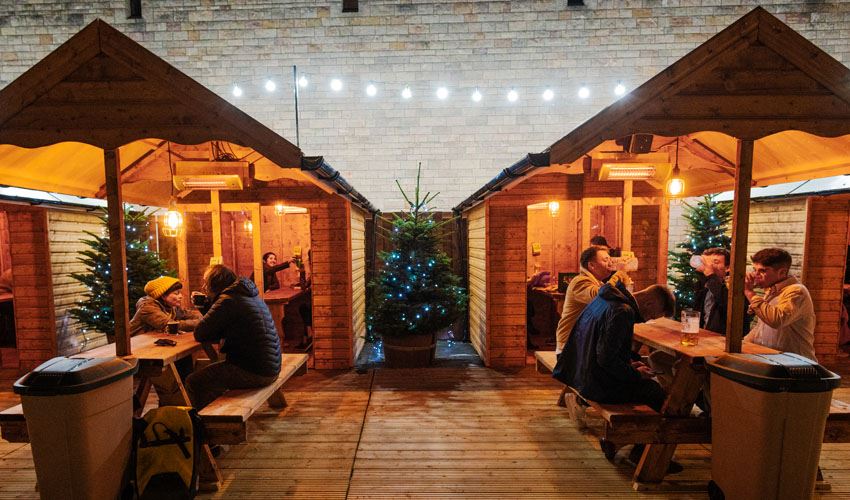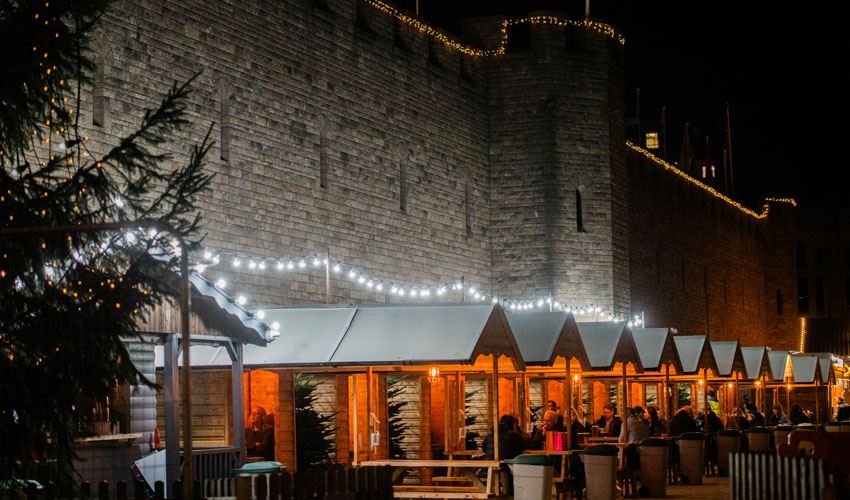 Please Note:
The Alpine Food & Drink seating area will be table service only, all food and drink must be ordered via the Yoello app, no external food and drink to be consumed in seating area.
Alcohol will not be served in the area from the evening of Friday 4 December, but you can still enjoy a range of hot and cold soft drinks.
Maximum capacity per table will be in accordance with current Welsh Government guidelines at the time. For more information visit our safety page.
Due to limited capacity, tables are available for a maximum timeslot of one hour to ensure area can be enjoyed by all.
Food And Drink Stalls
Frequently Asked Questions
Will I need to book in advance?
There are no advance bookings, so whenever you are ready grab your household and / or bubble and head to Castle Street.
Will I have to queue?
At busy times you may need to queue but when it's your turn, the host will direct you and your party to one of the empty tables. The facilities are wheelchair and pushchair friendly. The area is flat and chairs can be removed from tables to accommodate wheelchairs and pushchairs (please note, there are no highchairs available).
What about the weather?
There will be limited indoor seating inside your cosy Alpine ski hut. The Ski huts will have heaters inside them. If it's a colder day why not bring a shawl or a blanket to relax with? We are unable to provide them due to risk of contamination.
Will there be toilet facilities?
Yes, toilet facilities are available and are located within the grounds of Cardiff Castle.
Will dogs be allowed?
Dogs are welcome, but must stay near their owners and be kept on a lead. Please note that it will not be possible for water bowls to be provided, due to hygiene concerns.
How will I place my order?
You will need to order via your smartphone. To start your order find the QR code sign on your table, open your smartphone camera (if using a Huawei, open the camera and tap the top left icon, then select code scanner) and scan the code – alternatively, click here and you can make your order that way.
How will I pay for my order?
Once you have chosen what you would like to order you will pay with a credit / debit card. There is no minimum spend.
Will there be hand sanitiser?
Hand sanitiser will be provided and cleaning staff will be permanently based on site to keep the area clean.
Will I be able to properly social distance?
The ski huts are laid out with social distancing in mind but please remember that you are responsible for your own social distancing.
Will COVID-19 Track and Trace be in operation?
Yes. A Track and Trace button will appear when you use the app or scan the table QR to access Yoello. Customers will need to click on that and fill out the short form before they make their first order. This will enable us to contact you and your group about any positive COVID-19 results which may affect you.
Is there a smoking area?
there is a smoking area located just outside of the exit point.
STAY IN TOUCH
Sign up to the Visit Cardiff E-Newsletter today for exciting Cardiff news, special offers, the latest content and more from VisitCardiff.com