What are you looking for?
Christmas Festival in the Spiegeltent: The Christmas Cracker
Event Info
THE CARDIFF CHRISTMAS FESTIVAL IN THE SPIEGELTENT
The Cardiff Christmas Festival is a spectacular new entertainment attraction being staged inside a unique venue in the grounds of Sophia Gardens. Adding another unique offering to to Cardiff's Christmas Season, four incredible shows will offer something for everyone – Santa's Wish, Castellana, Welsh Of The West End & My My ABBA The Christmas Concert – and will be performed in the round, in the intimacy of a 570-seat Spiegeltent, promising in every second to transport visitors to a nostalgic and magical world.
WHAT'S A SPIEGELTENT?
A European Spiegeltent (or magic mirrors) is the ultimate cabaret and music salon. It is a hand-hewn pavilion used as a travelling dance hall, Bohemian entertainment salon and wine tasting marquee since the late 19th and early 20th centuries. They used to be the number one attraction at Belgian funfairs.
The tent is built from wood, cut mirrors, canvas, leaded glass, and detailed in velvet brocade. Each one is unique with its own name, personality, and style. Only a handful of these special and legendary tents remain in the world and The Fortuna, owned by Dutch company Van Rosmalen, is one of the most beautiful, playing host to some of the world's greatest performers and musicians.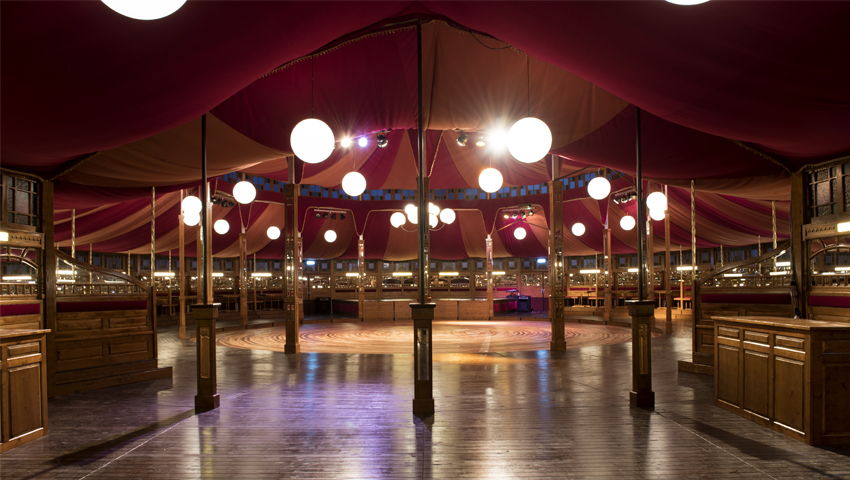 THE CHRISTMAS CRACKER
The line-up for The Christmas Cracker Comedy Night includes: The Raymond and Mr Timpkins Revue (UK Comedy Awards Comedian of the Year 2019); daughter of Burry Port Anna Thomas (BBC New Comedian of the Year 2021); the UK's foremost guitar-wielding and loop-layering stand-up comedian Rob Deering; brilliant Cardiff stand-up comedian and writer Leroy Brito; and TV and comedy festival star Jarred Christmas (Chortle Comedy Award Best Compere UK).
Our cheeky laughter makers will have you in stitches with their witty jokes, musical parodies and outrageous antics. Whether you're a fan of musical comedy, stand-up comedy or sketch comedy, you'll find something to tickle your funny bone at this amazing show which is in support of SHELTER Cymru and supported by HSBC UK.
Don't miss this unique chance to get up front and very personal in our magnificent Fortuna Spiegeltent, our stunning venue in Cardiff this Christmas that combines glamour and charm with a touch of magic and filled with hilarity.
STAY IN TOUCH
Sign up to the Visit Cardiff e-newsletter today for exciting Cardiff news, events, special offers, things to do and more from the Visit Cardiff team.