With the evolving situation with the coronavirus (COVID 19), and to get the most up to date information, please visit the venues and events specific websites or see our coronavirus (COVID 19) page for news and updates.
Welsh Mining Experience at Rhondda Heritage Park is currently closed to the public due to Covid 19. Despite being a very uncertain time for us all the community spirit remains positive.
This camaraderie and joining together has kept the cheery disposition of the Rhondda Valleys alive for many years during many a difficult time.
The Miner's Strike in 1984 and more recently Storm Dennis at the start of this year pay tribute to that.
Hard times definitely bring out the best in our communities and we appear to have an unconscious effort to join together in times of need.
Why not cheer up your day and check out our video of the site to see how coal mining kept the Valleys alive until coal production stopped in 1983.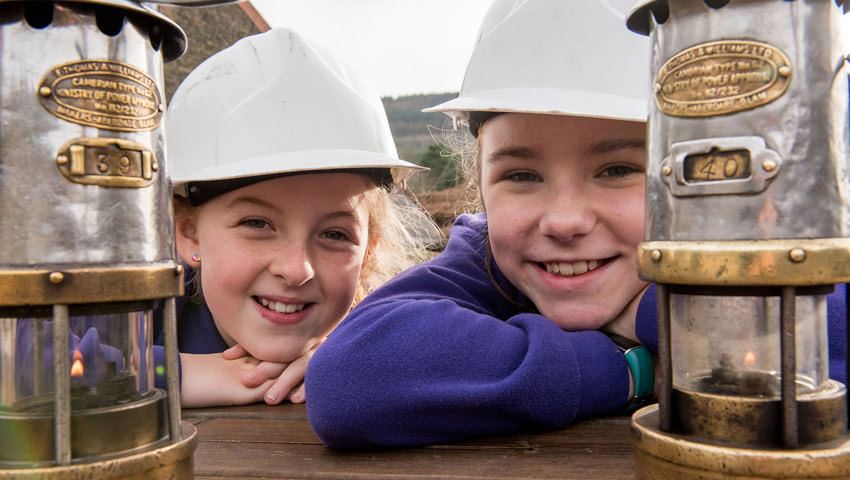 Come along and learn about the International story of Welsh coal and about the people who made it a global business.
Welsh Mining Experience at the Rhondda Heritage Park is a MUST to add to your tour Itinerary, where visitors can enjoy a unique experience at an authentic coal mine in the South Wales Valleys.
A living testament to the coal-mining communities of the world famous Rhondda Valleys, the popular family tourist attraction offers a fascinating insight into the rich culture and character of the area.
Former miners guide visitors on the Black Gold Experience, a 1 hour 30 minute journey around the colliery site. Nobody knows the coal industry better than our guides, and visitors will be enthralled at their tales of life underground  – Black Gold Guided Tour Experience of the last remaining coal mine in the world-famous Rhondda Valley, including both the surface tour and underground experience.
Black Gold Exhibition Area – celebrating the history of the Rhondda, its industrialists and the famous steam coal that was exported around the world.
Court Yard – taking in the breath taking sights of the last historic Chimney Stack, a sight which once dominated the Rhondda Valley skyline, along with original drams and mining equipment.
Visit the Trevor and Bertie Engine Houses and see the 150 year winding wheel still in operating, a testament to Victorian engineering complimented with new interactive audio video interpretations.
The Lamp Room – where visitors collect their miner's helmets, and descend on the underground experience to pit bottom.
Fan House, home of our Miners Strike Banner Collection
HELPFUL INFORMATION
The Black Gold Experience
Be amazed at our underground tour, take a virtual ride on Dram and more!
The Black Gold Experience provides visitors with a valuable and memorable insight into life as a miner in the Rhondda Valleys and there is so much to see and do during your visit to Rhondda Heritage Park.
Tours that last approximately 1 hour 30minutes but can be tailored to accommodate groups and their preferences. Tours can be offered outside of core opening hours upon request and subject to availability.
Reduced Group Tour Prices
One FREE tour place for the Group Leader
One FREE tour place for the Coach Driver
Maximum of 25 people per tour (for groups of more than 25 additional tours will be added)
Ample Coach Parking
Drop off point directly outside Visitors Centre
On site Cafe
On site gift shop
FREE tea or coffee and a hot meal for the Coach Driver. (provided by a voucher redeemable at Caffe Bracchi)
Please note however that due to the industrial nature of the underground experience it is not fully accessible to wheelchair users.
Offers are available for group bookings, with enhanced discounts available based on numbers attending and time of year booking.
Visitors Centre and Cafe can be opened outside of advertised opening hours with prior arrangement.
DRAM The Immersive Cinematic Experience .
New Chocolate House Experience and Craft of Hearts
Tickets & Prices
Black Gold Experience Underground guided tour Admission:
Adult – £6.95
Children – £5.75
Concessions – £6.25
Family of 4 – £19
For group bookings of 10 or more, please call 01443 682306
Food & Drink
Caffe Bracchi has a great new menu and look for 2019! Pop in for a cuppa or indulge in one of their delicious cream teas.
Caffe Bracchi is a tribute to the strong Italian influence still there in the Rhondda, more than a Century after the first migrants were welcomed to the valleys from the Bardi region.
Caffe Bracchi is on the ground floor of the Welsh Mining Experience and, in 2019, was taken over by the award-winning Chocolate House, offering a delicious range of hot and cold meals and snacks, as well as refreshments.
Shopping
Pop into the traditional Welsh Gift Shop and take home a special memento of your visit.
They stock everything from local interest books and cards to the more unique items which are synonymous with the Rhondda Valleys – such as coal sculptures and replica Miners' Lamps.
Packed with traditional toys, jewellery, ceramics, and much more, the Welsh Gift Shop is also stockists of traditional Welsh costumes and rugby jerseys, as well as seasonal gifts during the festive season.
Your 'One-Stop-Shop' for all things Welsh!
GETTING TO THE WELSH MINING EXPERIENCE
Public Transport
Take the Treherbert train from Cardiff Central to Trehafod (7 minutes' walk to Rhondda Heritage Park)
GET IN TOUCH WITH THE WELSH MINING EXPERIENCE
Email
RHPreception@rctcbc.gov.uk
Address
Lewis Merthyr Colliery, Coed Cae Road, Trehafod, CF37 2NP