What are you looking for?
Snakes take over National Museum Cardiff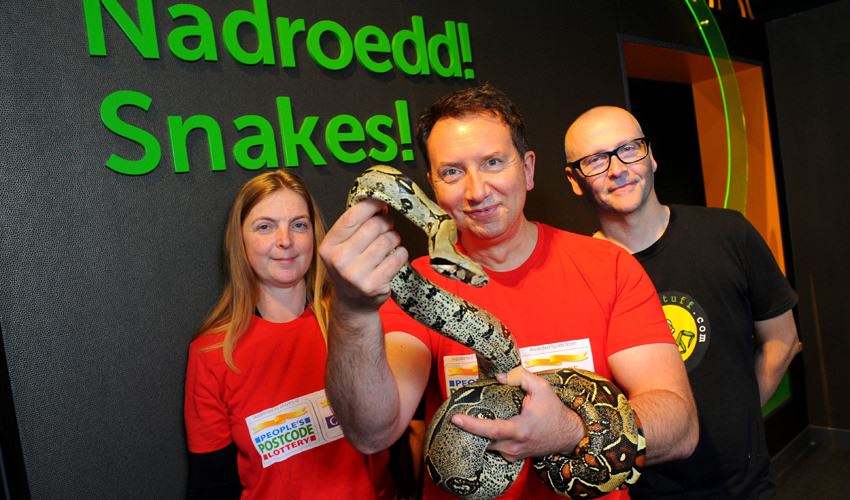 PRESS RELEASE
19 June 2019
Snakes take over National Museum Cardiff
Visitors to National Museum Cardiff are in for a surprise this summer as they can come face to face with a live boa constrictor or a royal python!
Amgueddfa Cymru – National Museum Wales invites visitors to discover the slithering, secret life of snakes this summer with this exciting new family friendly exhibition Snakes! which opens to the public on 22 June and runs to 15 September 2019 at National Museum Cardiff. The touring exhibition is created by Blue Tokay, with additional content from the natural sciences collections of Amgueddfa Cymru. The exhibition is supported by players of the People's Postcode Lottery.
Ever wondered how snakes capture their prey? Or how they adapt to live in water? Or why they shed their skin? Find out the answers and other slippery snake facts in Snakes!
Find out more about these extraordinary creatures in summer exhibition which delves into the captivating life of snakes, bringing to light their beauty, mystery and amazing story of where and how they live.
Visitors can come face to face with live specimens, including a boa constrictor and a royal python, learn about the importance of conservation and discover what life is like in countries where encounters with deadly snakes are a daily occurrence.
Objects on display include a Burmese python skeleton, preserved snakes and award-winning photographs of snakes from around the world. There will be fun interactive displays for all ages including snake puzzles and a quiz.
There will be snake handling sessions over the summer holidays where visitors can actually touch these beautiful creatures.
Janice Lane, Director of Gallery Experience, Amgueddfa Cymru, said: "We are so excited that Snakes! is coming to National Museum Cardiff. It's a fun exhibition and is the perfect place to entertain the children over the summer holidays. We look forward to welcoming all ages to learn about these amazing reptiles."
For more information and ticket prices go to
https://museum.wales/cardiff/whatson/10675/Snakes/
ENDS
For further information please contact Communications Manager Lleucu Cooke on 029 2057 3175 or lleucu.cooke@museumwales.ac.uk
STAY IN TOUCH
Sign up to the Visit Cardiff e-newsletter today for exciting Cardiff news, events, special offers, things to do and more from the Visit Cardiff team.