What are you looking for?
DIPPY THE DIPLODOCUS, THE UK'S MOST FAMOUS DINOSAUR CAST IS ON HIS WAY TO CARDIFF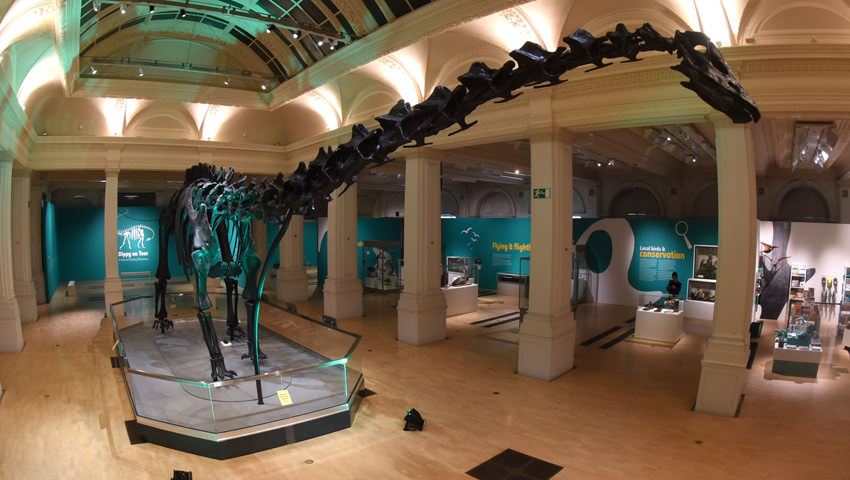 Dippy the Diplodocus is on his way to Cardiff after leaving the Hancock Museum in Newcastle where he has resided over the summer. Dippy will be on display at National Museum Cardiff from 19 October 2019 – 26 January 2020 as part of a UK wide tour.
Dippy on Tour: A Natural History Adventure has been brought about by the Natural History Museum, in partnership with the Garfield Weston Foundation and supported by Dell EMC and Williams & Hill, working with partners UK wide to tour one of its most iconic exhibits over three years. National Museum Cardiff has received the generous support of Admiral, Great Western Railway and John Lewis and Partners' Cardiff store in bringing Dippy to Wales. The support of all our partners makes it possible for families to come together to experience this once in a lifetime exhibition.
As part of a road trip across the UK, Dippy is venturing out of London for the first time since 1905. Dippy will visit National Museum Cardiff in the capital's city centre as his only stop in Wales – and he's on a mission to inspire five million natural history adventures, encouraging everyone to explore the natural history collections and biodiversity right on your doorstep in Cardiff.
As well as being able to marvel at Dippy, National Museum Cardiff visitors can visit the natural history galleries, taking a journey from the very beginnings of time to the present day in the Evolution of Wales galleries, coming face-to-face with amazing animals and more dinosaurs, including the Dracoraptor hanigani – the Welsh dinosaur discovered by brothers Nick and Rob Hanigan at Lavernock beach, just 8 miles away from National Museum Cardiff.
Dippy is cast from a near complete Diplodocus skeleton discovered in Wyoming, America in 1898. The specimen is made up of 292 bones and is an impressive 21.3 metres long, 4.3 metres wide and 4.25 metres high.
Pip Diment, Acting Head of Exhibitions – "We can't wait to welcome Dippy! We're all very excited here in the museum and look forward to hosting him in the grand hall of National Museum Cardiff. He's been extremely popular at all the previous venues and I'm sure it won't be any different here in Wales. Safe journey Dippy!"
For more information visit museum.wales/dippy.
VISITOR INFORMATION
STAY IN TOUCH
Sign up to the Visit Cardiff e-newsletter today for exciting Cardiff news, events, special offers, things to do and more from the Visit Cardiff team.