What are you looking for?
COME AND SEE DIPPY, THE ICONIC DINOSAUR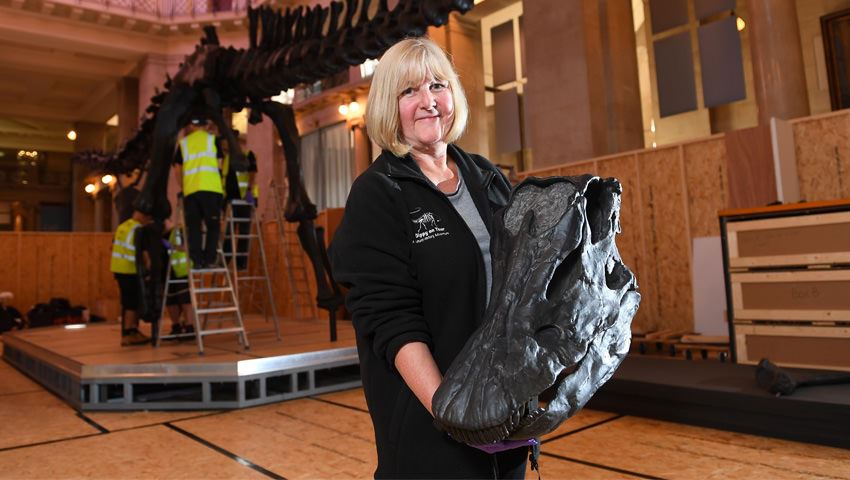 COME AND SEE DIPPY, THE ICONIC DINOSAUR, TAKING SHAPE AT NATIONAL MUSEUM CARDIFF
After travelling 315 miles from Newcastle, the Natural History Museum London's famous Diplodocus, has arrived at National Museum Cardiff. The awe-inspiring 292 bone structure is being delicately unpacked by a team of specialists who are tasked with piecing together the iconic dinosaur cast. Welsh audiences can watch the transformation from giant jigsaw to an impressive 21.3 meter long diplodocus take shape from the balcony at National Museum Cardiff.
Dippy on Tour: A Natural History Adventure, which opens to the public on Saturday 19 October is being brought to National Museum Cardiff and visitors across the UK by the Natural History Museum, London in partnership with the Garfield Weston Foundation, and supported by Dell EMC and Williams & Hill. National Museum Cardiff has received the generous support of Admiral, Great Western Railway and John Lewis and Partners' Cardiff store in bringing Dippy to Wales. The support of all of our partners makes it possible for families to come together to experience this once in a lifetime exhibition.
Dippy was transported to Wales in 16 bespoke crates, each carefully packed with the precious cargo. Natural History Museum conservator Lorraine Cornish, together with a small team of conservators and technicians from the museum, were emptying the final boxes as assembly of the giant dinosaur neared completion.
The Natural History Museum's Head of Conservation, Lorraine Cornish said:
We're so delighted to be able to tour Dippy around the UK and it has been a thrill to see the warm welcome he has received at each venue. Putting Dippy together each time is a wonderful challenge , with 292 bones fixed into 86 parts he is like a giant 3D dinosaur jigsaw that takes great care and precision to complete. Our skilled team are now hard at work preparing Dippy to meet his Welsh audience on 19 October.
With two thirds of his journey behind him, the iconic dinosaur will be in Cardiff until 26 January 2020 and is free to visit. Before the tour, which has already delighted record-breaking numbers of visitors at five previous venues across the UK, Dippy had never been on public display outside of London. National Museum Cardiff is the only Welsh destination on the tour.
Amgueddfa Cymru – National Museum Wales' Head of Palaeontology Dr Caroline Buttler, said:
"One of my earliest memories was being taken to London to see the Diplodocus at the Natural History Museum. I had seen it on TV and had been amazed that such huge animal had once existed. It didn't disappoint and it doesn't now! I still have the black and white postcards I bought then to stick in my scrapbook.
I don't think my six year old self would have ever imagined that she would become a palaeontologist and one day would be welcoming that same skeleton into the place where she worked!"
"I'm sure our visitors here will be equally amazed and inspired!"
Dippy on Tour is on a mission to inspire five million natural history adventures and encourage families to explore nature on their doorstep.
Garfield Weston Foundations' Director, Philippa Charles said:
"We are delighted that Dippy has now arrived in Wales at the National Museum Cardiff and is in the safe hands of the talented team that will be assembling him over the next few days. We know he will continue to amaze visitors in Wales as he has done at his previous five venues, and inspire everyone to explore the nature on their own doorstep."
National Museum Cardiff will have an exciting programme of events for Dippy on Tour. Visitors will be able to marvel at Dippy, visit our natural history galleries, taking a journey from the very beginnings of time to the present day in the Evolution of Wales galleries, coming face-to-face with dinosaurs and other amazing animals along the way.
For more information visit museum.wales/dippy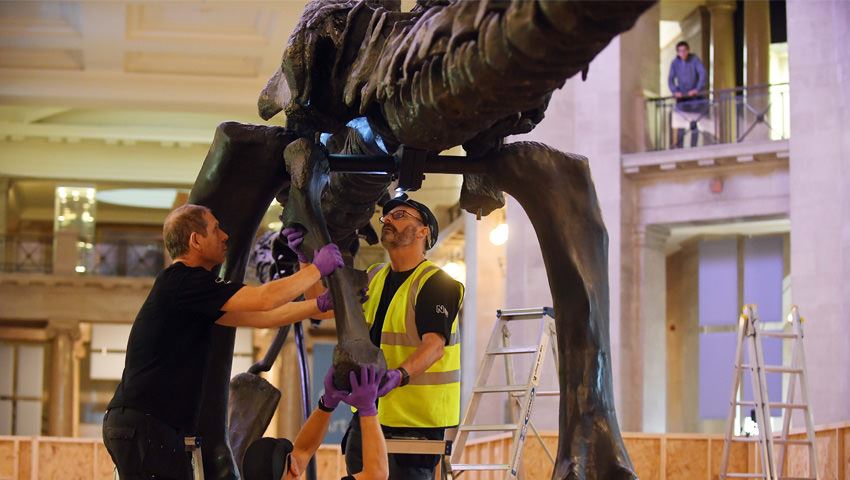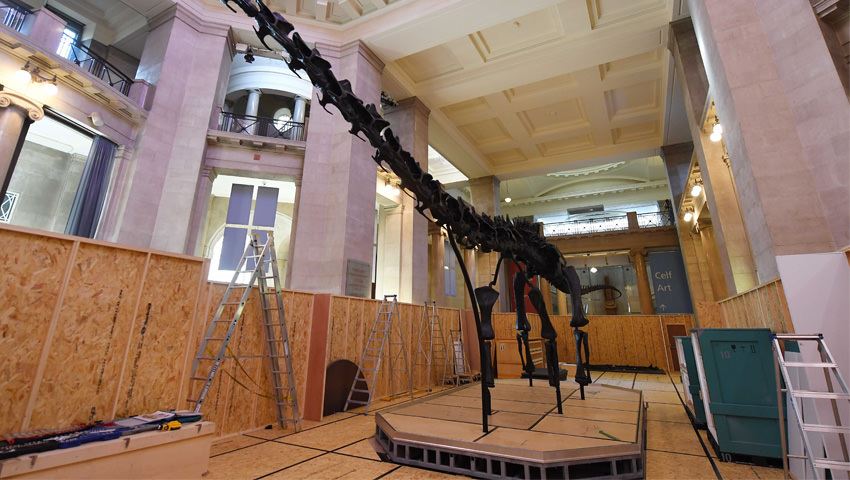 VISITOR INFORMATION
STAY IN TOUCH
Sign up to the Visit Cardiff e-newsletter today for exciting Cardiff news, events, special offers, things to do and more from the Visit Cardiff team.