What are you looking for?
VEGAN GUIDE TO CARDIFF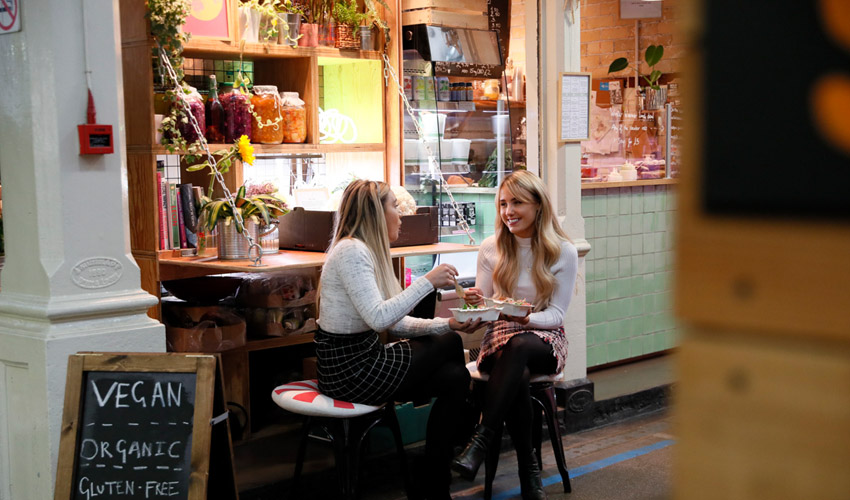 January is the time to give up bad habits and foster new healthier ones. If you are going vegan for the month and giving veganuary a go, our vegan guide to Cardiff will help.
Whether you've been vegan for years, are giving it a go for January, or you're a foodie looking to explore some of the city's ethical eateries and hipster hang-outs, we've put together an extensive list of all of the best plant-based places in Cardiff.
The Greenery
15-17 Central Market
Located in the heart of the city centre amongst the hustle and bustle of Cardiff Central Market, you will find The Greenery serving up honest, healthy, and natural fast food, as well as CBD infused food and drink. Expect CBD Slushies, freshly-pressed juices, wholefood bowls, soups, sandwiches, and Kimchi loaded fries.
Perfect for a light lunch or hangover cure.
Crumbs
33 Morgan Arcade
Crumbs Kitchen is known for having one of the best salad bars in Cardiff. Mix and make your own great small or standard salad bowl, or enjoy one of their vegetarian or vegan friendly soups, curries or chilli. You'll find this little gem right in the heart of the city centre in the Morgan Arcade. It has recently been taken over by new management and now has a fresh new look.
Anna Loka
114 Albany Road
The origin behind the restaurant's name tells you everything you need to know about the ethos of the business and the owner. 'Anna Loka' comes from the Sanskrit 'Anna' meaning food or health, and 'Loka' meaning world or planet. The restaurant opened its doors in 2015 after Hare Krishna monk and vegan Adam saw the need for a new restaurant which serves simple, seasonal and delicious vegan food. According to their website "our mission, quite simply, is to offer compassionate food choices without compromising on quality or taste!" From wholefood bowls to rodeo burgers, Anna Loka has something to suit all tastes.
The Grazing Shed
Barrack Lane, city centre; Morgan Quarter, city centre & Viola Stadium, Cardiff Bay
The Grazing Shed is home to some of Cardiff's best burgers and they cater for everyone, including vegans. As well as chicken and beef burgers, the Grazing Shed's menu offers five different vegan burgers to choose from, making it one of the best places to head to if not all of your gang are #VGang. Oh and did we mention local celebrity and BBC Wales's 'Dirty Vegan' Matthew Pritchard has his own burger on the menu? We recommend you try it, after all he is the Cardiffian with the plant-based cooking show.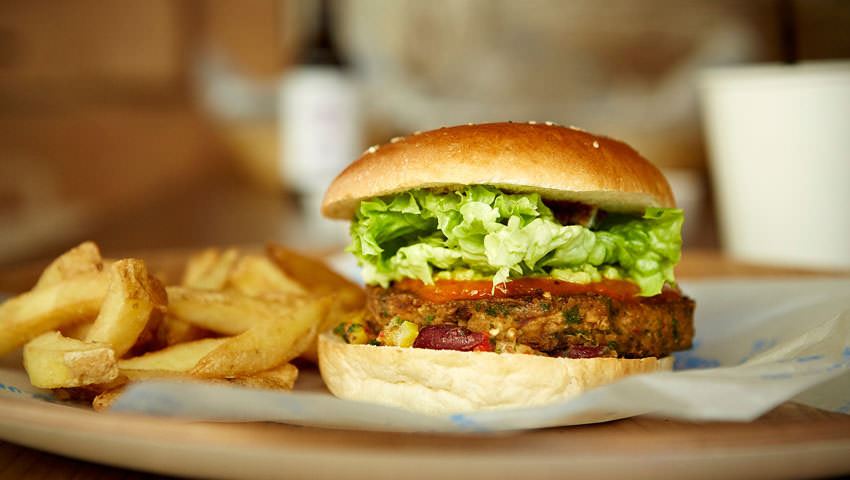 Lazy Leek
Kings Road Yard, Pontcanna
The Lazy Leek is a local family-run business, which specialises in vegan street food using locally sourced, ethical produce. The Lazy Leek 'Shack' is where you will find them located in Pontcanna, offering wholesome plant-based burgers and fantastic sides. Who said fast food has to be junk food?
Blanche Bakery
16 Mackintosh Place
Blanche Bakery is Roath's vegan hangout spot and workspace. Blanche Bakery has made huge waves since opening in 2018 and were The Food Awards Wales 2018 finalists. The artisan bakery specialising in small-batch vegan doughnuts, speciality coffee, and brunch is open 12pm – 6pm, but we would recommend getting there early, as they often sell out before the day is up.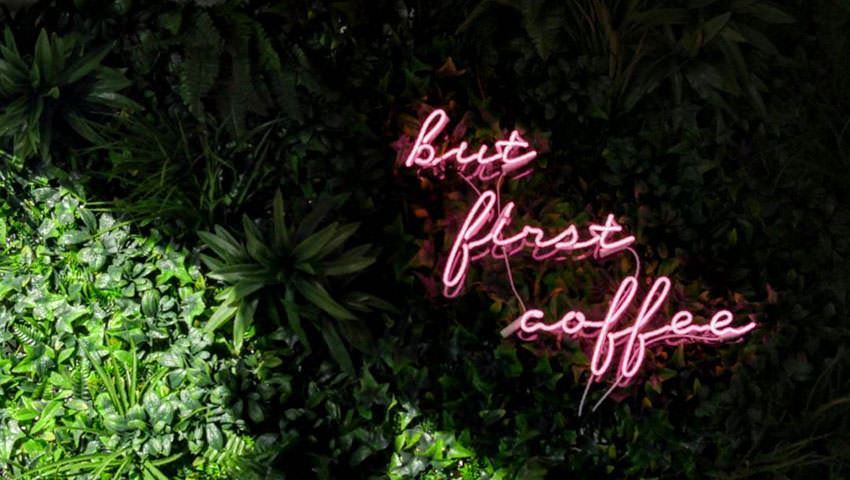 Wild Thing Café
104 Clare Road
Wild thing are a plant based café with social goals. To get more people eating veg, to reduce environmental impacts, and to fight food poverty. They serve and all day brunch menu and are well known for their creative and Instagram-able pancakes.
Eartha
213 City Road
Eartha is a plant shop and vegetarian café rooted in the vibrant and bustling City Road, Cardiff.
A hidden oasis close to the city centre, the business was realised in order to create greener spaces for the community whilst promoting sustainability, working with local independents, makers and growers. Out the back you will find a yurt and a sheltered garden area.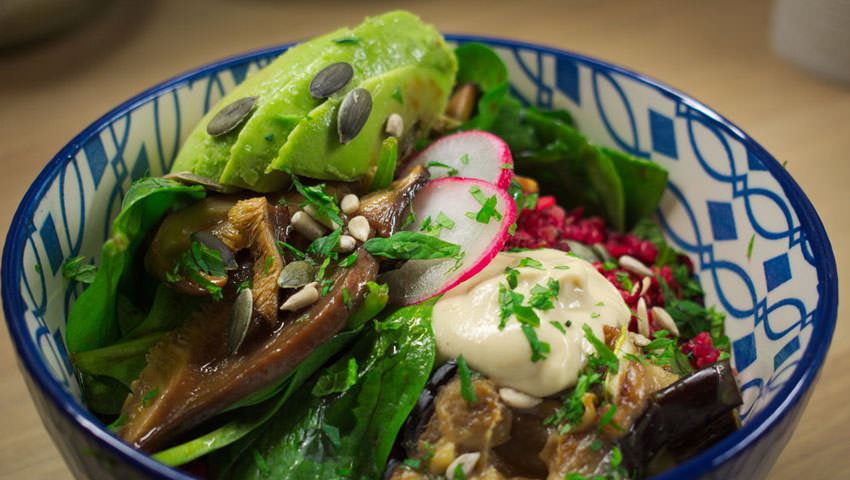 Vegetarian Food Studio
Penarth Road
The Vegetarian Food Studio is run by head chef Neil Patel and uses fresh vegetables, herbs and spices to make unique and authentic Indian dishes to suit all tastes. They also have a great range of Indian sweets all made by hand in house for those of you with a sweet tooth. Open Tuesday to Sunday, The Vegetarian Food Studio can be found on Penarth Road.
Tiny Rebel
25 Westgate St
Tiny Rebel have established themselves as one of Wales's best indie breweries and it's not just what they have on tap that's tasty. It may come as a surprise to some, but Tiny Rebel has some really strong plant-based meals and bar snacks on the menu. If you're just popping in for a few pints of 'Cwtch' then we recommend their vegan wings – you can chose form nine different sauces. Looking for something more substantial? You're in luck: they have five other vegan menu items to choose from including subs, burgers and pizzas.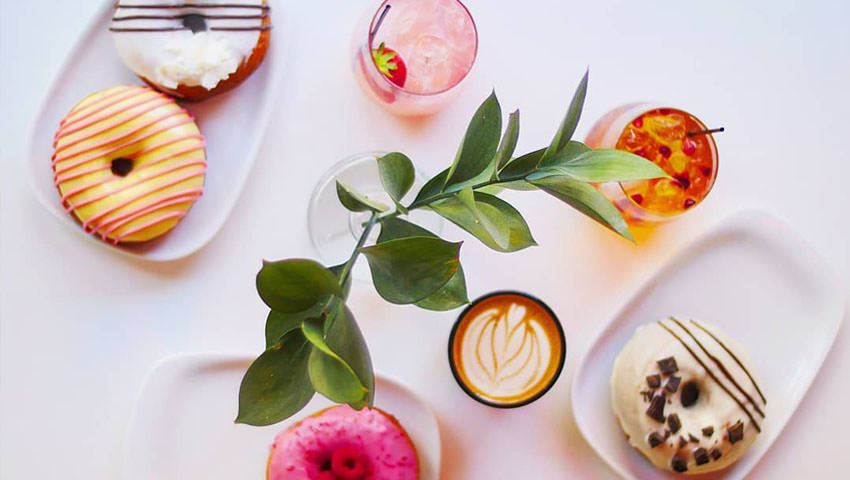 DIRT
Pop-up restaurant
DIRT has been popping up all around Cardiff, making restaurants such as Dusty Knuckle in Canton their home for the evening. This exclusive and exciting dining experience is one for the foodies amongst you. Their last event saw them plate up a six-course vegan menu using seasonal and locally sourced products that will make your mouth water. Follow them on social media to find out where they will be popping up next.
Clancy's
Central Market
Also located in Central Market is the father and son owned Clancy's. As well as selling an extensive range of spices and herbs Clancy's also stocks a wide range of vegan and veggie goodies from smoked paprika halloumi slammers and lentil balls to alternative takes on British market classics such as sausage rolls and scotch eggs. We recommend you try their dhal and naan bread, a perfect winter warmer.
Café Atma
Capitol Shopping Centre
If there is one thing that the Visit Cardiff team has discovered while researching Cardiff's vegan food scene, it's that you can trust Hare Krishna monks to rustle you up something scrumptious. Café Atma is a conscious living lifestyle lounge. As well as providing delicious Indian food, it also hosts wellbeing evenings including mantra meditation, talks on self-realisation and a two-course vegetarian meal, all for a £5 donation! Atma's mission statement is to satisfy the bodies, minds and souls of the people of Cardiff and we think they are doing a great job at it!
Greazy Vegan
47-49 Castle Arcade
For those of you giving #Veganuary a go, we get it; there can be a lot of new strange ingredients and flavours you're not used too – what even is chai and who even eats flax seeds and nutritional yeast anyway? Thankfully, Greazy Vegan gets it too. Sometimes you just want dirty fries or a doner kebab! Is this really too much to ask for? We recommend trying their 'Big Moc' (their own take on a big mac) if you're a burger fan or our personal favourite, their southern fried 'chickun' strips.
STAY IN TOUCH
Sign up to the Visit Cardiff E-Newsletter today for exciting Cardiff news, special offers, the latest content and more from VisitCardiff.com