What are you looking for?
Plan Your Visit To Cardiff At Christmas
All of Wales is currently in a national lockdown at alert level 4. Please do not visit Cardiff at this time.
2020 has brought a lot of challenges and changes to the way we live our daily lives in Wales, as well as to how Cardiff City Centre operates. Visit Cardiff and local authorities have been as busy as Santa's elves this year, carefully planning, and working so that Christmas in Cardiff goes ahead; while ensuring everyone is kept safe this festive season.
Why do you need to plan your visit to Cardiff?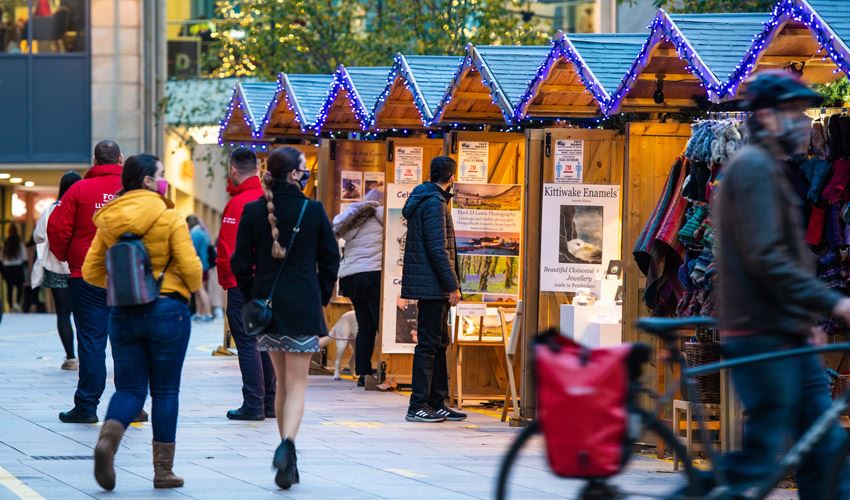 It's important that you plan your visit to Cardiff City Centre in advance, and think about how you will travel, and what venues you would like to visit.
One of the main reasons is that shops, restaurants, cafes and bars are all working at limited capacity to ensure that social distancing can be maintained.
Also, as Cardiff is one of the most popular Christmas shopping destinations in the UK, at peak times such as weekends we are seeing queues for popular highstreets outlets.
Don't forget these essential items…
A face mask -We all know that wearing a face covering inside is now a legal requirement in all public indoor spaces, but for a safe Christmas in Cardiff we recommend wearing one outside as well, particularly in queues or if social distancing is difficult. Obviously, you can take it off if you're enjoying a mulled wine and a speciality sausage from the Festive Quarter.
Hand sanitiser – Although there are hand sanitising stations at the entrances to the majority of city centre businesses, it is a good idea to carry your own bottle of hand sanitiser with you at all times to ensure you can clean your hands regularly .
A form of identification – Some restaurants, cafes and bars are asking to see a form of identification for track and trace purposes, though in most case it can just be a credit/debit card.
Proof of address – If you are planning on having a meal with 5-6 people from your household you will be asked to show a form of identification and proof of address to prove that you are all members of the same household.
When do you plan on visiting Cardiff?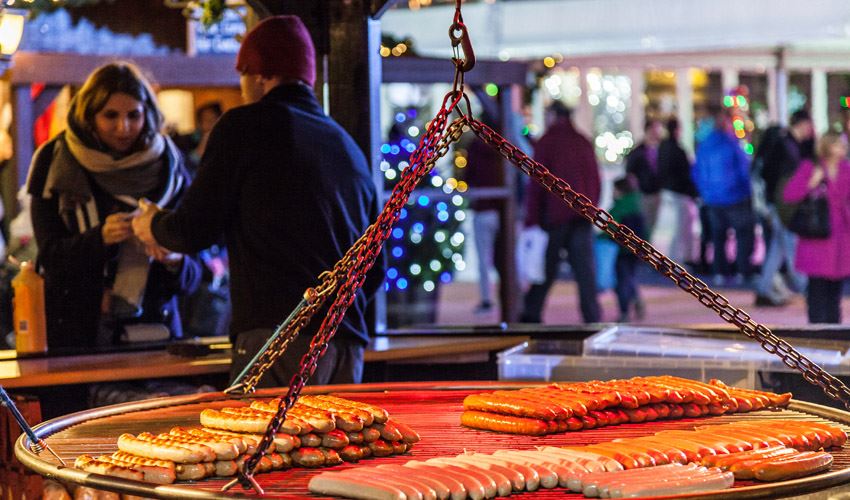 If you're schedule allows it and you can visit mid-week, we highly recommend it. Weekends tend to be the busiest times to visit, so if you want to miss the crowds but not the shops, why not visit mid-week? Shop until you drop at St David's Centre or find a gift for the trickiest relative in the Christmas Market, seven days a week. Plus, you're far more likely to get a table reservation at your restaurant or bar of choice.
If you are visiting on the weekend, just bear in mind that you may have to spend a little bit longer in queues for shops or waiting to be served, so please remain patient and polite with hospitality and retail staff who are working hard under difficult circumstances.
Do you plan on travelling to Cardiff via public transport?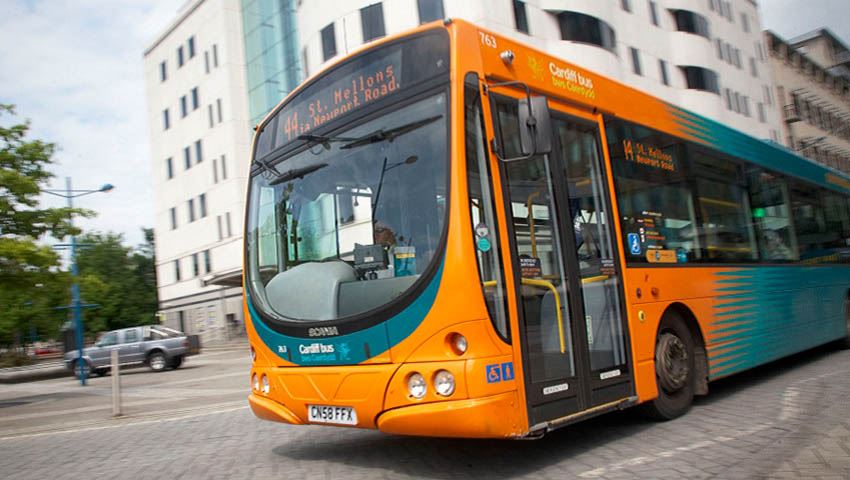 Please note that face coverings are compulsory when travelling by public transport except when you are exempt for medical reasons.
BUSES
Cardiff Bus have put together a guide informing you how to best keep safe whilst using their services, please read here.  A useful tool when planning your visit is the Cardiff Bus Capacity Checker. The live bus tracking feature on the website and app can now tell you how many passengers are on board the bus you're waiting for.
Are you aware of the new timetable and city centre route changes from 29 November? Don't get caught out, view the new maps here.
TRAINS
If you are considering travelling to the city centre by train, please ensure you plan your journey in advance. Where possible, reserve your seat ahead of arriving at the station to guarantee your place on the train. Please read the 'COVID19 Travel Safer Guide' ahead of your journey.
The Transport For Wales Capacity Checker tool helps give an indication of the trains that are often full and the ones with plenty of seats available, so you can decide the best time for your journey.
Do you plan on travelling to Cardiff via car?
If you're travelling by car it is useful to know about road closures, Park and Ride services and which car parks are open.
Road Closures
Roads in Cardiff City Centre which are currently closed are: Castle Street, Station Terrace, Wood Street, Scott Road, Marland House and Great Western Lane. To find out more visit the Cardiff Council website.
Park and Ride
If you want to avoid the city centre traffic, have you thought about using the Park and Ride services?
Park and Ride East: Monday to Sunday. ​
Park and Ride South: Service runs from Saturday 14th November 2020 for 8 weeks until 2nd January 2021
To find out more about Park and Ride services in Cardiff please visit the Cardiff Council website.
Car Parks
If you are happy to walk a short distance, it may be easier for you to find a car parking space in a car park outside of the main shopping area. Check out the whole list of car parks open in Cardiff here.
Have you seen our new Cardiff at Christmas map?
Make sure you familiarise yourself with the new 'Cardiff At Christmas Map' which outlines where all of the festive attractions and shops, are in the city, as well as the new Visitor Information Point.
Do you plan on dining?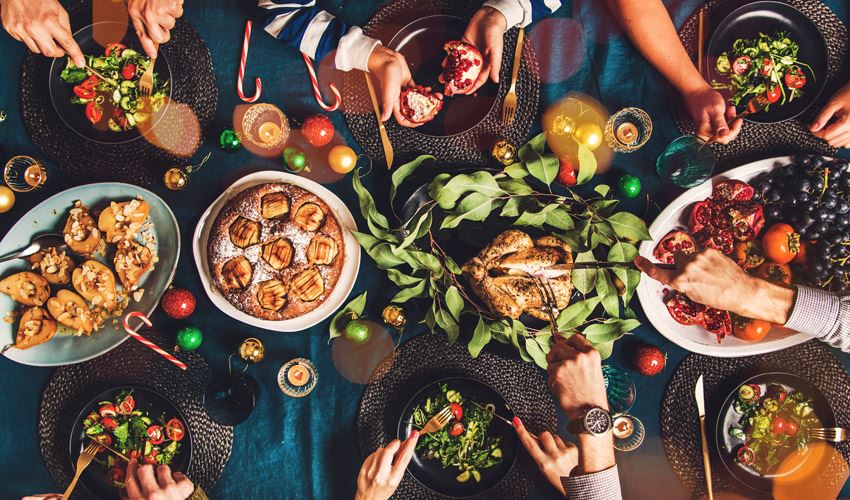 With reduced capacities it is imperative that you make a reservation in advance. A lot of restaurants are fully booked at busy periods.
Remember the rule of 4, only 4 people from up to 4 households can dine together. 6 people from the same household can drink and dine together, however you will need to show ID and proof of address.
You may be required to order using a smartphone, this could be through scanning a QR code or downloading an app. The venue may be accepting cashless payments only. If you have any queries we recommend asking them at point of booking.
Please note that all hospitality settings, including restaurants, cafes, pubs and bars can open indoors and outdoors for the consumption of food
and non-alcoholic drinks but must close by 18:00. Alcoholic drinks cannot be served or consumed at any time within these premises and this will be strictly enforced.
Are you finding it difficult to make a reservation? If so we recommend trying a hotel bar or restaurant, eating at Alpine Food and Drink or The Festive Quarter, where there is no need to book in advance, or even visiting a restaurant in Cardiff Bay.
Have you considered booking a hotel?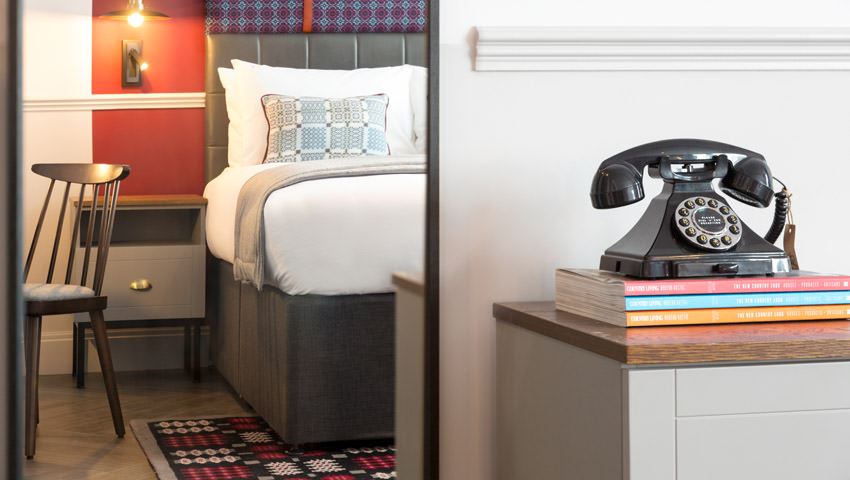 We can't deny it, 2020 has been a tough year for everyone. Why not put the year to bed and treat yourself to a relaxing overnight stay in one of Cardiff's lavish hotels? We've put together list of packages, discounts, and safety information to help you plan your ultimate Cardiff festive stayover.
Who can you talk too if you require help or advice when you are in Cardiff City Centre?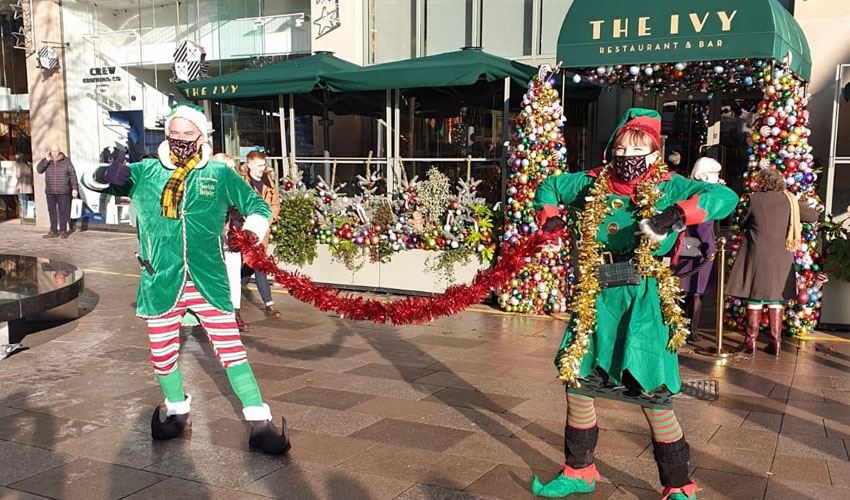 If you require help or advice when you are in Cardiff City Centre there are a few people you can go to for help.
Tourist Information Point – The Tourist Information Point is located in a wooden hut outside of Cardiff Castle.
FOR Cardiff Street Ambassadors – You will be able to spot the street ambassadors as they have bright red uniforms and can often be spotted walking around in pairs.
Cardiff Council's Elf & Safety Officials – Decked out in a variety of festive costumes the eight elves, alongside a team of 12 safety stewards, will have an important message for visitors – to keep Cardiff safe this Christmas.