What are you looking for?
AFTERNOON TEAS FIT FOR A QUEEN
Dine out and enjoy one of the Queen's favourite meals – afternoon tea! Whether you'd prefer to opt for a traditional affair, or one with cocktails, we have it all!
Check out the many delicious options around the City this Jubilee Bank Holiday weekend.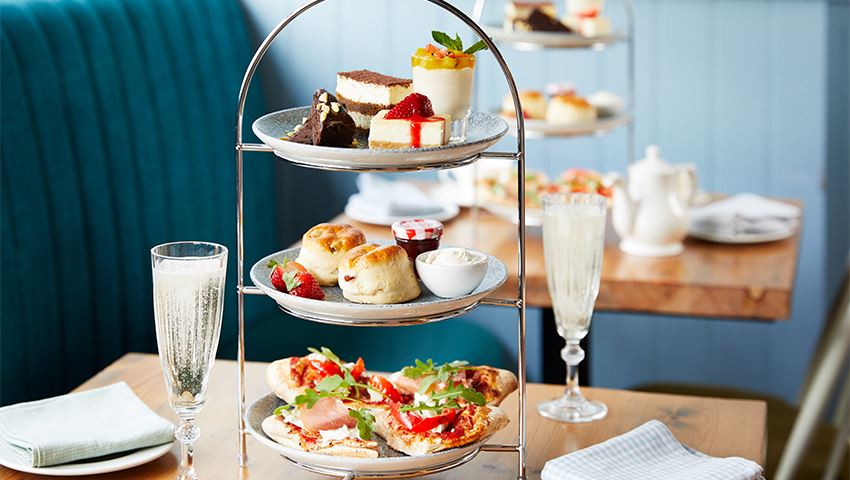 Queen Jubilee Afternoon Tea – Laguna Kitchen and Bar at Park Plaza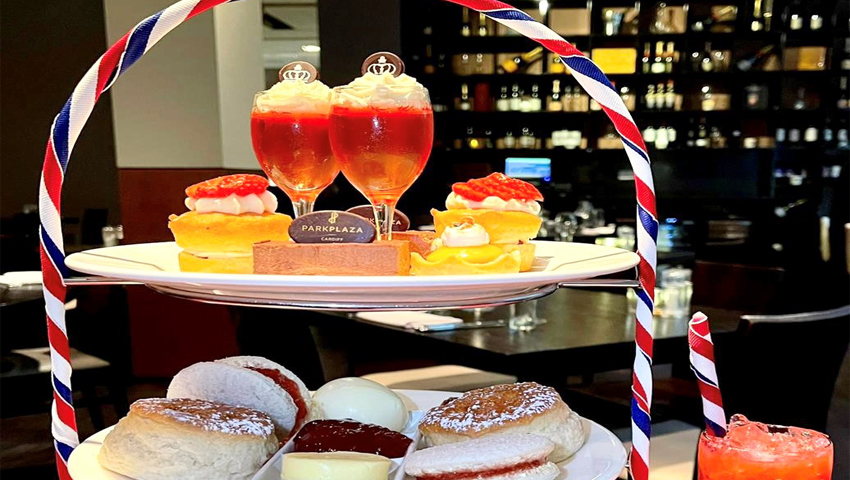 To celebrate a very prestigious occasion, we are launching our 'Queen Jubilee Afternoon Tea'.  We will serve this very special and unique afternoon tea for the month of June 2022. We will also be serving Traditional Afternoon Tea, Gentleman Afternoon Tea, and our ever-popular Hendricks Afternoon Tea alongside our new addition.
Our chef and his team have created the most amazing Afternoon Tea experience yet! Guests will begin their celebration enjoying a warm duo of Venison Burger (her majesty's favourite) and a Mango & Brie Crown Parcel, followed by a fabulous selection of sandwiches to include another great favourite, Coronation Chicken in a seeded bun. Our middle tier brings another element of favourites, Fruit Scones and Jam Pennies. Our top tier is "to die for" Pimm's Jelly, Peach Melba Crown Tart, the infamous Digestive Biscuit Cake, and Victoria Sponge. All served with a selection of loose tea from our local Waterloo Tea Gardens.
Book online here.
Fabulous Welsh Afternoon Tea at Voco St David's Hotel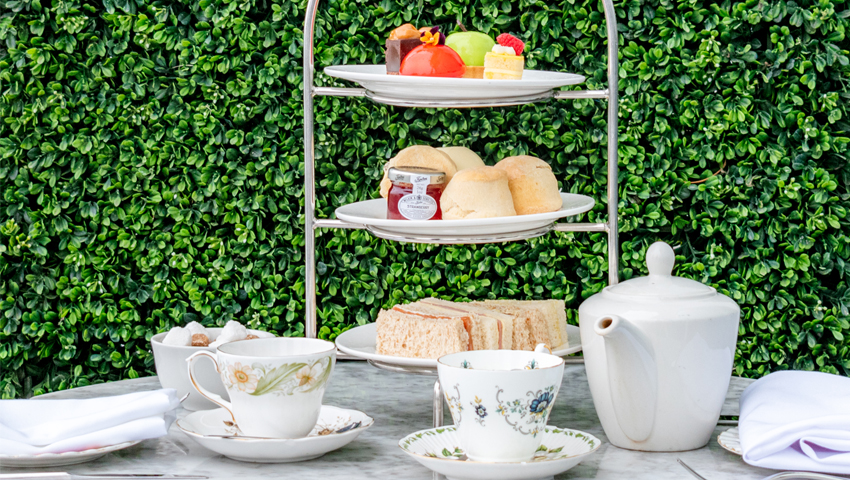 Join us on Thursday 2 – Sunday 5 June for a very special afternoon tea.
We'll be serving our fabulous Welsh afternoon tea with some royal touches and jubilee cocktails too. There'll also be live acoustic music on all four days to celebrate. Its tea fit for a queen!
Book your table here.
Champagne Jubilee Afternoon Tea at Hensol Castle
Join us on 2nd June 2022 to celebrate the Queen's Platinum Jubilee at Hensol Castle. A scrumptious Afternoon Tea with a complimentary glass of champagne is the perfect way to celebrate, and the beautiful surroundings will sure to make you feel like royalty. What better way to celebrate a royal occasion than in a 17th century castle? Served in our courtyard.
Your Jubilee Afternoon Tea will include:
A selection of sandwiches
Traditional favourite sweet treats
Hot pot of your favourite tea
Complimentary glass of Champagne
1-3pm | £30pp
01443 665803 | www.hensolcastle.com
Celebration Package at the Clayton Hotel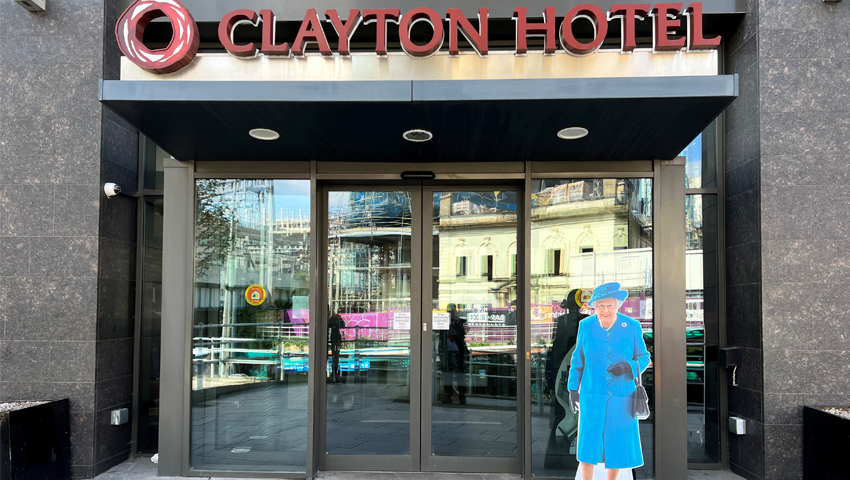 Queen Elizabeth II will have reigned for 70 years this June. Here at Clayton Cardiff, we will be celebrating the Jubilee Bank Holiday from Monday 23rd May – Tuesday 7th June. Three cheers for Her Majesty!
Come and join our Jubilee themes restaurant with a traditional Afternoon tea, specially crafted for the occasion. Looking for something more? Make a stay out of it with our Jubilee package! Celebrate like royalty with the specially crafted Jubilee afternoon tea, an overnight stay in one of our bright and spacious rooms as well as full breakfast including our 'Vitality Breakfast'
Book the Jubilee Afternoon Tea here and book the Jubilee Celebration Package here.
Luxury Accommodation and Dining at the Exchange Hotel
Celebrate the platinum jubilee and the extra-long weekend in luxury at the Coal Exchange Cardiff from only £70 per person per night. Kick back in your king room complete your own double spa bath, for a truly royal celebration we're throwing a bottle of prosecco and breakfast for FREE!
To book – call our team on 02921 991 904 and quote 'Jubilee' or drop us a message via social media.
T&C's – based on two people sharing a king room. Available Thursday 2nd to Sunday 5th June 2022.
Culley's Kitchen and Bar:
Join us in the heart of Tiger Bay for a truly British bank holiday celebration. From Thursday 2nd to Sunday 5th 2022 enjoy our traditional afternoon tea or brunch menu both served with unlimited tea and filter coffee for only £25pp. If you're feeling like celebrating upgrade for £10 per person and enjoy 90 minutes of bottomless prosecco, Pimm's or Gordons Gin cocktails.
To book – call us on 02921 991 904 option 3 or click here.
Wimbledon Themed Afternoon Tea at the Angel Hotel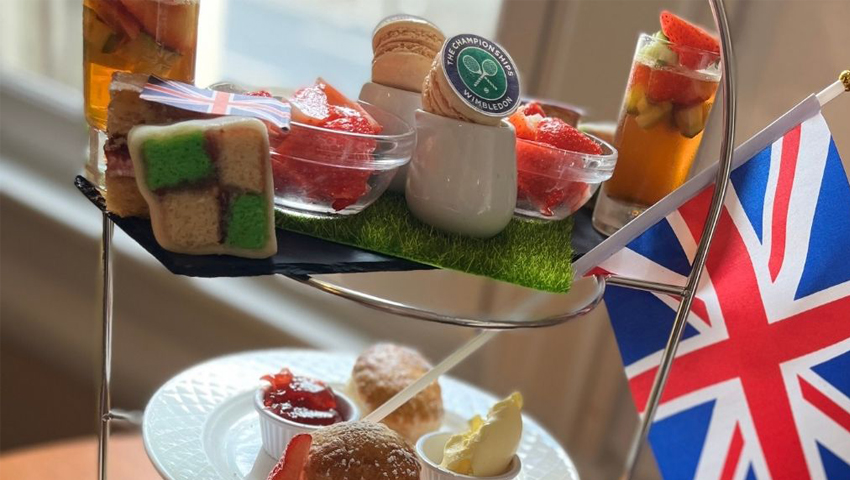 Celebrate the Jubilee weekend with us! Enjoy our June Wimbledon themed afternoon tea for just £25.00 for two or £35.00 for two with a Pimm's cocktail.
Enjoy classics like Victoria sponge, Pimm's jelly, cucumber sandwiches, coronation chicken rolls and of course scones with cream and jam.
Book your table here.