What are you looking for?
Rugby Autumn Internationals Guide: Make Your Match Day Pitch Perfect
If you're lucky enough to have match tickets for the Autumn Nations Series, or you're just watching in the pub in the city centre with a cold one, there's a few things you need to know.
IT'S CHRISTMAS
The lights are on, the attractions are open, and it's started to look a lot like Christmas in Cardiff! If you are visiting for the rugby, why not leave some extra time to explore all the festive fun.
GETTING TO CARDIFF
The city gets extremely busy on match days, so it's recommended to plan your travel & transport in advance – don't forget to consider your journey home too!
Once you're in our city centre, you'll find yourself in the midst of the rugby day atmosphere, with the Principality Stadium, bars, restaurants, stores and attractions all within easy walking distance.
Please see the news page for all recommended advice on road closures, trains, buses, taxis and park & ride services.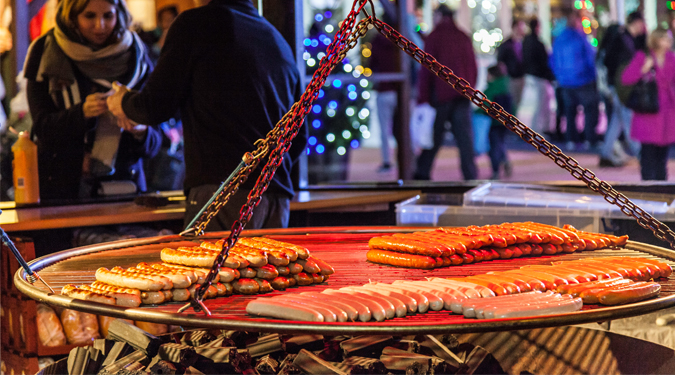 FOOD & DRINK
You may need to fuel up to keep you going throughout the busy match day. Most bars & restaurants require advance bookings due to the high demand, so browse our Eat & Drink section and reserve your table to avoid disappointment.
Struggling to find a reservation? Head to the Festive Quarter on Working Street and grab a beer and a bratwurst for a quick power up, or wander down the famous Caroline Street for curry & chips.
Take a trip to Cardiff's Winter Wonderland at City Hall Lawn and check out the coolest (and at -10°C we mean coolest) places to have a drink in the city at the Ice Bar, then enjoy more drinks next door at Sur La Piste.
ATTRACTIONS
Make the most of your visit to Cardiff by checking out the other attractions whilst you're here. There are many incredible things to see just a stone's throw away from Principality Stadium, including the iconic Cardiff Castle and the National Museum Cardiff. Why not take the chance to visit Cardiff's Winter Wonderland and get your skates on at the ice rink and ice walk.
Then get the full Cardiff at Christmas experience by visiting the immersive Christmas at Bute Park light trail or catch a Christmas show in the Castle's Spiegeltent. Find out more about what Cardiff has to offer this festive time, on our Christmas page.
Finally, don't forget to explore the Cardiff Christmas Market, where you can find unique, handcrafted gifts for that special someone.
VISITOR SERVICES
If you are unfamiliar with Cardiff, City Centre maps are available for download from our Maps page, or pop into our Visitor Information Point within Cardiff Castle to pick up a map and leaflets about local attractions.
Our Tips for Tourists page also includes some useful information, including some basic Welsh phrases you can impress your friends with!
ACCOMMODATION
Accommodation should be booked well in advance to avoid disappointment. However, if you would like a room last minute, it's recommended to contact the hotel directly to receive the best rate. Our Places to Stay section lists options for all tastes and budgets from spa hotels to self-catering apartments.
SOUVENIRS
Don't be daff' and make sure you get the chance to pick up a souvenir daffodil hat, a Welsh toy sheep, or even a toy dragon to ensure Wales has a roaring victory. You can also pick up a scarf to commemorate the game and get your face painted for the occasion.
For Welsh rugby shirts and souvenirs, there are a number of shops to have a browse in, including WRU Store on Westgate Street, the Cardiff Castle gift shop & Castle Welsh Crafts just to name a few.
THE GAME
Do you have a ticket? Have a read of the advice issued by the Welsh Rugby Union ahead of time. Ensure you know which gate to enter the grounds from and make sure you're at the stadium in plenty of time.
There are also many pubs and sports bars near to the stadium with large screen TVs to watch the game and soak in the match day atmosphere with fellow fans.
SHARE YOUR EXPERIENCE
We love seeing fans enjoying the rugby in our atmospheric capital, so tag us in your sporting selfies using #VisitCardiff @VisitCardiff.
Now you're in the know, have a fantastic time wherever you're watching the Autumn Internationals!