What are you looking for?
Our swinging Bandstand is the festival's lyrical larder and, as ever, will be fully stocked with food for your soul. A super selection of hand-picked, grass-roots acts will be serving up a musical menu filled with summer flavours.
BANDSTAND LINE-UP 2023
SIGLO 6
12:00 & 17:00
Get the party started with this great new Funk and Soul Six piece, part of a collective led by Loz Collier of Afro Cluster and Matt Lush featuring some of Cardiff's best young musicians.
NEWYDD LANIO O CANADA
13:00 & 18:00
Groovy new instrumental act from Welsh folk legend, Danny Kilbride and pals.
LOS MUSICOS
14:00 & 19:00
Los Musicos combine Colombian cumbia, chicha, salsa, son, and other Latin styles via guitar and percussion to create a tropical party vibe, perfect for the food festival.
ROGORA KHART
15:00 & 20:00
Emerging from behind the iron curtain of Newport, Rogora Khart's entertaining brand of dancing, theatricality, comedy and Balkan Gypsy folk-punk is sure to entertain the comrades of the food festival.
MODOU NDIAYE
16:00 & 21:00
Rounding off day 1, multi-talented Kora player Modou and his band will play a superb repertoire of accessible and lively West African material.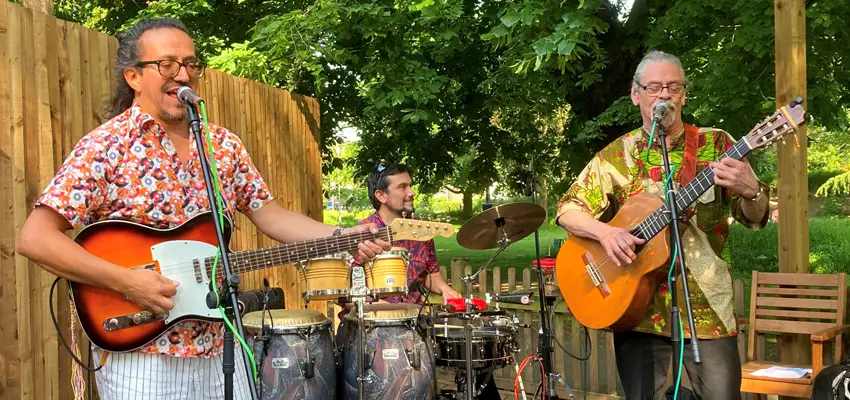 THE BRWMYS
12:00 & 17:00
A good time, all the time treat. The guys and gals of the Brwmys always bring the sunshine with their jig-tastic, foot- stomping future folk.
JOHN LEWIS TRIO
13:00 & 18:00
Bring your blue suede shoes and bop along to "Johnny Bach", the king of Welsh Rockabilly, who has worked with Imelda May and other greats of the rocking scene.
AVANC
14:00 & 19:00
Avanc are Wales' National Youth Folk Ensemble, featuring the genre's brightest talents. They in unearthing forgotten musical gems from and reworking them into their own energetic image.
THE PEPPERSEEDS
15:00 & 20:00
Fronted by legendary Cardiff diva Dionne Bennett, the Pepperseeds have a unique, soulful sound that takes everything from funk to Latin jazz.
TATTSYRUP
16:00 & 21:00
Tattsyrup are a lively ska band who play an up-tempo mixture of original ska, two-tone and their own compositions. Certain to send the crowd dance crazy.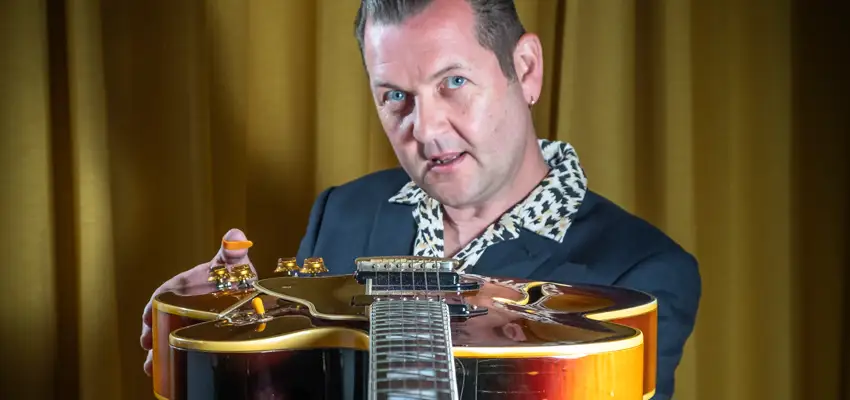 EDEN ROOTS AFRO-REGGAE BAND
IMPORTANT INFORMATION
Only alcohol purchased from the event bars can be consumed on-site. Alcohol purchased from the Producers Fair, Farmers Market or off-site cannot be consumed on-site.
Please note that dogs and other animals are not permitted on site (except for guide dogs and assistance dogs on leads, with identification).
All producers and caterers attending the festival have a current Food Standard Agency rating of 4 or 5.
STAY IN TOUCH
Sign up to the Visit Cardiff e-newsletter today for exciting Cardiff news, events, special offers, things to do and more from the Visit Cardiff team.