What are you looking for?
Cardiff Food & Drink Festival is one of the most popular events in the city's summer calendar and takes place in Roald Dahl Plass, Cardiff Bay.
Friday 7 – Sunday 9 July 2023
OPENING TIMES:
Friday: 12:00 – 22:00
Saturday: 11:00 – 22:00
Sunday: 11:00 – 19:00
Free Entry | No Ticket Needed
The Producers Fair and Farmers Market will have a host of stallholders, all offering a spectacular spread of quality produce. Our caterers will be cooking up a storm on the Street Food Piazza, where you can choose from a wide range of freshly prepared foodie delights.
Alongside the fantastic food and drink, the Bandstand will have full programme of live music throughout each of the three days of the festival. Meanwhile, at the Crafters Market, you'll find a wonderful selection of hand-made goods, curated by Craft*folK.
THE PRODUCERS FAIR
The Producers Fair provides a veritable feast for foodie lovers. Look out for a bounty of bakeries, artisanal ice-creams, beverages both brewed and distilled, not to mention cheeses, meats and sweets.
THE FARMERS MARKET
With over 50 stalls, selling all sorts of gorgeous goodies, the Farmers Market will be full of fantastic produce. You'll find a huge range of wines, beers, ciders and spirits, plenty of preserves, sweet treats and more...
STREET FOOD PIAZZA
From curries to kebabs, paella to poutine, and tacos to tapas, find all your favourite flavours on the Street Food Piazza! So, make sure you pop in to our delicious pop-ups, your taste buds won't know what's hit them.
THE BANDSTAND
Our swinging Bandstand is the festival's lyrical larder and, as ever, will be fully stocked with food for your soul. A super selection of hand-picked, grass-roots acts will be serving up a musical menu filled with summer flavours.
CRAFTERS MARKET
Craft*folK will be back once again to curate the Crafters Market. The distinctive red and white stalls alongside the Plass will be populated by a truly eclectic mix of arts and crafts, all hand-made.
The festival features a selection of Trade Exhibitors
GETTING HERE FROM CARDIFF CITY CENTRE
Cardiff Food & Drink Festival is easy to find and get to. It's located in Roald Dahl Plass, just opposite the Wales Millennium Centre in Cardiff Bay.
TRAIN
Every 12 minutes between Cardiff Queen Street station and Cardiff Bay station – travel back until 11:54pm on Friday and Saturday, or until 9:54pm on Sunday.
BUS
Catch the Baycar service between Saint Mary Street (City Centre) and Wales Millennium Centre (Cardiff Bay) – travel back every 15 minutes until 5:55pm, then half hourly until 11:10pm on Friday and Saturday, or until 8:10pm on Sunday.
OTHER WAYS TO TRAVEL
Ride a standard pedal or e-bike Ovobike to the event, docking up at the side of Wales Millennium Centre.
Take a leisurely 25 minute walk from the city centre, soaking in the sun as you go (hopefully!)
Drive in and park up at one of the nearby car parks, with the nearest being Q Park.
Book a taxi, it can drop off and pick up at the Mermaid Quay taxi rank (outside Tesco Express).
Make sure to stay under the drink-drive limit if you're driving or cycling back after the event.
IMPORTANT INFORMATION
Only alcohol purchased from the event bars can be consumed on-site. Alcohol purchased from the Producers Fair, Farmers Market or off-site cannot be consumed on-site.
Please note that dogs and other animals are not permitted on site (except for guide dogs and assistance dogs on leads, with identification).
All producers and caterers attending the festival have a current Food Standard Agency rating of 4 or 5.
---
Cardiff Food and Drink Festival is brought to you by Cardiff Council Events Team.
For operational enquires, contact FoodandDrink@cardiff.gov.uk
For press enquires, contact mediabrief@cardiff.gov.uk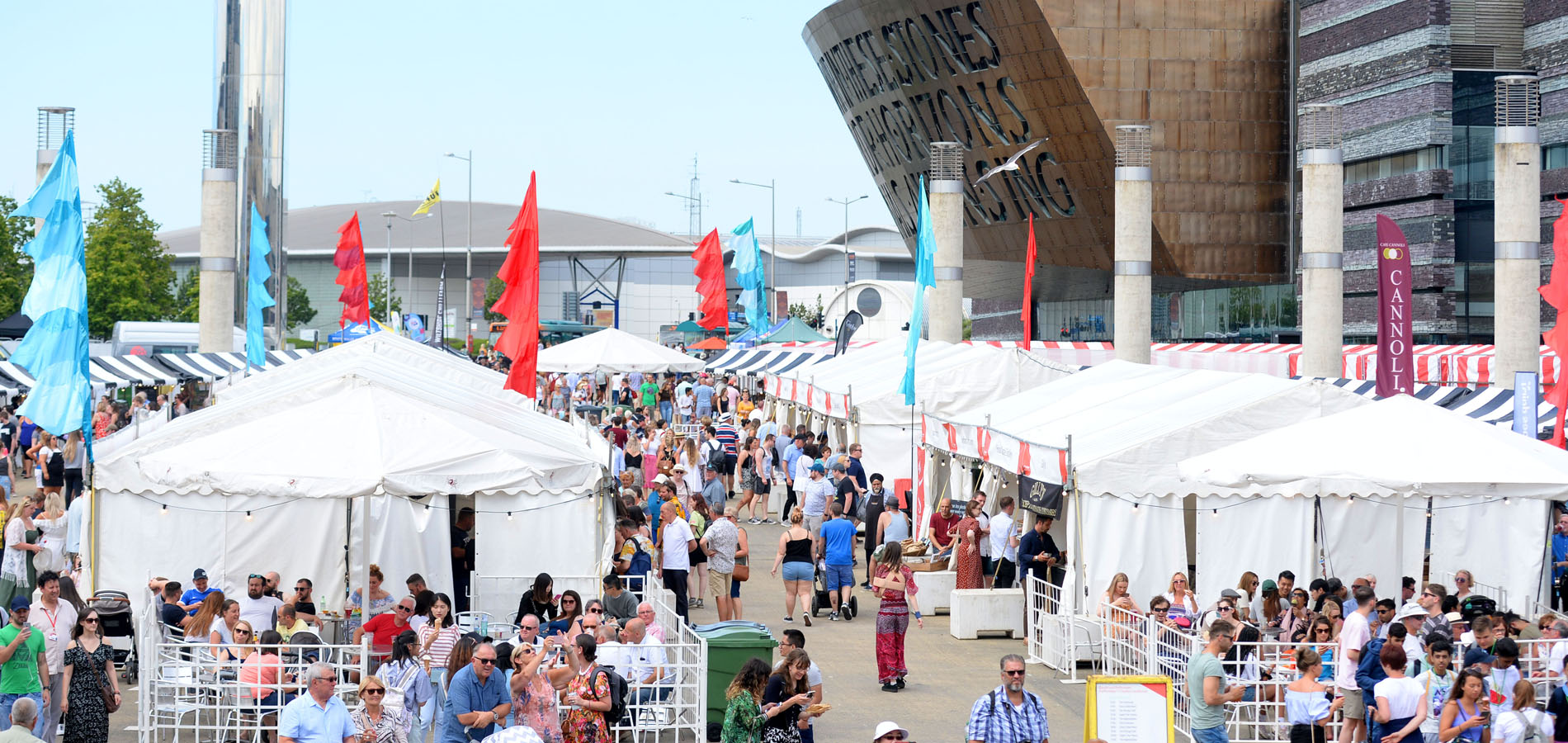 STAY IN TOUCH
Sign up to the Visit Cardiff e-newsletter today for exciting Cardiff news, events, special offers, things to do and more from the Visit Cardiff team.