What are you looking for?
St David's partners with NSPCC to fight child abuse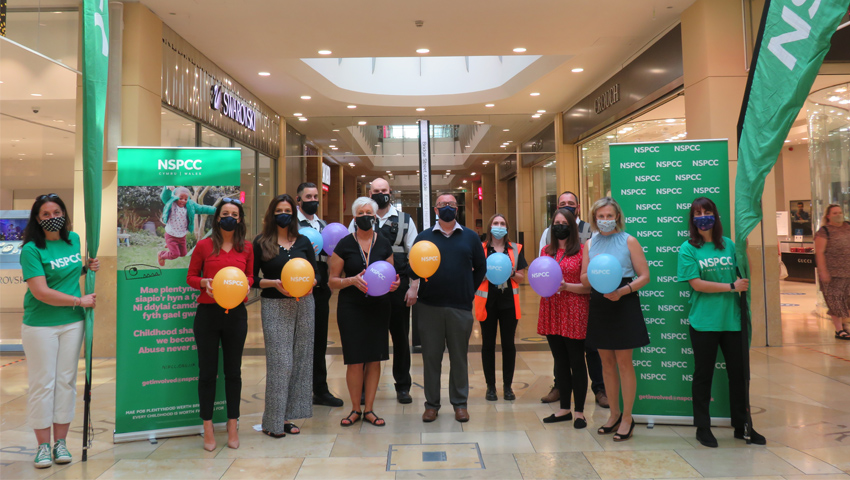 NSPCC Cymru Wales has become St David's Dewi Sant Cardiff's charity of the year as it continues its fight to prevent child abuse.
The new partnership between the Welsh shopping centre and NSPCC Cymru Wales has been announced following concerns about the rise in contacts from children suffering from mental health issues arising from the coronavirus pandemic. Demand for the NSPCC's Childline service has continued over the last 16 months with children talking to trained counsellors about issues such as loneliness, depression and anxiety. Childline delivered nearly 90,000 counselling sessions to young people concerned about mental health or abuse in 2020/21. Cardiff is home to one of 12 Childline bases that support children and young people.
Meanwhile, the NSPCC has also warned about the increased risks of abuse and neglect as a result of the pandemic. It reports receiving 85,000 calls to its free, confidential helpline for adults offering support and advice to anyone worried about a child in just 12 months, a rise of 23% year on year.
As charity of the year, St David's will support NSPCC Cymru Wales with the aim of raising thousands of pounds with every pound donated helping to protect children and preventing abuse. The partnership will see a mix of in-mall activities and fundraising initiatives for shoppers, retailers and staff including family, fashion and student events in St David's throughout the year as well as participation in sporting challenges and fundraisers such as present wrapping, choir singing and a nativity display at Christmas.
James Waugh, Centre Director at St David's Dewi Sant, said: "When we heard about the growing plight of children and young people experiencing abuse and mental health issues in Wales as a result of the pandemic, we had to act. As our charity of the year, St David's is committed to supporting the fantastic work of the NSPCC in helping children, preventing child abuse and making a real difference to the lives of children in Wales. We're looking forward to hosting and taking part in charitable events throughout the year which will not only be fun for our shoppers but all for a truly worthy cause which will resonate for many of us."
Rosalie Stonehouse, Corporate Fundraising Executive for NSPCC Cymru Wales, said: "As a charity we rely on public donations for 90% of our funding so we are thrilled to be announced as St David's charity of the year especially at such a pivotal time for children and young people.
"Having faced so much disruption to their lives over the last 16 months, it's no surprise that the main reason for children and young people contacting our Childline service is to talk about mental health and wellbeing. It's incredible to think that every £4 raised for the NSPCC can help a trained volunteer counsellor answer a child's call for help – the impact that one counselling session makes could even be life-changing. Each penny can help us make a difference and we are extremely grateful to everyone at St David's, including shoppers, for the part they will play over the next year in helping us to prevent child abuse."
Children can contact Childline every day of the week, 24 hours a day, for free on 0800 11 11 or via childline.org.uk where 1-2-1 online chats can be requested. Adults seeking free confidential advice around a child welfare concern can contact the NSPCC helpline on 0808 800 5000 or help@nspcc.org.uk. Advice is also available on the NSPCC website – nspcc.org.uk.
For more information about St David's, please click here.