What are you looking for?
25 Year Celebration of the Café Quarter – 22nd October 2021
On Friday the 22nd of October 2021 at the Marriott Hotel, Cardiff will be celebrating 25 successful years of The Mill Lane Café Quarter.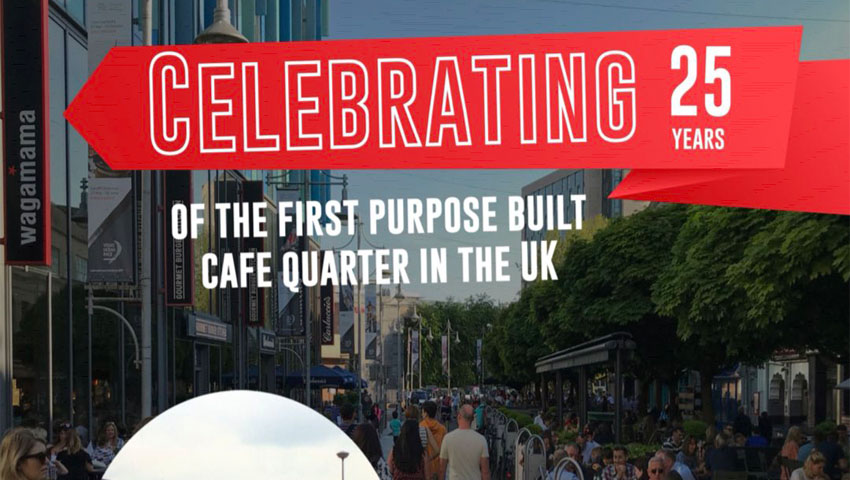 The evening will focus on celebrating the first purpose-built Café Quarter in the United Kingdom! that we all know and love today.
Mill Lane originated from a steam mill that was once situated along the road. Due to industrialisation, the city continued to expand, becoming a hub for business, enterprise and trading.  A new Mill Lane soon emerged. Today, Mill Lane is bustling with people enjoying the alfresco experience from restaurants and bars like they do in Rome, Amsterdam and Paris.
The evening festivities will begin at 4:30pm outside the Marriott Hotel, where it all started with loads of entertainment.  Following which, restaurants and bars on Mill Lane will be doing offers and exclusive deals!
Mocka Lounge: 2-4-1 cocktails, 20% off drinks
-The Corner House: 20% off food, along with a 'Drag DJ' from 8pm Till late.
-Pitch: £5 off cocktails
-Ask Italian: 20% off food
-Duke of Wellington: 3 small plates for £11, a bottomless brunch, and £5 off Prosecco
-Las Iguanas: Free Caipirinha(Brazilian cocktail made with cachaca, lime/lemon juice, sugar and crushed ice) with each main course ordered
-Cardiff Bridal Centre: 10% off on new orders
There will be even more Peppermint and Retro! The Ivy, The Makers Guild Wales (Craft in The Bay), The Botanist, and The Coconut Tree and more have all donated special items and gift vouchers towards a raffle, and charity auction that will be supporting Ty Hafan charity. Make sure you come along to the event, so you have a chance to win and take home one of these!
Offers will only be viable for the day, you will need to buy a wristband for £10 at the Marriott, or along Mill Lane to activate all these discounts and offers. All Wristbands will be sold on Friday from 10am.
There will be Supercars, from Lisa Marie Brown's P1nk Supercars and Coffee Wales, and lots more.
Feel free to dress comfortably, Come celebrate with us, an extravagant evening in Mill Lane!
Any more enquiries regarding the event should be done via socialmedia@giovanniscardiff.co.uk.
Giovanni L Malacrino