What are you looking for?
A CAROUSEL CHRISTMAS AT THE IVY CARDIFF
The Ivy Cardiff celebrates Christmas with festive installation and limited-edition cocktails created in collaboration with Grey Goose Vodka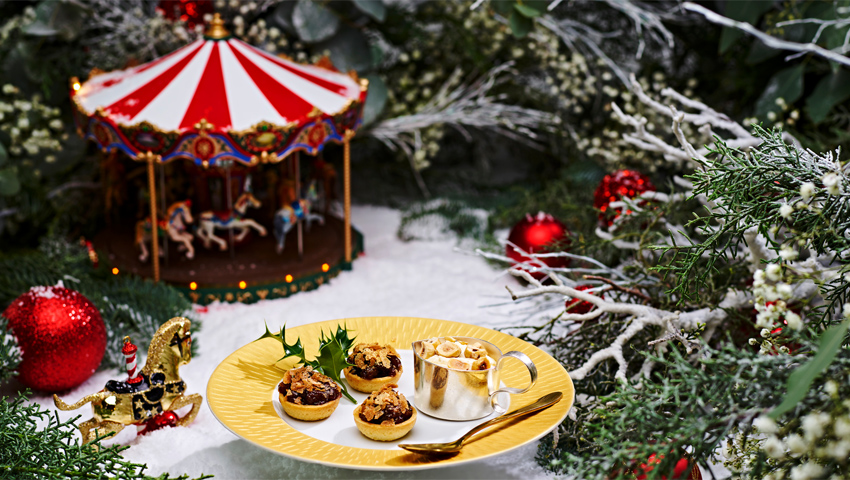 This season, embrace your festive spirit as The Ivy Cardiff celebrates with a joyful carousel-themed installation for guests and passers-by to enjoy, as well as a limited-edition cocktail menu and trio of desserts, available from Wednesday, 17 November.
For those looking to treat themselves to a yuletide tipple, the brasserie's bar team are serving up a number of bespoke cocktails, including the Pear Noel (£11.75), an indulgent blend incorporating Grey Goose La Poire Vodka, white chocolate liqueur, Irish cream and pear syrup, and the Carousel Coffee (£9.50), a decadent take on the Irish coffee with Grey Goose Vodka, coffee, sugar and white chocolate cream. Additional creations include Carousel 75 (£11.95), a delicious fusion of Bombay Sapphire Premier Cru Gin, with Murcian lemon, cassis, apricot, Fernet Branca and Prosecco, and for tequila-lovers, the Papaloma (£9.75), a warming winter twist on the Mexican classic Paloma with PATRÓN Reposado Tequila, Aperol, lemon, Fever-Tree Indian Tonic, and grapefruit bitters.
For those with a sweet tooth, the proof is in the pudding as guests can enjoy a series of festive dessert additions, including warm mini mince pies (£4.75), served with hazelnut and brandy cream, a mouth-watering steamed Christmas pudding (£8.25), with almonds, redcurrants and brandy cream, and the snowball fight (£9.50), featuring brandy ice cream, and a white chocolate, gingerbread, and cream sauce.
Matt Glister, General Manager at The Ivy Cardiff, says: "We are delighted to partner with our friends at Grey Goose Vodka to offer unique and delicious cocktails this Christmas. We look forward to welcoming visitors and locals alike to the restaurant to celebrate the festive season with us."
If that wasn't enough, the brasserie's menu offers a selection of warming, winter dishes, including Roast Pumpkin and Butternut Squash Soup with truffle ricotta, chestnuts, pine nuts and crispy sage (£6.95) and Goose Shepherd's Pie with pigs in blankets, creamed mashed potatoes and cranberry sauce (£18.95).
-ENDS-
Please direct enquiries to Grayling – TheIvyCollection@grayling.com
Address: 69/70 St David's, St Davids Centre, Cardiff CF10 1GA
Website: https://theivycardiff.com/