What are you looking for?
TECHNIQUEST: WHERE SUNLIGHT ISN'T YELLOW, IT'S GREEN…
WITH COP26 SO RECENTLY IN THE NEWS AND THE IMPACT OF CLIMATE CHANGE BEING OBSERVED MORE FREQUENTLY EVERY DAY, LEARNING ABOUT WHAT IT IS – AND WHAT WE MIGHT BE ABLE TO DO ABOUT IT – IS CLIMBING UP MANY PEOPLE'S AGENDAS. PLAYING A PART IN UNPACKING WHAT IS OFTEN QUITE COMPLEX INFORMATION, IS TECHNIQUEST IN CARDIFF BAY – WHERE A BRAND NEW EXHIBIT HAS JUST BEEN LAUNCHED.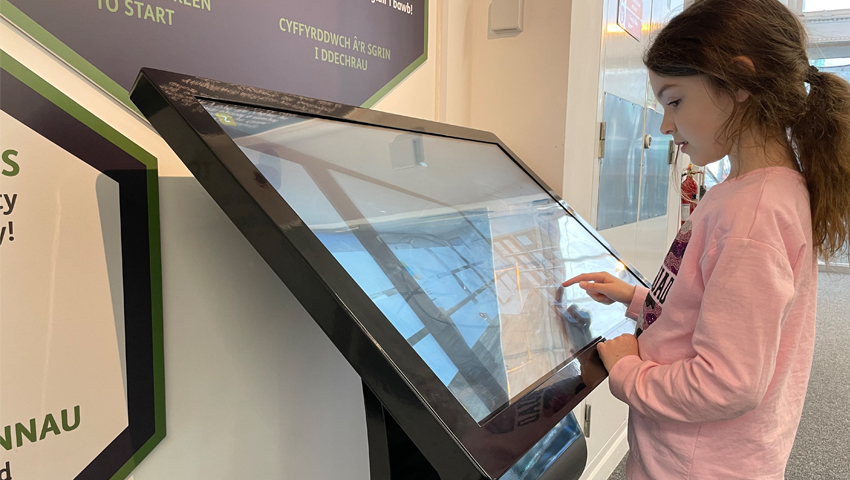 Since the new Science Capital was fully opened earlier this year, thousands of people have been enjoying and learning from over fifty brand new exhibits that fill its five zones.  Looking at Space, Chemistry, Biomedical Science and, crucially, World Issues and the Environment, many different displays are in evidence that explore science and technology across its extended exhibition floors.
Focusing on the Environment Zone, there are interactive exhibits that give insight into a variety of issues that make an impact on the climate of our planet and how scientists measure that change.
Visitors can take a quiz to see how much they know about where food comes from and how many food miles it takes to reach their kitchen tables; learn more about the different greenhouse gases and what they do; and discover what ice reveals about the earth's weather going back through time.
Now a new exhibit has been added to the mix, introduced to coincide with the COP26 conference in Glasgow this month. Sonnedix SolQuest, going live on 2 November, is a virtual learning experience that takes the visitor on a journey through the Sonnedix Atacama solar plant in Chile, one of the largest solar photovoltaic plants in the country.
Participants in this quest interact with different parts of the solar plant, learning about how energy from the sun is harnessed and transformed into clean electricity to power the nearby communities,  and collecting tokens along the way to complete the quest and power an imaginary village with 100% renewable energy. The experience gives visitors of all ages a great insight into how renewable energy works and the solutions it offers to climate change; inspiring the problem solvers of tomorrow to build a bright future for all.
A spokesperson from Sonnedix, the company who have created and installed the new exhibit for Techniquest explains:
"As part of our ESG (Environment, Social, Governance) strategy we launched Sonnedix Sustainability Academy in 2020, to help us reach our target of impacting 100,000 learners by 2023. We are continuously looking for ways to deliver different educational resources and learning experiences to children and young adults, partnering with teachers and institutions globally, and providing access to education opportunities on topics around climate change, sustainability, renewables, and solar energy.
"We are now introducing SolQuest, an innovative virtual learning experience, bringing innovation and digitalisation to our Sonnedix Sustainability Academy. SolQuest consists of a virtual journey to our largest solar PV plant to date, Sonnedix Atacama Solar, in Chile, offering us the opportunity to show children and young adults how a real solar PV plant works, and how to produce clean renewable energy while still protecting and enhancing the environment and improving the lives of the local communities."
James Summers, Head of Projects for Techniquest commented:
"We always welcome the chance to team up with companies like Sonnedix to enhance our new Science Capital space with innovative exhibits. Anything that we can do like this, to help encourage learning about science and the environment in a fun and interactive way, is going to be of great benefit to both schools and public visitors of all ages."
And it's not only through the new exhibits that Techniquest has engaged with climate change this year. 'Operation Earth' is a series of workshops funded across the UK by the Association of Science Discovery Centres, to help broaden understanding of this important topic and which proved popular with visitors to the centre across the half-term.
James Paine, Techniquest's Community Engagement Officer who ran these workshops commented:
"The aim wasn't just to explain the current situation we find ourselves in, but also to understand the hope there still is, if we all think more carefully about what we use, what we do and what impact that has on the world around us.
"It was brilliant to see so many families engage with the activities and to be a small part of bringing it all together. Hopefully we can do more of this kind of work in the future too."
---
About Techniquest
Techniquest is Wales' largest science discovery centre in the heart of Cardiff Bay. It provides STEM (Science, Technology, Engineering and Mathematics) experiences for all ages and abilities, providing a platform to educate, entertain and make science accessible to all across Wales.
About Sonnedix
Sonnedix Power Holdings Limited (together with its subsidiaries, Sonnedix) is a global solar Independent Power Producer (IPP) with a proven track record in delivering high performance cost competitive solar photovoltaic plants to the market. Sonnedix develops, builds, owns, and operates solar power plants globally, with a total capacity of almost 5GW, including a development pipeline of more than 2GW.
Sonnedix continues to expand its global footprint across OECD countries, with over 350 solar plants in operations, as well as several hundred MW under construction or at various development stages around the world.
About the Science Capital project
Developed to radically transform Techniquest and diversify its audience, the Project has been funded by UKRI and Wellcome Trust's Inspiring Science Fund, Moondance Foundation, Garfield Weston Foundation, and Welsh Government's 'Invest to Save' fund. The build also included collaborative work from Project Managers, Lee Wakemans; HLM Architects; and Hydrock Engineers.
Wellcome Trust
Wellcome supports science to solve the urgent health challenges facing everyone. We support discovery research into life, health and wellbeing, and we're taking on three worldwide health challenges: mental health, global heating and infectious diseases. We are a politically and financially independent global charitable foundation.
UKRI
UKRI UK Research and Innovation (UKRI) is the largest public funder of research and innovation in the UK, with a budget of over £8bn. It is composed of seven disciplinary research councils, Innovate UK and Research England. We operate across the whole country and work with our many partners in higher education, research organisations businesses, government, and charities.
Our vision is for an outstanding research and innovation system in the UK that gives everyone the opportunity to contribute and to benefit, enriching lives locally, nationally and internationally. Our mission is to convene, catalyse and invest in close collaboration with others to build a thriving, inclusive research and innovation system that connects discovery to prosperity and public good.
Wellcome Trust's Inspiring Science Fund
The Inspiring Science Fund, a partnership between UK Research and Innovation (UKRI) and Wellcome, has invested £30 million in science centres across the UK, enabling them to revitalise their venues, their public offer and to develop more sustainable STEM engagement programmes for the future.