What are you looking for?
Iris Prize LGBTQ+ Film Festival Programme Goes Live Today along with Box Office opening Exclusively for Members
Monday 4 September 2023 · Iris Prize
---
Iris Week starts on 10 October 2023 – the countdown begins
35 short films from 21 countries in competition for the coveted International Iris Prize
Box office opens today for Iris Members with general sales on 19 September, 2023
Festival tickets, passes, and venues listed
On-line festival available in the UK till the end of October
Organisers of the Cardiff-based festival offering the largest LGBTQ+ short film prize in the world have immense pleasure and pride in revealing the full programme for this year's Iris Prize.  The programme can be viewed here:
The 17th Iris Prize LGBTQ+ Film Festival takes place Tuesday 10 – Sunday 15 October 2023 in Cardiff. This year's programme includes more than 50 short films, 12 feature films, talks from film industry professionals and the spectacular opening night and glamorous Awards Show – along with an exciting gig held at Cardiff's newest queer space, Enby's, in Wharton Street, Cardiff.
Guests at this year's festival include the award-winning Russell T Davies (Queer as Folk, Doctor Who, It's A Sin), Heartstopper director and son of Cardiff, Euros Lyn, the unstoppable Fawzia Mirza (Kam Kardashian, Brown Girl Problems and The Queen of My Dreams showing at this year's festival), as well as many filmmakers who are representing their films in competition, in person.  Cardiff will be buzzing with talent for Iris Week.
Berwyn Rowlands, Iris Prize LGBTQ+ Film Festival Director, said: "There is always some apprehension mixed with the excitement when we go live with the full Iris programme. This year we have a fabulous mix of LGBTQ+ stories to share; our audience are in for a week of emotions as we watch films, talk about films, and much more.
"2023 feels like a very special year for Iris as we welcome people back to the cinema. Making sure you have a fabulous programme is important if we are going to be successful. It is quite unusual for us to get all the feature films we wanted – but this year we did, and we've ended up with 12 and not the 10 we had originally planned.
"If I was forced to choose one highlight it would have to be Chuck Chuck Baby. The last time I was this excited was after seeing Muriel's Wedding at a festival almost 30 years ago. Directed by Janis Pugh, the film is a feel-good movie set in a chicken factory in north Wales. It will make you cry; it will make you laugh, and it will probably get you dancing in your seat. And if Northern Lights by Renaissance doesn't re-enter the charts on its release, I will eat my hat!"
There are 35 international short films in competition for the £30,000 Iris Prize International Short Film Competition supported by The Michael Bishop Foundation.  This year's shortlist features films from 21 different countries, including four from the UK and one from Ireland.  Two of the films are also in the shortlist for Best British Short sponsored by Film4 and Pinewood Studios.
The Iris Prize has 25 partner festivals who nominated 18 of the shortlisted films, with the remainder chosen by a pre-selection jury. You can find out more about the shortlisted films in competition here:
Iris Prize International Short Film Competition supported by The Michael Bishop Foundation 2023 Iris Prize Shortlist – Iris Prize
Best British Shorts sponsored by Film4 and Pinewood Studios 2023 Best British Shortlist – Iris Prize
This year, we have 12 fantastic feature films from USA, Germany, Norway, Belgium/France, Israel, UK, Canada, and Austria/Germany. Festival Director favourite Chuck Chuck Baby is directed by north Wales born Janis Pugh, and Our Son, directed by Bill Oliver and starring Welsh actor Luke Evans. Here is a taster of three very different films: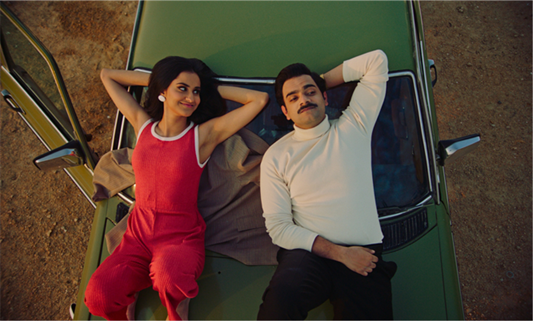 The Queen of My Dreams, directed by Fawzia Mirza (Canada) 2023 
In 1999, the sudden death of her father Hassan (Hamza Haq) sends queer Muslim grad student Azra (Amrit Kaur) flying back to her ancestral home in Pakistan, where her stern mother Mariam (Nimra Bucha) demands she play the role of the perfect grieving daughter. But through flashbacks to Mariam's own life in Karachi 30 years before, we see the connections uniting mother and daughter, starting with their shared love of the Bollywood star Sharmila Tagore.
Chuck, Chuck Baby, directed by Janis Pugh (Wales, United Kingdom) 2023
Helen (Louise Brealey) lives with her ex-husband, his 20-year-old girlfriend, their new baby – and his dying mother Gwen. Her life is a grind, and like all the other women she toils with at the local chicken factory, is spent in service of the clock. She lives only for laughing with her friends at work, caring for Gwen, and music. When Joanne, the girl she secretly loved at school, comes back to town, Helen's world is turned upside down.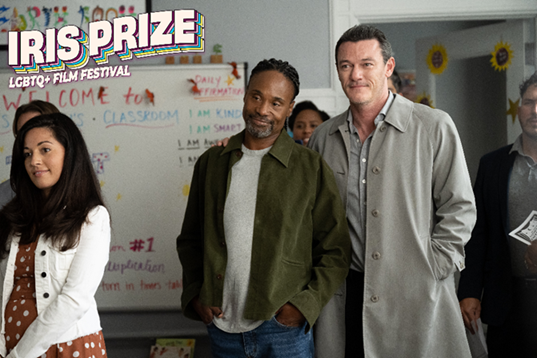 Our Son, directed by Bill Oliver (USA) 2023
A divorcing couple fight over the custody of their 8-year-old son. Starring Luke Evans (Nicky) and Billy Porter (Gabriel). Both workaholic breadwinner Nicky and former actor/devoted stay-at-home dad Gabriel feel entitled to full custody, as the former partners struggle to redefine their lives post-separation.
---
Box Office opens 19 September, but today (4 September) for Iris Members
There are many ways to enjoy Iris, whether you are with us just for an evening, a weekend or the whole festival, and students receive a special discount for all feature and short film screenings.
This is not all, however.  From 11 October to 31 October, elements of the festival are also available for the fourth year on-line. If you live in the UK, you can watch all 35 of the international shorts and 15 Best British shorts when you want and where you want. AND if you buy the full on-line pass, we've thrown in a few extras for you including the community film with Lynn Hunter and Rebecca Harries, I Shall Be Whiter than Snow and Cardiff, the outrageous comedy starring the late, great Ruth Madoc, with Richard Elis and Stifyn Parry.
TICKET AND PASS INFORMATION
Full Festival Pass – Full Price: £140
Includes all screenings and events, including Opening Night, Awards Show, Saturday lunch at the Clayton, parties including Iris Loves, and the Online Pass.
Weekend Pass – Full Price: £90
Valid Fri-Sun, for all screenings and events, including Awards Show, Saturday lunch at the Clayton, parties including Iris Loves, and a discount code to buy Iris Membership for £10 (opening the doors to a year of exclusive benefits).
One Day Pass – Full Price: £30
Valid Wed, Thurs, Fri or Sat, includes all screenings and events for that day, including parties and a discount code to buy Iris Membership for £10 (opening the doors to a year of exclusive benefits).
Online Pass – Full Price £45 (or £5 per programme)
Available from Wednesday 11 through Tuesday 31 October. Access all 10 of the international programmes, 3 Best British programmes, Best of Iris 2022 & Iris Production films: (Cardiff & I Shall be Whiter Than Snow)
Feature Films – Full Price: £8
Short Film Programmes – Full Price: £7
Iris Gig at Enby's– Full Price: £10
Opening Night – Full Price: £15
Awards Show – Full Price £13
Iris Loves – Full Price £5
£5 Student Specials: £5 for all shorts programmes, feature films (available on the day of the screening with a valid student ID)
FESTIVAL VENUES
Vue Cinema – Main Venue and Festival Hub
Stadium Plaza, Wood Street, Cardiff, CF10 1LA
USW Atrium Theatre
University of South Wales, Adam Street, Cardiff, CF24 2FN
Chapter Arts Centre
Market Road, Canton, Cardiff, CF5 1QE
Cardiff University School of Journalism, Media and Culture (JoMeC)
2 Central Square, Cardiff, CF10 1FS
Tickets are available at irisprize.org/2023-box-office (opens 19 September, 2023) or in person from 10-15 October 2023 at the Festival Box Office at Vue Cardiff. Iris Members can book tickets during the early bird period (4-18 September) and if you are not a member, we encourage you to join here: Iris Membership – Iris Prize
Full details about Iris Prize can be found here: www.irisprize.org
The main festival sponsors are: The Michael Bishop Foundation; Creative Wales, a Welsh Government agency that supports the creative sectors in Wales; the BFI awarding funds from The National Lottery; Ffilm Cymru Wales; Film4; University of South Wales; Cardiff University; Co-op Respect; Bad Wolf; S4C; Gorilla Group; Peccadillo Pictures; Pinewood Studios; Attitude Magazine; Diva Magazine; The Ministry Venues; Transport for Wales; Stadium Plaza; FROOT and Aberystwyth University. The festival also works in partnership with BAFTA Cymru, Pride Cymru and Stonewall Cymru.