What are you looking for?
Christmas Festival: Castellana
Event Info
THE CARDIFF CASTLE CHRISTMAS FESTIVAL IN THE SPIEGELTENT
The Cardiff Castle Christmas Festival is a spectacular new entertainment attraction being staged inside a unique venue in the grounds of Cardiff Castle. Adding another unique offering to to Cardiff's Christmas Season, three incredible shows will offer something for everyone – Santa's Wish, Castellana and The Nutcracker – and will be performed in the round, in the intimacy of a 570-seat Spiegeltent, promising in every second to transport visitors to a nostalgic and magical world.
WHAT'S A SPIEGELTENT?
A European Spiegeltent (or magic mirrors) is the ultimate cabaret and music salon. It is a hand-hewn pavilion used as a travelling dance hall, Bohemian entertainment salon and wine tasting marquee since the late 19th and early 20th centuries. They used to be the number one attraction at Belgian funfairs.
The tent is built from wood, cut mirrors, canvas, leaded glass, and detailed in velvet brocade. Each one is unique with its own name, personality, and style. Only a handful of these special and legendary tents remain in the world and The Fortuna, owned by Dutch company Van Rosmalen, is one of the most beautiful, playing host to some of the world's greatest performers and musicians.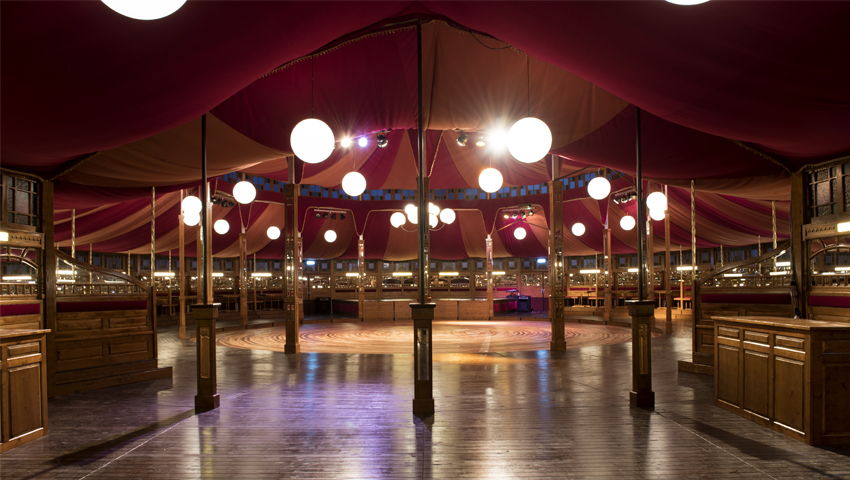 Castellana
A Jaw-dropping Entertainment Spectacular
The brand new, jaw-dropping spectacle of Castellana is a sensational blend of cabaret, burlesque and comedy with a hint of naughtiness with anthemic music and a storyline set in a magical mystical world filled with intrigue and suspense. World class performers will amaze, beguile, baffle and amuse as they deliver the ultimate Christmas Night Out in the intimate setting of the Fortuna Spiegeltent.
Prepare to be welcomed and delighted by the cheeky magicians, shapeshifters, high-flyers, fiery angels and dazzling demons of Castellana.
As the magic intoxicates your senses, discover the stories and strange transformations of the people who came before you. Anything is possible for those who dare to leave their everyday lives behind and enter this timeless, risqué otherworld of miracles and wonder.
Castellana has its World Premiere on 1st December and runs until 8th January 2023. The show is suitable for those aged 16+
STAY IN TOUCH
Sign up to the Visit Cardiff e-newsletter today for exciting Cardiff news, events, special offers, things to do and more from the Visit Cardiff team.