What are you looking for?
Christmas Festival in the Spiegeltent: My My! Abba
Event Info
THE CARDIFF CHRISTMAS FESTIVAL IN THE SPIEGELTENT
The Cardiff Christmas Festival is a spectacular new entertainment attraction being staged inside a unique venue in the grounds of Sophia Gardens. Adding another unique offering to to Cardiff's Christmas Season, four incredible shows will offer something for everyone – Santa's Wish, Castellana, Welsh Of The West End & My My ABBA The Christmas Concert – and will be performed in the round, in the intimacy of a 570-seat Spiegeltent, promising in every second to transport visitors to a nostalgic and magical world.
WHAT'S A SPIEGELTENT?
A European Spiegeltent (or magic mirrors) is the ultimate cabaret and music salon. It is a hand-hewn pavilion used as a travelling dance hall, Bohemian entertainment salon and wine tasting marquee since the late 19th and early 20th centuries. They used to be the number one attraction at Belgian funfairs.
The tent is built from wood, cut mirrors, canvas, leaded glass, and detailed in velvet brocade. Each one is unique with its own name, personality, and style. Only a handful of these special and legendary tents remain in the world and The Fortuna, owned by Dutch company Van Rosmalen, is one of the most beautiful, playing host to some of the world's greatest performers and musicians.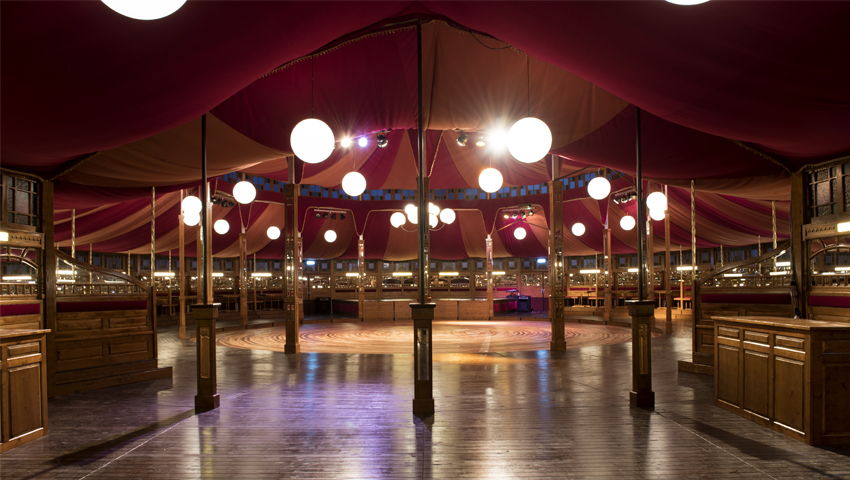 MY MY! ABBA
The Christmas Concert pays homage to the original Swedish sensation, capturing the Supergroup's fabba-ulous sense of fun, recreating their incredible unique sound and combining this into a fun-filled evening of sing-along, dance-along magic!
Featuring such unforgettable hits as Waterloo, Mamma Mia and Dancing Queen, this fantastic cast of West End performers are guaranteed to liven up your night and keep you dancing till dawn!
With a mix of iconic costumes and a touch of audience participation this is the perfect Christmas celebration of the greatest pop group of all time.
STAY IN TOUCH
Sign up to the Visit Cardiff e-newsletter today for exciting Cardiff news, events, special offers, things to do and more from the Visit Cardiff team.