What are you looking for?
Christmas Festival: The Nutcracker
Event Info
THE CARDIFF CASTLE CHRISTMAS FESTIVAL IN THE SPIEGELTENT
The Cardiff Castle Christmas Festival is a spectacular new entertainment attraction being staged inside a unique venue in the grounds of Cardiff Castle. Adding another unique offering to to Cardiff's Christmas Season, three incredible shows will offer something for everyone – Santa's Wish, Castellana and The Nutcracker – and will be performed in the round, in the intimacy of a 570-seat Spiegeltent, promising in every second to transport visitors to a nostalgic and magical world.
WHAT'S A SPIEGELTENT?
A European Spiegeltent (or magic mirrors) is the ultimate cabaret and music salon. It is a hand-hewn pavilion used as a travelling dance hall, Bohemian entertainment salon and wine tasting marquee since the late 19th and early 20th centuries. They used to be the number one attraction at Belgian funfairs.
The tent is built from wood, cut mirrors, canvas, leaded glass, and detailed in velvet brocade. Each one is unique with its own name, personality, and style. Only a handful of these special and legendary tents remain in the world and The Fortuna, owned by Dutch company Van Rosmalen, is one of the most beautiful, playing host to some of the world's greatest performers and musicians.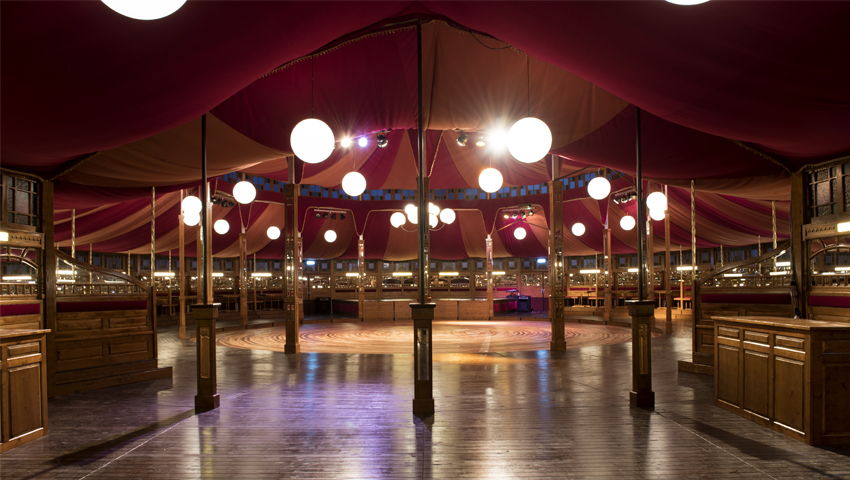 The Nutcracker
The Christmas Ballet with a Welsh Twist
The Cardiff Castle Christmas Festival opens with a festive classic, but this isn't just any version of The Nutcracker, this is the Christmas ballet with a Welsh twist, befitting the unique venue in which it is being performed.
Already a firm family favourite with those who attended the celebrated opening run in 2021, The Rubicon Dance Company presents its highly acclaimed full-length contemporary ballet of The Nutcracker – Wales' first reimagining of its kind, featuring a rich cast of recognisably Welsh characters, including Uncle Idris, Bop Sheila & Bopa Linda and The Mari Lwyd!
The production also features the company's signature showpiece Snowflakes as seen at Cardiff's Platinum Jubilee celebrations and featuring choreographer Jamiel Laurence's unique take on dancing, tumbling, avalanching and flying snowballs!
Audiences are invited along for a magical ride through the William's Family Christmas. As we are taken into the dream world of our lead protagonist, Carys, her Uncle Idris will conjure up a battle, a snowstorm and his very own variety show, The Uncle Idris Show!
From Friday 25th November 2022 for 5 performances only!
STAY IN TOUCH
Sign up to the Visit Cardiff e-newsletter today for exciting Cardiff news, events, special offers, things to do and more from the Visit Cardiff team.