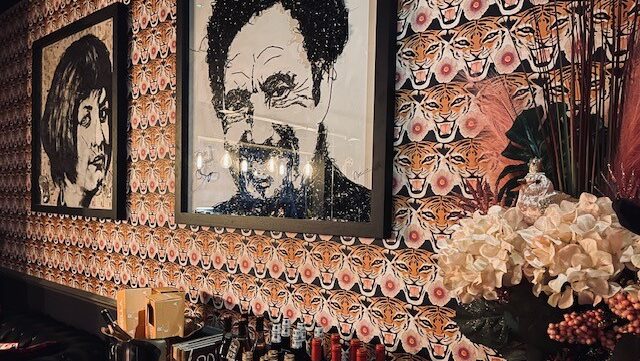 'Club' in as much as you want to belong in this space, not to dance to loud music but where entertainment industries in Film, Television and Theatre production can share passions, ideas and give support of like minded professionals.
Bringing back a modern day feel of the original entertainment space that was 'The Casablanca Club'.
Resident DJ
Sarah Sweeney is a purveyor of funk, soul, disco, hip hop, house and jazz, on vinyl or any way music finds its way to her. She has had over 20 years in the game and shared the stage with World class DJs, across the UK and beyond.
Sarah began her musical journey when she was 15 years old, sneaking into the Southport Weekenders under age, becoming immersed in the unique fusion that is the UK Dance scene. Inspired by what she saw and heard, Sarah embarked on her own DJ path.
After earning her stripes, playing 5 hour sets locally, Sarah went on to become resident for Liverpool's infamous night, Chibuku Shake Shake where she played alongside World Class DJs.
During her time living in Nottingham and London, Sarah held residencies at The Bomb, The Heavenly Social, The Big Chill, 93ft East, as well as one off nights at Fabric, The Cross, the Egg and Herbal.
Now residing in Cardiff with her family, Sarah's love of music continues, holding one off specials across the city and further a field with her musical family in the North and South.
Resident Artist
Nathan Wyburn, 30, is a Welsh artist, who specialises mostly in creating iconic celebrity portraits and 'Pop culture' imagery with non-traditional mediums such as Food (Marmite on Toast, Sauces, Sugar, Chocolate, Beans, Pizza, Sweets etc), along with other everyday items (Newspaper cut outs, Soil, glitter, Toothpaste, Fake tan, Motor Oil etc). He has also branched out into making art using his lips, tongue, feet and fingerprints! Taking inspiration from current affairs and media topics, he's never short of ideas and produces work on a weekly basis.
Famous names that have all received a piece of Nathan's work include HRH Prince Charles, Dame Shirley Bassey, Mariah Carey, Catherine Zeta-Jones, The Jacksons and Keifer Sutherland to name a few. With the likes of Christina Aguilera, Marcus Rashford and Sir Tom Jones sending their approval via social media.
Nathan has exhibited work all over the UK and had interviews as far as Japan, USA, and Australia. Along with travelling to Madrid, Istanbul, Helsinki and Vienna for commissioned work and TV guest appearances.
DIRECTIONS
Casablanca Club, Mount Stuart Square, Cardiff, CF10 5LR