What are you looking for?
Paddleboarding with Stand Up Paddle UK - Part 2
Dale and Darren from Stand Up Paddle UK spent a few days exploring Cardiff's waterfront with their paddleboards, as well as staying in one of the city's swankiest hotels and discovering all that Cardiff Bay's dry land has to offer!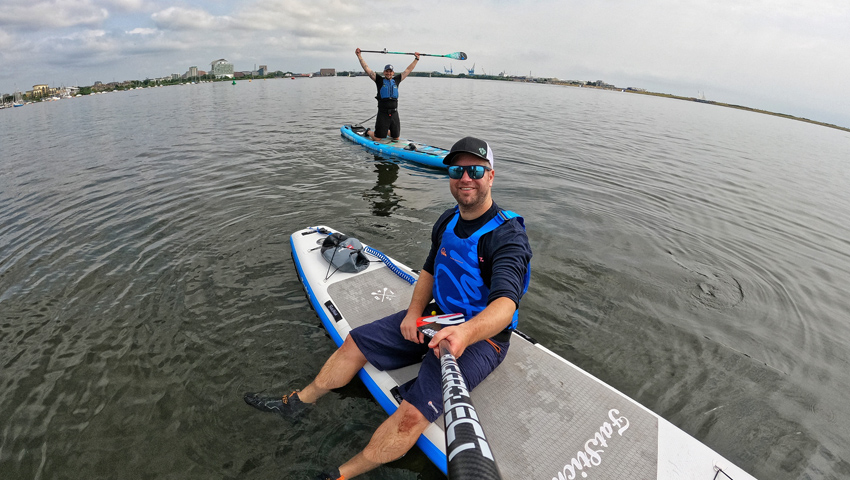 CARDIFF INTERNATIONAL WHITE WATER
After breakfast we headed to CIWW to check in. It was pretty close to our hotel, 5 minutes by car. We prepared our boards in the car park then headed down on to the water. If you want to paddle on the river it's a small £5 payment and sign in at reception, so that's what we did. Our plan was to head up the River Ely for around 2 miles as the weather was a bit dubious and we had afternoon plans with our partners. We changed in the car park, however there is access to changing facilities and toilets at the centre.
We carried out boards through the side gates and down some steps to the pontoon which was an easy get on. It was really nice to launch in the marina. Heading right the river was well protected from winds so it felt like an easy paddle. It is a pleasing start, heading through the boats in the marina and high rise buildings as a back drop. The River was empty so it was plane sailing for us. We did a shade over 4 miles in 1hr 20 mins. Once we got off the water it was a quick deflate of our boards and drive back to our hotel.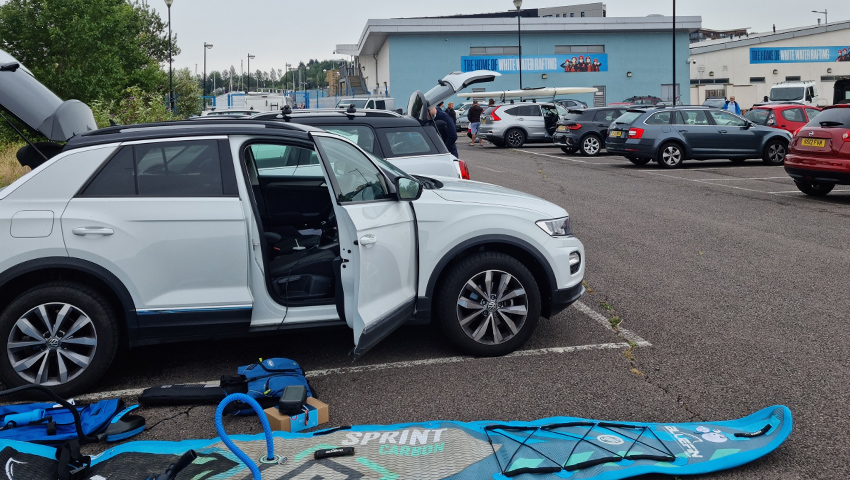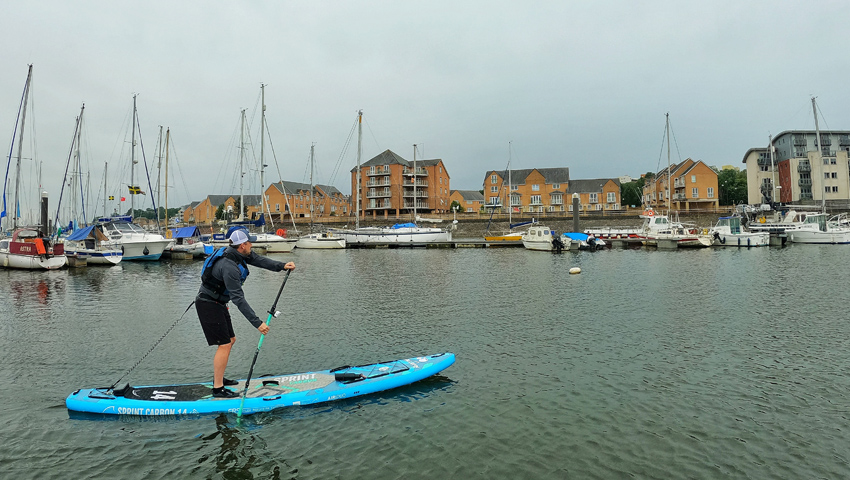 Whilst paddling, my wife and daughter went to Techniquest, a science attraction in Cardiff Bay and played for hours their until we returned. One thing about escaping to a city break to paddle is keeping the family entertained. We even managed to book into the hotel pool and spa in the evening and have a swim and sauna before dinner.
Darren sampled some of the shopping in the area with his partner. St David's Dewi Saint shopping centre was vibrant, busy and full of shops.. As you'd expect! Lots of parking and plenty of options for lunch.
TOP TIP: Darren recommends the Yakatori1 restaurant in Mermaid Quay…

"Some of the best Sushi I've experienced".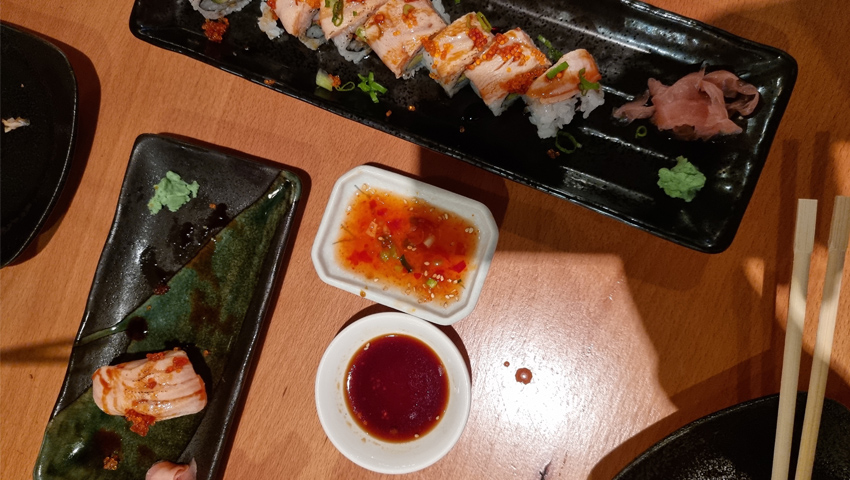 VLOG – DAY 2
Cardiff International White Water and River Ely…
Sunday, we enjoyed another great breakfast and recharged our battery's before meeting at Channel View Leisure Centre. £5 to access the river per board, free parking and easy access, not bad at all. We met with a couple of local paddlers and headed up the River Taff. This route is excellent, especially for those who love a stadium. We cruised past the Principality Stadium, the views from the water were very cool. Certainly a different back drop to other paddle routes!
A very wide river at the base of Cardiff Bay which narrows down and gets quite shallow after you reach Cardiff Castle. We did a 5.5 mile route in 2hr20mins. Just watch out for those river boats ferrying passengers up and down the Taff.. they will leave you in a meaty wake!!
Just before getting off we also paddled out into the Bay to check out the views over the hotel and large sailing boats the water here was glassy and definitely very different from a river paddle. Worth noting to make sure you understand the buoys to make sure you have a safe paddle.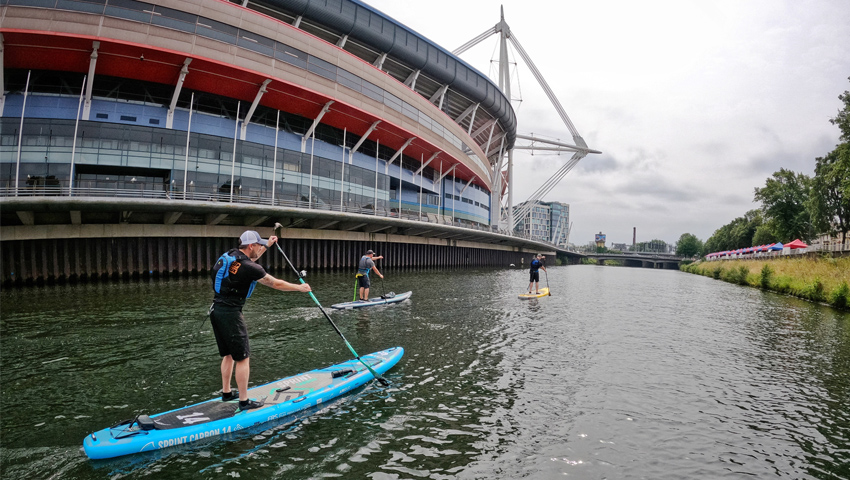 After the paddle we head our separate ways. Darren heading home with the longer journey, and me and my family heading to Cardiff Castle another great attraction whilst in the city.
If you're looking for a trip away and want to check out some easy city water sports we definitely recommend adding Cardiff to your list!
Have you read Part 1 of Darren and Dale's paddle boarding weekend in Cardiff?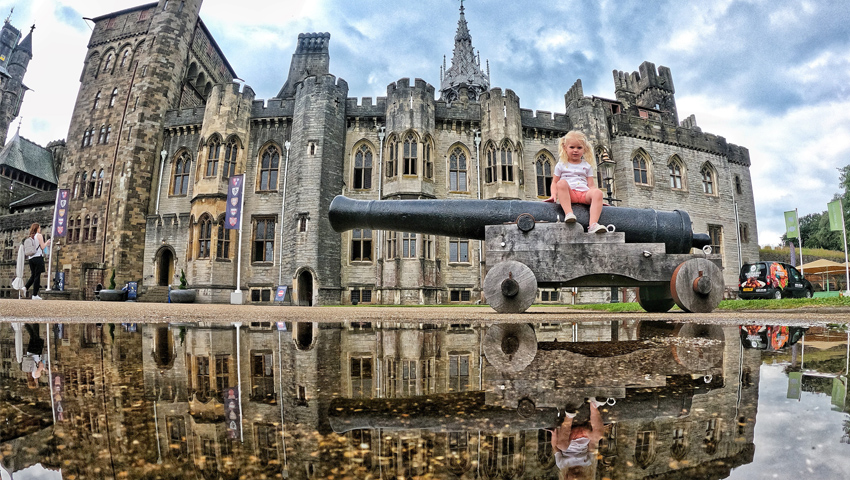 VLOG – DAY 3
Channel View, get on and paddle up the River Taff…
STAY IN TOUCH
Sign up to the Visit Cardiff e-newsletter today for exciting Cardiff news, events, special offers, things to do and more from the Visit Cardiff team.