What are you looking for?
Devilish Weekend: How to Spend 2 Nights in Cardiff as an Ice Hockey Fan
So you're travelling to Cardiff to watch your favourite team take on the Cardiff Devils and you're wondering what to do with the rest of your time while you're here. Well, you've come to the right place. We've created an itinerary especially for hockey fans, striking the perfect balance between adrenaline-fuelled sporting activities, must-see tourist attractions, beautiful scenery and Welsh heritage and culture.
Top Tip: to avoid disappointment book tickets and places ahead.
Day 1
3pm-4pm | Check in to your Hotel
If you want to spoil yourself why not check into Voco St David's  for the weekend? The luxury hotel is ideally located overlooking the water, with large, modern and luxurious rooms and is Cardiff's only 5 star hotel. Voco St David's contains eclectic restaurant and bar The Admiral. The Spa at St David's boasts a large swimming pool and sauna. Time to get settled in and ready for the evening ahead.
Or for a more affordable option, check out the centrally-located Clayton Hotel.
3pm-5pm | We're On A Bowl | Hollywood Bowl
Next step is Red Dragon Centre, which holds Hollywood Bowl – an American-style light-up bowling alley with games and bar food. Take it easier and see who's the ultimate bowler.
6pm-7:30pm | Dinner on the Quay | Mermaid Quay
Now you're good to go, it's time to take a wander and explore what Cardiff Bay has to offer. A stone's throw from your hotel, you'll find the thriving hub of activity that is Mermaid Quay – offering up a selection of restaurants, bars and venues.
7:30pm-10pm | Let Us Entertain You
Now that you're fuelled up, it's time to settle down and watch a show. With something to suit everyone, Mermaid Quay is sure not to disappoint. We'd recommend checking out what's on at The Glee Club if live comedy is your bag, if you want to want to catch a live theatrical performance then the iconic Wales Millennium Centre who offer a range of visiting shows. And shows by local theatre companies. Alternatively, make yourself at home at Everyman who offer a range of indie films in a comfortable, relaxed environment.
Day 2
It's time to wake up after your entertaining evening and comfortable, relaxing night's in your hotel.
8am-10am | Explore The Waterfront
You've seen what Cardiff Bay looks like at night, but there's something peaceful and beautiful about the waterfront in the morning, before the buzz of people start to gather. So it's an ideal time to take a walk and see some of the unique buildings in the bay. Keep an eye out for the Senedd building, that houses the Welsh Parliament, along with the Pierhead building, famous for its 'mini Big Ben' clock, the historic Norwegian Church and the Roath Lock BBC Studios. Keep going along the Cardiff Bay Trail and you'll find the barrage that rises to let boats and ships access to the city, but keep a look out for some unique statues and monuments on the way. After your wake-up walk, head back to the hotel for a hearty breakfast and to get ready for the next part of your adventure.
10am-11am | Into The City
Now you've got to know the Bay, it's time to head into the heart of city, before returning for the big game tonight! So what's the best way to head into the city, you ask? Cardiff is a city with a few tricks up its sleeve. Our first recommendation is to take a water bus from Mermaid Quay to Bute Park, in the centre of town. Enjoy a relaxed journey along the River Taff, and learn a bit of history on the way from the tour guide. Alternatively, if you want more flexibility, we're also big fans of the open-top double decker City Sightseeing Buses – simply pay for the day and you can hop on and off as you wish, learning about the unique history and culture of the city as you go.
11am-1pm | A Castle Adventure
Cardiff Castle is without a doubt Cardiff's most iconic landmark and most popular tourist attraction and with good reason. It's steeped in history and has tales of hauntings. Discover the secret rooftop garden, Norman keep, wartime shelters, 'Firing Line' military museum and beautifully restored rooms. It really is a sight to behold!
Top Tip: Ask about the ghost sightings for some fascinating stories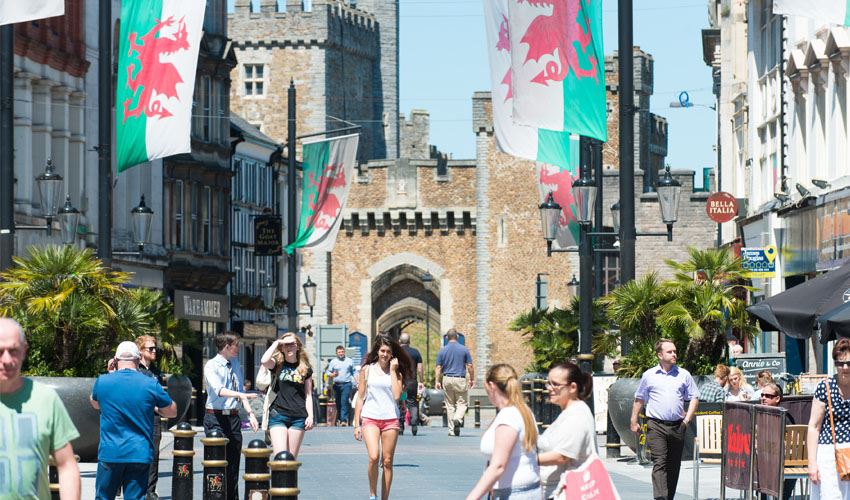 1pm-2:30pm | Lunching
Time to take a break and fill up for the day ahead, just round the corner from the Castle, you can find Honest Burger, offering handmade juicy burgers including monthly local specials, served with their classic rosemary fries. Feeling something different? Next door, you can find Pho, offering up Vietnamese cuisine, think noodles, rice dishes, curries – you'll definitely find something unique.
2:30pm-4:30pm | Don't Just Be A Spectator
So you've arrived at the International Sports Village, home to the Ice Arena Wales; where in a few hours you will watch the almighty Cardiff Devils go head to head in a clash with your favourite team… But don't be just a spectator, it's time for some serious fun! Our destination of choice is Cardiff International White Water and it's time for some extreme water sports. After all… you hockey fans are tough, right?
Cardiff International White Water is an exhilarating, adventure facility which caters for thrill-seekers of all ages and abilities and offers a wide range of water sports courses. Navigate the choppy waves of the white-water rafting course; or perhaps canoeing and kayaking is more up your street?
For those of you who may have had enough action for one day, or perhaps prefer a little bit of R&R, we have just the ticket at Cardiff International Pool, just across the road. We'd recommend an hour or two in the Health Suite, take full advantage of the sauna, steam and spa and you will leave feeling revitalised and rejuvenated. The facility also offers an impressive 50m Olympic swimming pool, and for those of you with little-ones there is also a leisure pool with fun twisting slides, toys, inflatables and floats.
4:30pm-6pm | Freshen Up For The Big Game
After you experienced your very own active adventure, it's time to go back to your hotel and freshen up for the night ahead. Grab a bite to eat at the hotel restaurant and bar, then make your way back to the International Sports Village for the big game.
6pm-10pm | Get Your Game Face On!
Now it's time to grab a pint, find your seats, get comfortable and enjoy the game!
10pm-Late | Where's The Party At?
The game may be over, but the night isn't. or perhaps some cocktails at Pitch. If you're in the mood for partying until the early hours then get a taxi to the city centre. St Mary Street and Mill Lane are where it's at for cocktails, Womanby Street is the place to go if you want to see live music in quirky independent venues, and if you're looking for night clubs then look no further than Greyfriars Road.
Day 3
After a day exploring the city, watching the game and a drink or few (and maybe a few more!) yesterday – we've got an easier morning planned for your journey home.
10am-12pm | Step Back in Time
Start the morning by experiencing a bit of Welsh history. St Fagan's National Museum of History isn't your typical museum building – first of all it's not just one building, but a collection of historical buildings, that have been painstakingly restorated by their cultivators.
12pm-1.30pm | Explore The Suburbs
We recommend making one final stop before heading back on your journeys in the beautiful leafy suburb of Whitchurch. This historical community hosts a selection of boutique bars, restaurants and bars in the high street. Perfect for a final meal and coffee to keep you going as you head home!