What are you looking for?
Getting Crafty: Cardiff's Craft Beer Tap Houses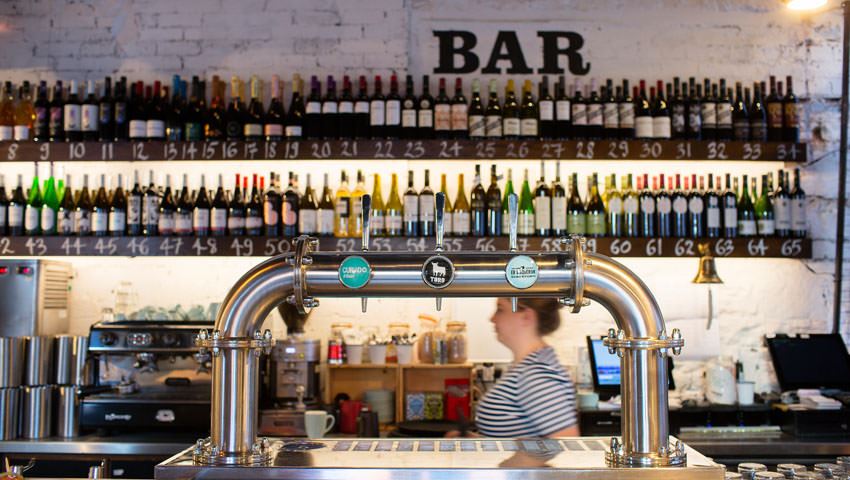 Get to know the craft beer scene in our capital.
Anyone who's been to Cardiff will know the city centre has a bewildering collection of pubs & bars to choose from. Whatever the type of establishment you're looking for, from sophisticated to spit and sawdust, chances are that Cardiff has a place for you.
One of the most recognisable names in craft beer, at their Cardiff bar urban meets stripped-back student chic – think exposed brickwork, reclaimed timbers and bare stone tables. The bar is centrally located on Westgate Street opposite the Principality Stadium. They serve an extensive range of resident and guest ales on draught.
Location: 31 Westgate Street, City Centre CF10 1EH
Zerodegrees brew their six core beers on site and serve them straight from the tank, with no additives or messing around, joined by new limited-edition special brews every month. They also make a mouth-watering range of pizzas fresh to order and bake them in minutes in wood-fired ovens. Plus, see behind the scenes by booking an on-site brewery tour.
Location: 27 Westgate Street, City Centre CF10 1DD
If you're looking for a local take on the contemporary craft beer, head to the Tiny Rebel. Owned by Newport's brewing stars, this bar is a modern, late-night beer lover's retreat. Set across two floors of a grand old building, it hosts regular mini-beer fests, tap-takeovers, a local homebrew club and, of course, it sells loads of fantastic beer.
Location: 25 Westgate Street, City Centre CF10 1DD
Built in the 1800s, the City Arms may be old but it still holds its own against all the young pretenders; it was voted Cardiff's best pub by CAMRA in 2012. Situated a stone's throw from the Principality Stadium and Cardiff Arms Park, this godfather among the watering holes of the city centre is cherished by sports fans, students and professionals alike.
Location: 10-12 Quay Street, City Centre CF10 1EA
The Head of Steam is the first venue of its kind to land in Wales by Cameron's Brewery and will be serving up beers sourced both locally and from across the UK in addition to beer cocktails, rotating craft kegs, wines, spirits and soft drinks. At this crafty pub, you can have your drink and eat it too with menu items that use bar beers in the ingredients, such as the Full Head of Steam Burger made with its very own Röad Crew beer.
Location: 18-19 Church Street, City Centre CF10 1BG
The team behind Cardiff's popular Bub's Bar, which was formerly on Church Street, have opened a new café bar, serving cocktails, craft beer, coffee, and more. Scaredy Cats is set on Working Street and we've taken a look inside the new bar which has been refurbished by the staff themselves.
Location: 16 Working Street, City Centre CF10 1GN
You can find Brew Monster's tap house in the heart of Cardiff's Castle Quarter, just yards from Cardiff Castle. Serving up 12 craft beers and 3 cask ales including a selection of own-brewed beers and many guest beers from other Welsh breweries and leading breweries from across the UK. Also on offer is a a selection of premium spirits, wines and craft cider.
Location: 31-32 High Street, City Centre CF10 1PU
A new brewery and taproom in the heart of the city that showcases 10 lines of fresh and tasty Mad Dog brews. Alongside a few rotating guest taps, they also serve quality wines, soft drinks and delicious bites to eat.
Don't miss the chance to buy some tinnies for your travels direct from their on-site brewery store.
Location: 17-19 Castle Street, City Centre CF10 1BS
Situated in a 22,000 sq ft former warehouse in the City Centre, DEPOT was the first to offer the people of Cardiff a permanent, indoor street food venue, and the weekly Street Food Social now runs every Saturday all year round. From launching a secret speakeasy pop-up, to hosting Wales's first independent beer festival, DEPOT continues to evolve, bringing new and original events to the city and cementing a reputation as the go-to place for Cardiff's alternative night out.
Location: Williams Way, Curran Embankment, Riverside & Grangetown CF10 5DY
Pipes Artisan Brewery, now open every Friday and Saturday, was established in 2008 and brews its own 100% hand-crafted beer that you can enjoy in the sunshine on their outdoor seating area, or just take away a few bottles of your favourite IPA to enjoy at home! Don't forget, all beers are 100% natural and suitable for vegans.
Location: 183A King's Road, Pontcanna CF11 9DF
Brewpub and beer garden, based in Sophia Gardens, ideally placed next to the Glamorgan Cricket grounds and Cardiff Caravan Park. With beers brewed on-site, joined by guest ales, B&K also offer a brewery experience day as well as beer, whiskey and gin tasting experiences.
Location: Sophia Close, Pontcanna CF11 9HW
Cardiff's first micropub selling local, independent beer and focuses on building up the community spirit. They also host 'Street Food Friday' events where you can sample some of Cardiff's delicious delicacies to accompany your cold pint, iechyd da!
Location: 42 Llandaff Road, Pontcanna CF11 9NJ
Now you have all you need to know on the local Cardiff brewery scene, you can do some good by supporting our independent microbreweries and bars. You can tag us in your pint selfies, @visitcardiff #visitcardiff. Cheers! 🍻