What are you looking for?
Cardiff's Winter Wonderland - Castle Grounds
Event Info
Cardiff's famous and much loved Winter Wonderland. Split once again across two locations in the heart of the city centre, visitors will now be able to experience Cardiff's Winter Wonderland at both Cardiff Castle and City Hall Lawn.
AT CARDIFF CASTLE
The Ice Rink & Ice Walk
This year, Cardiff's Winter Wonderland Ice Rink and Ice Walk will be set within the beautiful grounds of Cardiff Castle against the backdrop of the Norman Keep. The undercover 40m x 15m ice rink, with the 150m Ice Walk, is suitable for all ages and abilities. Accessible sessions are available every Wednesday afternoon between 13:30 – 14:30.
Skate Aids for Smaller Guests
The famous penguins will be making a come back and the colony has grown! There are now even more skate aids available for children who need assistance on the ice. Pre-booking is essential.
Festive Food & Drink
From hearty Yorkshire pudding wraps to toasted marshmallows, there will be plenty of options available within the Castle walls.
OPENING TIMES
16 November – 3 December
Opening
Closing
Monday – Thursday
12:00
21:00
Friday – Sunday
11:00
22:00
4 December – 2 January
Opening
Closing
Sunday – Saturday
11:00
22:00
EXCEPTIONS
Opening
Closing
Thu 16 November
17:00
21:00
Christmas Eve
11:00
20:00
Christmas Day
CLOSED
Boxing Day
CLOSED
New Year's Eve
11:00
00:30
New Year's Day
11:00
22:00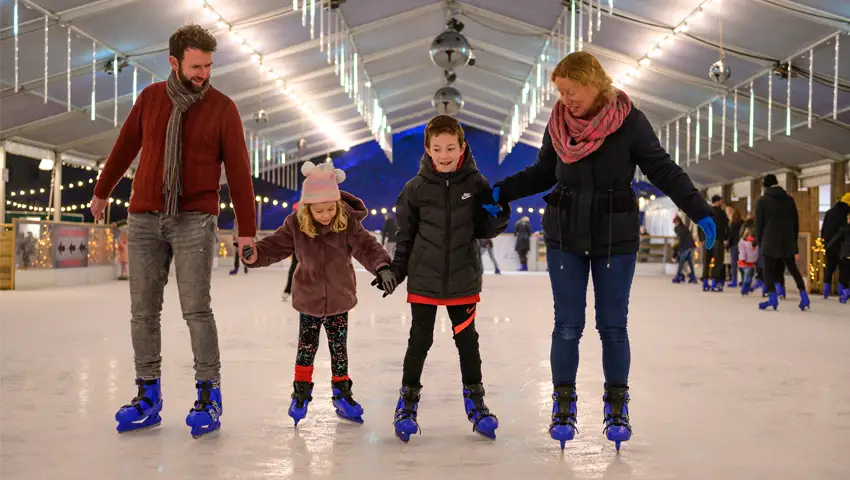 AT CITY HALL LAWN
Family Funfair Attractions
Cardiff's Winter Wonderland just isn't complete without its famous family funfair. As usual, you can enjoy the best view of the city from the Giant Wheel plus, there will be a great range of other attractions that are suitable for all ages and nightly entertainment.
Sur la Piste, Ski Lodge Bar
The ever popular two-story ski lodge, Sur la Piste, will be returning and this year it's coming with a brand new, outdoor roof terrace.
The Ice Bar!
Chill out with your mates and enjoy a drink at the city's coolest hotspot, the exciting new Ice Bar experience at Cardiff's Winter Wonderland! This is an Instagrammers' heaven with sub-zero temperatures and yes, everything is made out of ice. To visit the Ice Bar, make sure you pre-book a timed slot.
Festive Food & Drink
Sit back and enjoy your favourite sweet and savoury treats in the Alpine Village's covered seating areas.
Find out what else is happening at Cardiff this festive season on our Christmas page.
STAY IN TOUCH
Sign up to the Visit Cardiff e-newsletter today for exciting Cardiff news, events, special offers, things to do and more from the Visit Cardiff team.