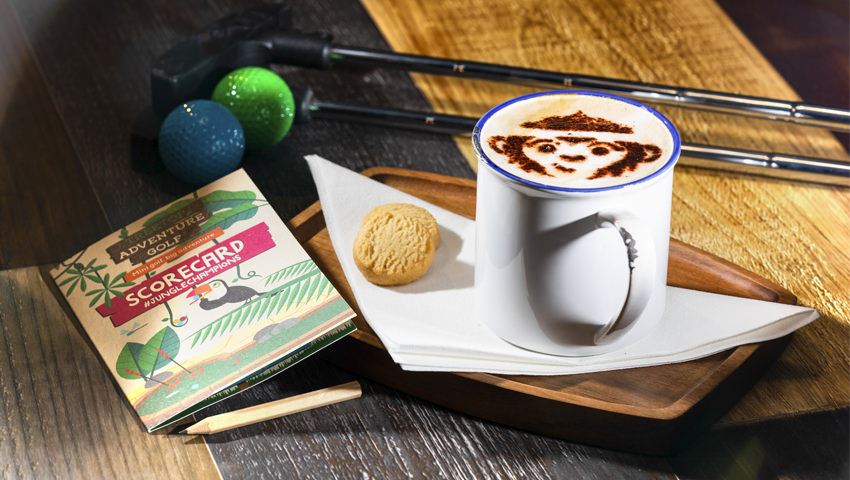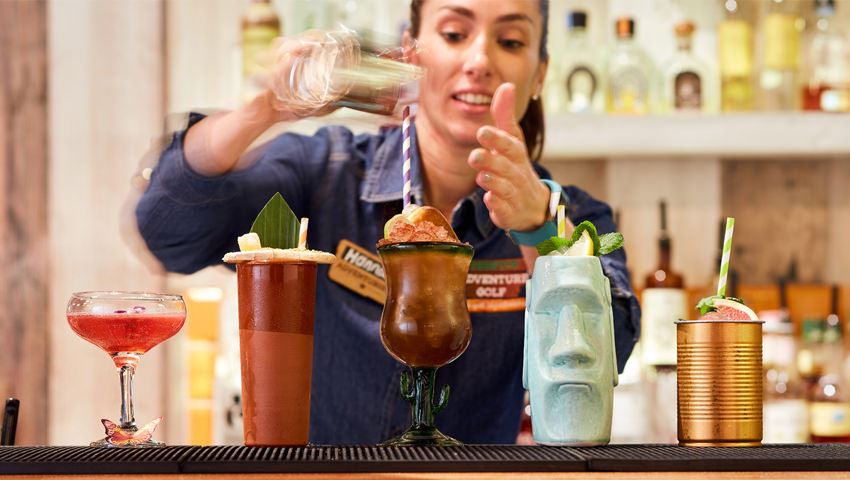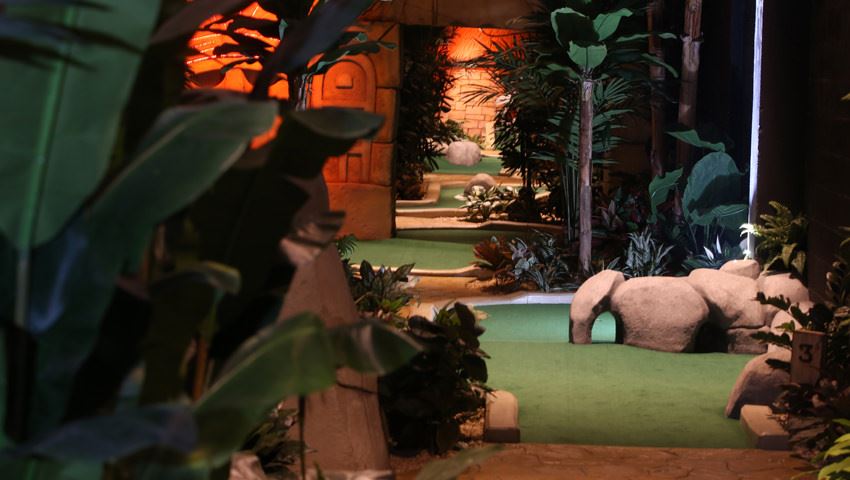 Looking for an epic adventure? Trek into Cardiff's lushest rain forest, where thunder rumbles, ancient spirits stir and mini golf reigns supreme.
Tackle the Tropical Trail or the Ancient Explorer, our indoor, 18-hole courses. Then grab cracking coffee, tropical cocktails and handmade pizza in our Clubhouse.
Family tribes, teams of mates, couples on dates, senior masters… we've got something for everyone in our tropical world. We're open seven days a week, no need to book – just turn up and tee off!
TROPICAL TRAIL
Set off on an 18-hole jungle trek.
Navigate your way through the rainforest canopy, chat with cheeky toucans, head past the Towering Trees, watching out for thunderstorms and lightening as you go. Oh, and listen out for our singing barbershop frogs as you wade though the murky swamp.
Are you up for the tropical challenge?
ANCIENT EXPLORER
Discover 18 holes of mystical magic.
You'll be welcomed to the Cloud Village by The Sacred Mask and Chief Slumber – just make sure you don't upset them! Putt through a Towering Tree to stir up the ancient spirits of the mist, but watch out for the thunderstorm gods as you pass the Mystic River.
Think you can outwit the ancient empire?
THE 19th HOLE
Come on down to the bonus hole!
Bob gives every player the chance to test their skills and win a free round. But beware, any shonky shot makers will get a generous helping of Bob's famous banter.
Have you got what it takes to beat The 19th?
VISITOR INFORMATION:
Tickets & Prices
18 holes (1 course)
Adventurers £8.50
Senior masters (60+) £7
Young'uns (under 5s) £4
Student putters* £7
Family of 4** £28
Family of 5** £35
36 holes (2 courses)
Adventurers £13.50
Senior masters (60+) £10.50
Young'uns (under 5s) £6.50
Student putters* (+FREE bottled beer, cider, 125ml wine or soft drink) £10.50
Family of 4** £39
Family of 5** £49
* Sun 5pm – Fri 5pm with valid student photo ID
** Family must have one child 12 years or under
Food & Drink
Hang out and enjoy cracking coffee and exotic cocktails in our revamped Clubhouse, or feast on delicious artisan pizzas from Pizza Pronto.
Access Facilities
The Treetop jungle is wheelchair and pram-friendly. Everyone can come and enjoy a game.
Getting to Treetop Adventure Golf
PARKING
The nearest parking is at St David's Dewi Sant or NCP Car Park Rapports
BY BUS
The nearest bus stops are Canal Street or Hayes Bridge Road.
BY RAIL
The nearest train station is Cardiff Central.
Get in touch with Treetop Adventure Golf
Email
info@adventuregolf.com
Address
Level P3, St David's, Cardiff, CF10 2EL