What are you looking for?
Why Groups Should Visit Cardiff this Festive Season
The countdown to Christmas is already on.
Cardiff, the capital city of Wales, is a great destination for a group visit. It offers a huge range of attractions, activities, top-class entertainment, and accommodation. The city centre is compact, easy to get around on foot with a transport interchange, coach parking and lots of drop off points for coaches.
There are several landmark attractions both in the city centre and on the city's waterfront. Cardiff Castle is a key attraction offering guided tours for groups to learn more about its fascinating heritage. Overlooking Cardiff Bay, groups can enjoy Wales Millennium Centre, the famous Pierhead Building alongside Senedd Cymru, Wales' Parliament building.
Here's a preview of some of the magical memories waiting to be made in Cardiff this Christmas. It is recommended that you make a group booking in advance of your visit.
1. Ice-skating in the grounds of a Castle. 
Cardiff's Winter Wonderland Ice Rink and Ice Walk returns to the beautiful grounds of Cardiff Castle this year. The undercover rink is suitable for all ages and abilities.
Ticketed event: 16 November to 2 January.
Cardiff's Winter Wonderland – Castle Grounds • Events • Visit Cardiff
2. Wrapping up warm to pick out the perfect handcrafted gift for somebody special at the traditional Christmas Market. 
Cardiff Christmas Market is home to bespoke silver jewellery, original artwork, beautiful, fused glass work, hand thrown ceramics, handmade quilts and textiles, seasonal food and drink, and much more. Chat to the talented makers and soak up the uniquely festive atmosphere as you browse the traditional wooden chalets.
Dates: 9 November to 23 December
3. A breath-taking walk through a 'Light Canyon' awash with a thousand mesmerising stars. 
Wales' biggest ever festive lights trail is back – and tickets are on sale now. Christmas at Bute Park is set to shine brighter than ever in 2023 as it returns with a host of new sights in tow.
Ticketed event: 24 November to 1 January
Christmas at Bute Park 2023 • Events • Visit Cardiff
4. Chilling out at the city's coolest hotspot. 
Over on City Hall Lawns, amidst all the fun of the fair the sub-zero temperatures in the Ice Bar at Cardiff's Winter Wonderland make it the coolest place to chill out this Christmas. It really is made entirely out of ice, so just make sure you wrap up warm and enjoy a drink with your group!
16 November – 7 January
Cardiff's Winter Wonderland – City Hall Lawn • Events • Visit Cardiff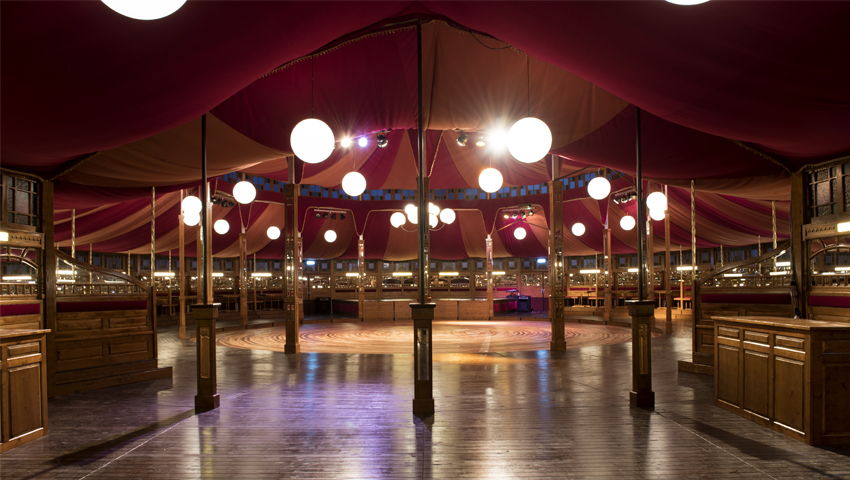 5. Experiencing the magic and nostalgia of a Spiegeltent show.
Three incredible shows – Santa's Wish, Castellana and The Nutcracker – come to the grounds of Cardiff Castle in a magnificent European Spiegeltent. Built from wood, cut mirrors, canvas, leaded glass, and detailed in velvet brocade, Spiegletents were once the number one attraction at Belgian funfairs and this year the festive shows in the Spiegeltent will transport visitors to a nostalgic and magical world in the intimacy of a beautiful hand-hewn pavilion.
Christmas Festival – Castellana • What's On? • Events at Cardiff Castle
6. Watching the Christmas Lights twinkle into life. 
On Tuesday 15th November, as night begins to fall, Cardiff city centre will slowly start to twinkle as the city's beautiful Christmas lights are switched on for the first time, signalling the start of Christmas in Cardiff.
7. Strolling through the elegant Victorian Arcades.
The Victorians knew how to do Christmas properly and Cardiff's Victorian Arcades are steeped in that tradition. Elegantly dressed for Christmas, there's a simple magic to wandering through the maze of arcades, stopping for a coffee, or a bite to eat, at one of the many independent cafes and restaurants you'll discover in between browsing the boutique shops.
Shopping in Cardiff • Visit Cardiff
8. Cosying up in a Festive Quarter cabin. 
In between buying gifts for your friends and family, why not treat yourself this Christmas? An atmospheric Bavarian-themed haven, the Festive Quarter is the perfect place to cosy up with a beer and a bratwurst to refuel before the next round of Christmas shopping.
Dates: 10 November to 24 December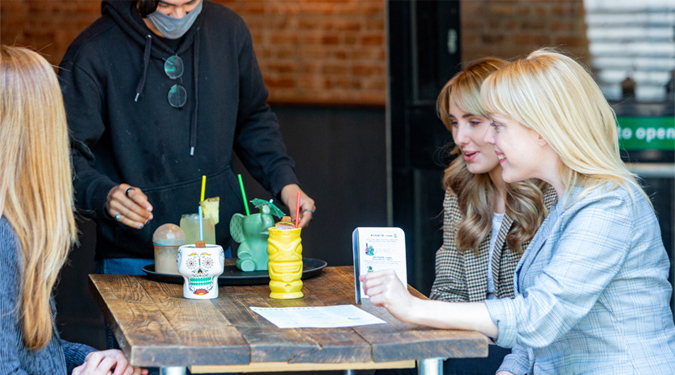 9. Enjoying a festive night out with your group
Christmas is all about friends and family, and what better way to celebrate it than with a good night out! Cardiff is a haven for foodies – why not try a Christmas feast with a Sri-Lankan Twist at The Coconut Tree? Go traditional with all the trimmings at the Pontcanna Inn, or try champions of local Welsh produce, Daffodil's range of quality dishes, maybe paired with a wine from their comprehensive list – it is Christmas, after all.
Places to Eat & Drink in Cardiff • Visit Cardiff
10. Experiencing a traditional Panto or marvelling at the magic of ballet.
"Oh yes it is" a Christmas tradition and Panto's don't come much more classic than Jac and the Beanstalk at the historic New Theatre. On the subject of classics, St David's Hall will host performances of Swan Lake, Sleeping Beauty, and the Nutcracker…but if you want to break with tradition, experience a whole new world at Cardiff's iconic Wales Millennium Centre where Disney's Aladdin, an unforgettable magic, comedy and breath-taking spectacle, is taking stage.
Ticketed events: New Theatre Jac and the Beanstalk 9 December to 7 January / St David's Hall ballets 21 December to 31 December / WMC's Aladdin 7 December to 14 January
What's On in Cardiff • Cardiff Events, Top Cardiff Entertainment & More • Visit Cardiff
11. Doubling the fun with an overnight stay.
There's too much on offer for just one day in Cardiff this Christmas, so why not make a night of it and enjoy an overnight stay in one the capital's hotels? Whether you choose a modern, stylish stay in the bustling city centre, the relaxed luxury of a spa hotel, or a night in the historic Cardiff Bay, you're sure to wake up ready for more festive fun!
Places to stay in Cardiff • Visit Cardiff
For more information on Christmas in Cardiff, visit: visitcardiff.com/christmas
For more information on experiencing Cardiff as a group, head to visitcardiff.com/groups for leisure visits, and meetcardiff.com/groups for corporate stays.