What are you looking for?
Festive Family Days Out
Cardiff, the capital city of Wales, provides the perfect destination for a festive, family day out. Spend quality time together by soaking up the Christmas celebrations.
Visit Cardiff have listed 10 spectacular activities to fill a family day out and occupy all ages and interests. Pick and choose your favourite attractions and events below. Too much to do in one day? Why not extend your stay by booking a City Centre hotel to ensure you don't miss out!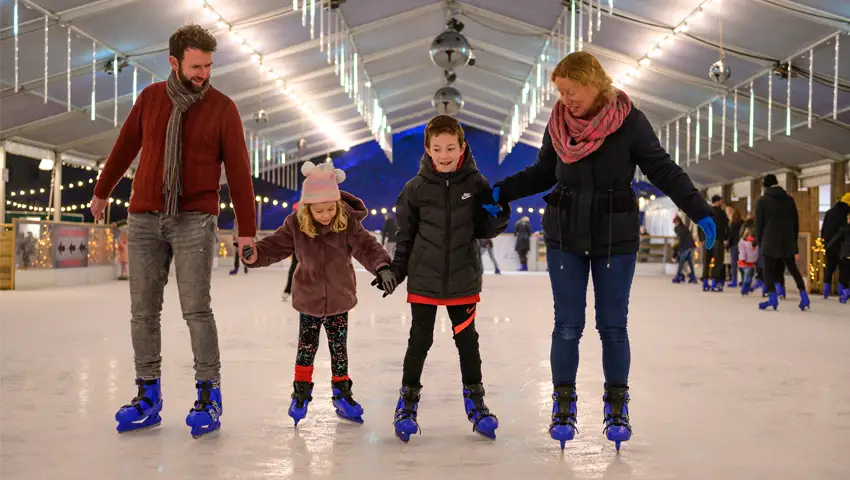 1. Cardiff's Winter Wonderland
Enjoy the famous undercover ice-rink and Ice Walk, the Big Wheel and family funfair, plus a whole host of other attractions. Check out the alpine ski-lodge bar, Sur la Piste, festive food and drink stalls, not to mention the seriously cool Ice Bar, Winter Wonderland really is at the heart of the Cardiff's seasonal celebrations.
Cardiff's Winter Wonderland – Castle Grounds • Events • Visit Cardiff
2. A breath-taking walk through a 'Light Canyon' awash with a thousand mesmerising stars. 
After its first two sell-out years, Christmas at Bute Park is back for 2023! Now the most successful light trail outside of London, Bute Park's festive lights have already become a firm favourite in Cardiff's Christmas calendar. This year, experience a new and expanded route with characteristically spectacular illuminations and, once you have finished, sit down to enjoy some truly delicious street food.
Ticketed event: 24 November to 1 January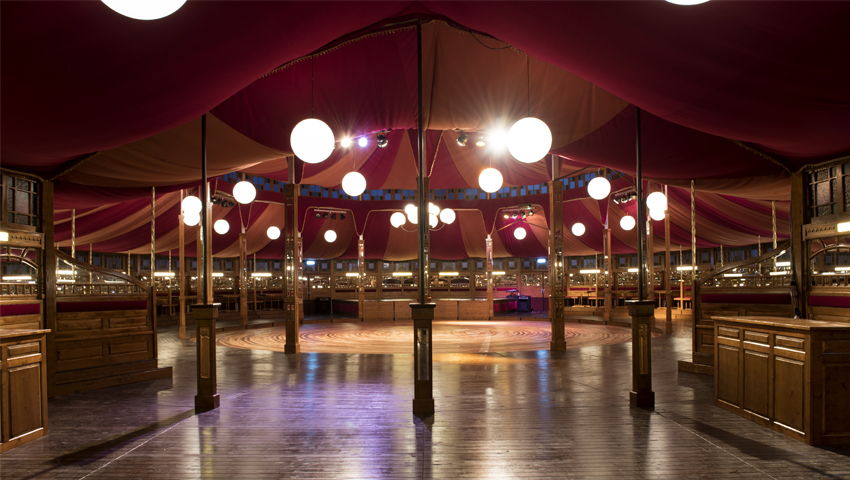 3. Santa's Wish at Cardiff Christmas Festival
This heart-warming family musical adventure, enriched with original songs, immersive storytelling and a sprinkling of circus magic is guaranteed to leave the whole family bursting with festive joy and happiness. Performed in the beautiful, ornate and intimate Fortuna Spiegeltent within the historical grounds of Cardiff Castle, this is the Christmas experience not to be missed and is suitable for all ages.
Christmas Festival – Castellana • What's On? • Events at Cardiff Castle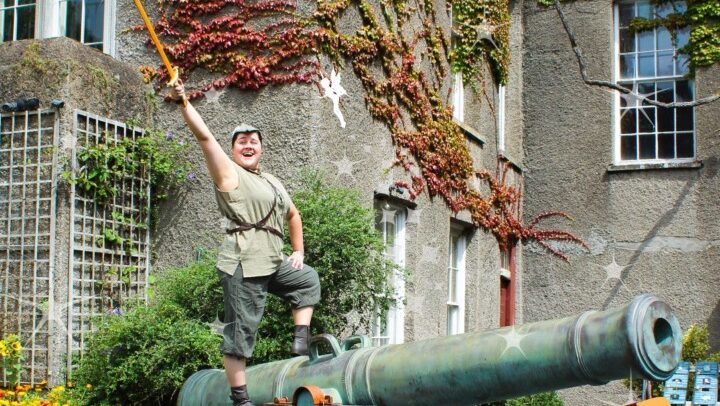 4. Experiencing a traditional Panto or marvelling at the magic of ballet.
"Oh yes it is" a Christmas tradition and Panto's don't come much more classic than Jac and the Beanstalk at the historic New Theatre. On the subject of classics, St David's Hall will host performances of Swan Lake, Sleeping Beauty, and the Nutcracker…but if you want to break with tradition, experience a whole new world at Cardiff's iconic Wales Millennium Centre where Disney's Aladdin, an unforgettable magic, comedy and breath-taking spectacle, is taking stage.
Ticketed events: New Theatre Jac and the Beanstalk 9 December to 7 January / St David's Hall ballets 21 December to 31 December / WMC's Aladdin 7 December to 14 January
What's On in Cardiff • Cardiff Events, Top Cardiff Entertainment & More • Visit Cardiff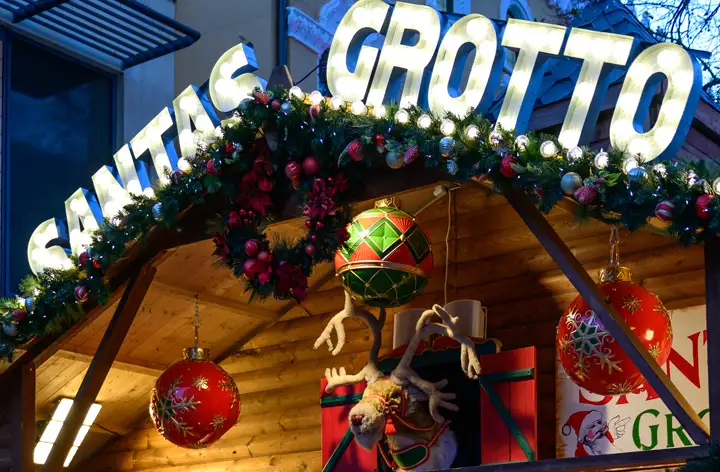 5. Visit the big man himself
The whole festive season is building up to the big day, when boys and girls wake up and hope that Father Christmas has left them lots of presents. For those who can't stand the wait until December 25, some good news, you can catch an early appointment with Santa Claus in Cardiff. Sometimes, he might even be appear to be in several locations at the same time but it's Christmas magic and we don't question it.
6. Head to Llandaff Cathedral Christmas Festival
Get into the mood for Christmas by visiting Llandaff Cathedral's 'Crib Festival' 22nd – 29th November where you can see on display a huge range of nativity scenes from countries around the world. The Cathedral also offers a variety of services to explore the meaning of Christmas, from quiet reflection to lively celebration.
7. CAROLS IN THE CHAPEL AT ST FAGANS NATIONAL MUSEUM OF HISTORY
There's nothing like a bit of carol singing to get you in the mood for the festive season. Join us in the Museum's 18th century Pen-rhiw Chapel for St Fagans' favourite sing-a-long. There'll be lots of traditional tunes and a few more contemporary Christmas classics.
Ticketed event: 2–3, 9–10 & 16–17 December.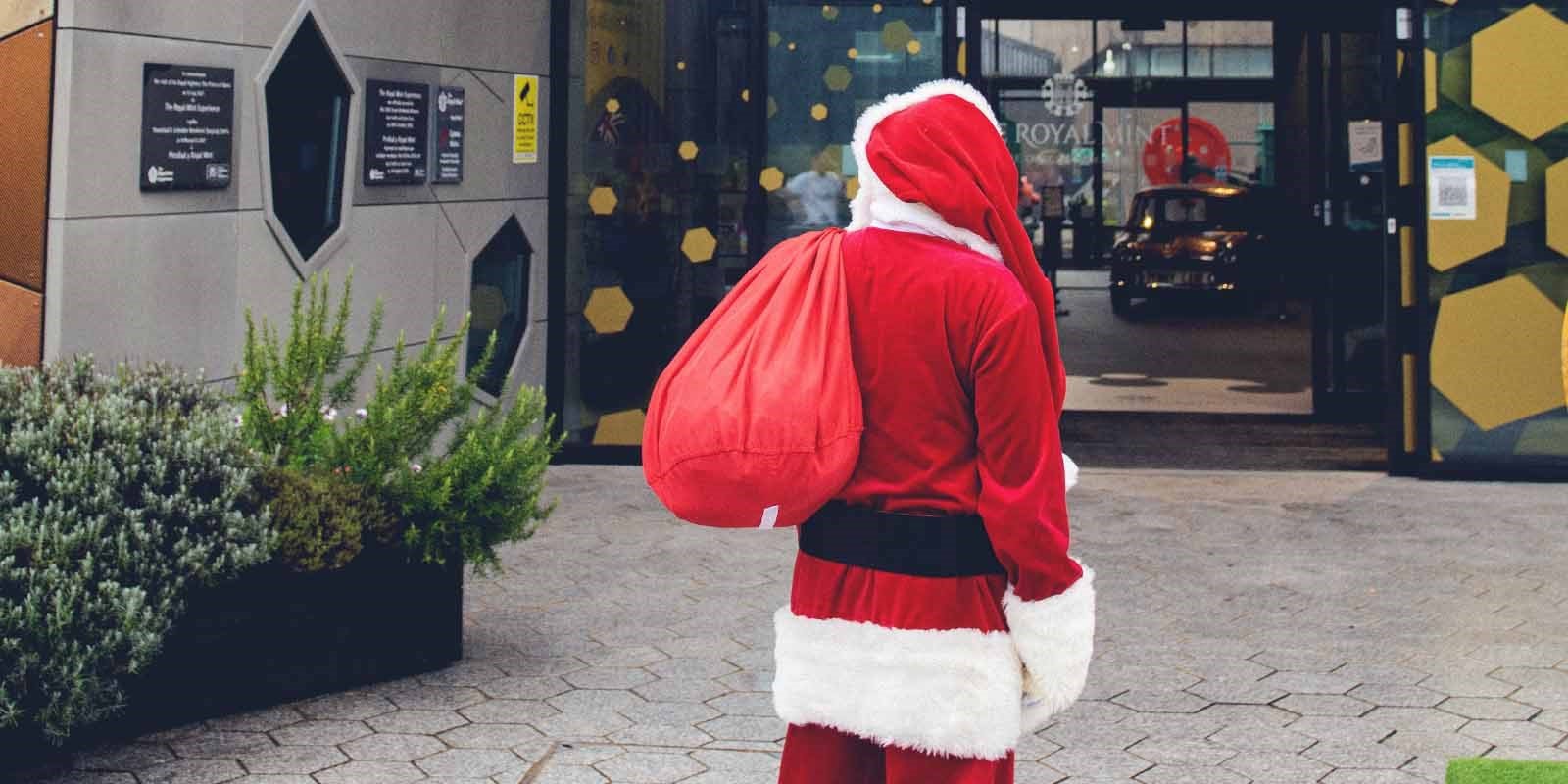 8. FESTIVE EXPERIENCE AT THE ROYAL MINT
This Christmas, visit The Royal Mint Experience dusted with a blanket of snow, for a magical, festive experience. Not many people know this, but we're going to let you in on a yuletide secret: Santa Claus has been using The Royal Mint as his British base for hundreds of years! You see, Santa and his elves are at their busiest at this time of year and the workshop at the North Pole is often overflowing with toys. This is where we come in; Santa puts his trust in our organisation, which has a proud 1,100 year history of unrivalled craftsmanship, to help.
Ticketed event: Saturday 25th November – Sunday 24th December.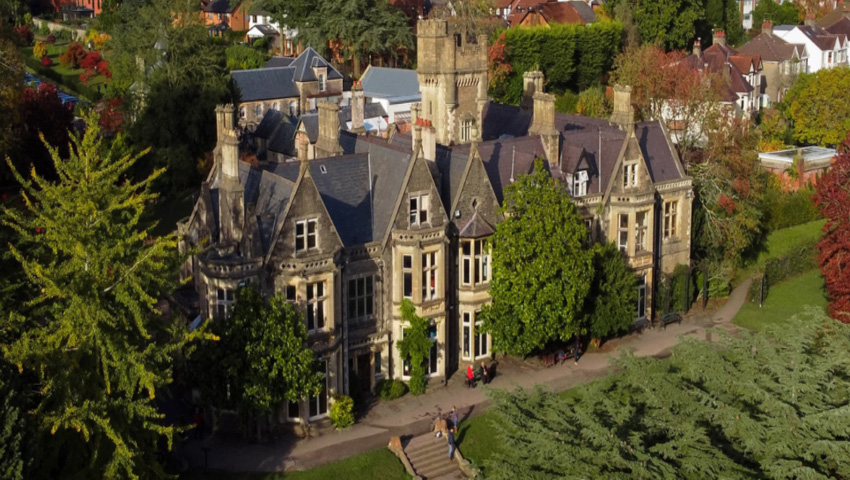 9. A Winter's Woodland Tale at Insole Court
We meet Rabbit and Robin and other forest creatures. In this Christmas production, Fairy Holly experiences her first winter in the forest. However, things don't go quite to plan when Snow flake, Queen of the Winter tries to stop her from helping Father Christmas. We meet Rabbit and Robin and other forest creatures. This is a festive show featuring comedy, dance, drama and singing. A charming and joyful production of an original play written for them by Lynda Dare.
Ticketed event: 26th November.
10. Double the fun with an overnight stay.
There's too much on offer for just one day in Cardiff this Christmas, so why not make a night of it and enjoy an overnight stay in one the capital's hotels? Whether you choose a modern, stylish stay in the bustling city centre, the relaxed luxury of a spa hotel, or a night in the historic Cardiff Bay, you're sure to wake up ready for more festive fun!
Places to stay in Cardiff • Visit Cardiff
For more information on Christmas in Cardiff, visit: visitcardiff.com/christmas