What are you looking for?
A TASTE OF CARDIFF - RECIPES FROM LOCAL CHEFS
We can't wait to enjoy the fantastic restaurants, cafes, and food tours in Cardiff again, but until then you can still cook restaurant quality food at home with a little bit of help from Visit Cardiff.
We've sourced 4 recipes to give you a taste of Cardiff at home. We've got a 'veggie kotthu' and a 'Fat Sister Pumpkin Curry' from one of Cardiff's most recent residents, The Coconut Tree. We also have a recipe for 'oatmeal biscuits' from one of the most knowledgeable people on Welsh food and local produce, Cardiff food tour operators, Loving Welsh Food. Clancy's Vegetarian Emporium, based in Cardiff Market have sent us a recipe for a mouthwatering vegan black bean chilli. The Brass Beetle, independent restaurant and bar known for their unique flavour combinations and wood-fired pizza have provided a recipe for sticky 'satay chicken wings'.
If you live in Cardiff, you can support your local independent producers and suppliers, by ordering your ingredients from stalls in Cardiff Market. See opening times and delivery options here.
So get creative, get cooking, and experience the sights, smells and taste of Cardiff's culinary charm from home.
The Coconut Tree's Veggie Kotthu
About The Coconut Tree
The Coconut Tree is bringing Sri Lankan street food to Mill Lane, Cardiff. Enjoy the warmth of Sri Lankan hospitality & cuisine, served 'as it comes'. Their dishes are rich in Ceylon spices with recipes going back generations from their very own parents' kitchens. It's a great place to bring a crowd or simply grab a table for two and spoil yourself with their botanical cocktails, beers & fine wines.
Ingredients 
Coconut Oil
Finely Sliced Red Onion
Pinch of Salt
Mixed Chilli Flakes
Ground Black Pepper
2 Free Range Eggs
150g Sliced Roti
25g Thinly Sliced Carrot
25g Thinly Sliced Leek
Recipe
Heat a wok until hot. Add the coconut oil and swirl the wok until it covers the base.
Add the onion, salt, chillies, black pepper, and eggs.
Toss and cook until the egg has slightly scrambled, then add the roti, carrot and leeks.
Toss the pan rapidly on high heat for several minutes, until the vegetables are cooked but still crisp.
Remove from the heat and serve immediately.
The Coconut Tree's Fat Sister Pumpkin Curry
A warming, vegan dish that's perfect for cold January nights; pumpkin cooked in coconut cream, with curry leaves and mustard seeds. Great served with rice or flatbread.
Makes 6 Servings
2 tbsp coconut oil
2 medium red onions, finely sliced
2 sprigs curry leaves
4 garlic cloves, finely sliced
3 long green chillies, sliced
½ tsp black mustard seeds, ground
½ tsp fenugreek seeds
1 kg pumpkin, cut into cubes, skin left on
1 tsp ground turmeric
500 ml coconut milk
2 tbsp short grain rice
100 g fresh coconut
Heat the oil in a large saucepan over a medium heat and add the onion, curry leaves, garlic and green chilli. Fry for 5 minutes, until the onions are golden brown, then add the mustard and fenugreek seeds and continue frying for another 5 minutes.
Toss the pumpkin in a bowl with the seeded mustard and ground spices and season with salt. Add to the pan along with the coconut milk and bring to the boil. Turn down to a simmer and cover.
Meanwhile, heat a small frying pan over a medium heat and dry fry the rice and coconut until brown and fragrant (about 10 minutes). Grind to a powder in a mortar or blender.
Add the ground rice and coconut powder to the curry.
Season the curry with salt and continue to simmer, stirring occasionally, until the pumpkin is cooked – soft but still holding its shape. Serve with rice or flatbread.
Loving Welsh Food's Oatmeal Biscuits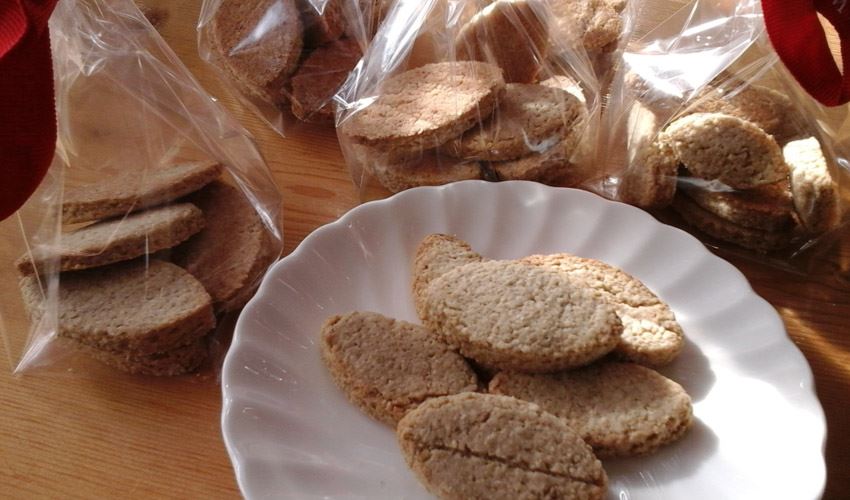 About Loving Welsh Food
Loving Welsh Food offers a Welsh Food Talk and Tastings session for groups where you talk about Welsh cuisine, food heritage, and traditional and contemporary recipes. The talk includes a variety of tastings which include these biscuits. Sian, who conducts the tours also talks about her work promoting Welsh food around the world.
Ingredients
225g fine oatmeal
50g plain flour
30g golden caster sugar
3 tbsps milk
75g unsalted butter
Half tsp baking powder
Quarter tsp cream of tartar
Half tsp salt
Recipe
Preheat oven to 190C/375F/gas mark 5
Put the oatmeal into a bowl. Add the flour, the golden caster sugar, the baking powder, the cream of tartar and the salt. Mix the ingredients together, add the butter and rub in until the mixture looks like breadcrumbs.  Add the milk and mix to bring everything together to form a dough.
Roll out the mixture until it's about 5 mm in thickness.  Cut into rounds and place onto a greased baking tray. 
Cook in a preheated oven, 190C/375F/gas mark 5 for 20 minutes. Transfer onto a tray for cooling.
Enjoy with jam, marmalade, honey – or any kind of cheese – welsh of course!
Clancy's Vegan Black Bean Chilli
About Clancy's
Clancy's Vegetarian Emporium, based in Cardiff Market is a wonderful family run business which sells all manner of spices & herbs, as well as delicious, freshly prepared, flavorful vegan and vegetarian meals and snacks. Right now, you can order ingredients to your door from Clancy's , Find out more here.
Ingredients
Spices from Mexican Chilli Pack
1 tin black beans
1 tin finely chopped tomatoes
1 onion
1 red pepper
100g mushrooms
Vegetable stock
Recipe
Chop and fry the onion s until soft. (We like to use sesame or nut oils but any you like will do).
Chop the pepper and add to the softened onions.  Fry for a few minutes.
Chop and add the mushrooms to the mix.
Add  the spices!
½ tsp chipotle powder.
A pinch of habanero flakes (this is the hottest of the chillies in the pack so add these to your own preferred heat level.)
½ tsp chopped mulato chilli. Save the rest.
½ tsp each of epazote, garlic and onion powders.
1 tsp each of smoked paprika, cacao powder, cumin seeds and Mexican oregano.
Crumble in a piece of achiote about the size of the tip of your little finger.
Add a tsp of vegetable stock and season with salt and pepper.
Fry for a few more minutes, stirring well to coat the vegetables.
Add the tomatoes and stir the mixture making sure the spices aren't stuck to the bottom of the pot.
Finally, add your beans and simmer for half an hour (more if you're not in a rush), stirring occasionally.
For extra depth of flavour add a tsp of yeast extract if desired.
The Brass Beetle's Satay Chicken Wings
(Meat & Vegan)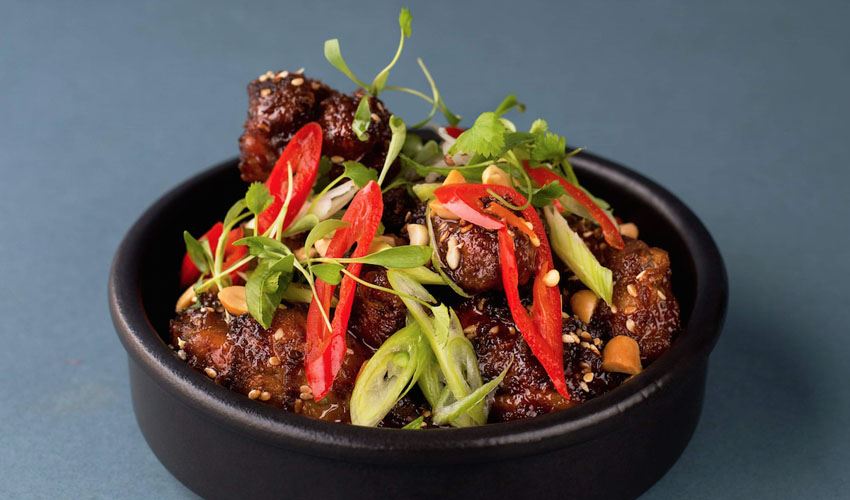 About The Brass Beetle
The Brass Beetle, situated on Whitchurch Road, is a vibrant, relaxing and welcoming bar and restaurant. The decor is stylish and cosmopolitan, and the open kitchen adds a sense of theater and fun. Their chefs are dedicated to using fresh, unique, and innovative flavour combinations & the same can be said for their delicious cocktails & drinks on the bar. All culinary ideas are created by their talented team which cater for all dietary requirements. We believe the beetle truly is a great place to catch up with friends & family and we certainly can't wait until we can visit again.
Ingredients
For the wings
1kg Chicken Wings or 1 Cauliflower
4 Tablespoons Dijon Mustard
1 Tablespoon Smoked Paprika
1 Tablespoon Garlic Power
1 Tablespoon Onion Power
1 Tablespoon Black Pepper
1 Tablespoon Salt
1 Tablespoon Ground Coriander
300g plain flour
For the sauce
1 Red Onion
1 Bunch Of Spring Onion
1 Bulb Of Garlic
1 Knob Of Ginger
3 Tablespoons Of Peanut Butter
3 Tablespoons Of Dark Soy Sauce
2 Tablespoons Of Brown Sugar
1 Chilli (totally dependent on how spicy you like it!)
300ml Water
1 Tablespoons Of Salt
2 Tablespoons Of Black Pepper
Recipe
The Wings
Have a sharp knife at the ready! You'll want to cut off the tip of the wing and discard, in the middle of the wing you'll feel the joint that holds the wing and drum together, with a clean cut separate them, repeat the process with all the wings and store in a bowl (remember to wash your hands)
For the Cauliflower, floret it (a fancy term for creating bit size pieces) and part boil for 10 minutes, you'll want them a little tender, not turned into mush! Drain them, let them cool
and store in a bowl.
The marinade process is the same for the chicken & the cauliflower, add in the dijon mustard (it acts as a good flavour binder) and all of the spices, if it feels a little dry, add in a splash of oil to loosen it, get your hands in & coat every nook and cranny, cling film and store in the fridge for an hour.
The Sauce
Grab a decent size saucepan and add a drizzle of oil, roughly chop the red onion, spring onion (they're going to be blitzed anyway) and on a low heat cooked until softened, we don't want to brown them, next add in the ginger (don't worry about peeling it), the garlic (peel that) & the chillies, cook for a further 5 minutes.
Next add in the peanut butter & cook until it starts to loosen, you'll see it start to coat everything, then add in the rest of the ingredients (water, soy sauce & sugar) bring it to a simmer and you'll slowly start to see it thicken, cook for 10 minutes and take off the head to let cool.
Next when the mixture is cooled, transfer it to a blender (or a hand one would do fine) and blitz until you get a lovely sauce consistency, add a little water if it feels too thick.
Fry & Assemble
Take your marinated chicken or cauliflower out of the fridge (with the chicken you'll want to let it come up to room temperature) add in the flour & mix everything together. If you want more of a flavour punch, add in a little of the spices we put in before. Put everything onto a tray and spread everything out, add more flour if some spots feel a bit sticky, and let them dry for about 10 minutes.
You can either deep fry or shallow fry the wings. You'll want to cook them at a temperature of 180 degrees. If you don't have a thermometer sprinkle some flour into the pan, if it sizzles then its up to a decent temperature. Add the chicken or cauliflower into the oil, make sure to do it in batches, as doing too many at once will drop the temperate and you won't get the crisp coating that we want. Cook the chicken wings for 12 minutes until the internal temperature reaches over 75 degrees. For the Cauliflower, because we already part boiled it, fry until nice & crispy.
Place onto some kitchen roll to let the excess oil to drain off, and chuck into a clean bowl, add in your satay sauce, the amount of sauce is totally up to you & toss toss toss, enjoy your beautifully crispy tangy wings. Optionally add some sesame seeds, fresh chillies or spring onion for a lovely garnish.