What are you looking for?
Your Cardiff Rugby Weekender, Our Action-Packed Itinerary
Coming to the city to catch a Cardiff Rugby game? Let us turn that into a perfect action-packed city weekender. Here's a selection of the many adventures you can encounter in our capital.
Here's a key: 👪 Fun for Families | 🍻 Great with Mates
Friday
Your Home for the Weekend 👪/🍻
Welcome to Cardiff. Croeso i Gaerdydd. There's plenty of places to stay in the city centre, with the closest to the Arms Park being The Angel Hotel opposite or Holiday Inn Cardiff City Centre. If you're looking for an ultra-modern stay in the heart of the city centre, then the Clayton and Marriott hotels have both undergone recent refurbishments – both a 10 minute walk to Cardiff Arms Park.

Find Out All About the City at The Museum of Cardiff 👪
Housed in Cardiff's Grade II listed old library, at the Museum of Cardiff, visitors can explore the story of the city and its heritage, focussed on the most important element of any area, its people. A great way to start your visit, find out all about the city past and everything that has led to the city you see today. Free to enter. Open 10am to 4pm.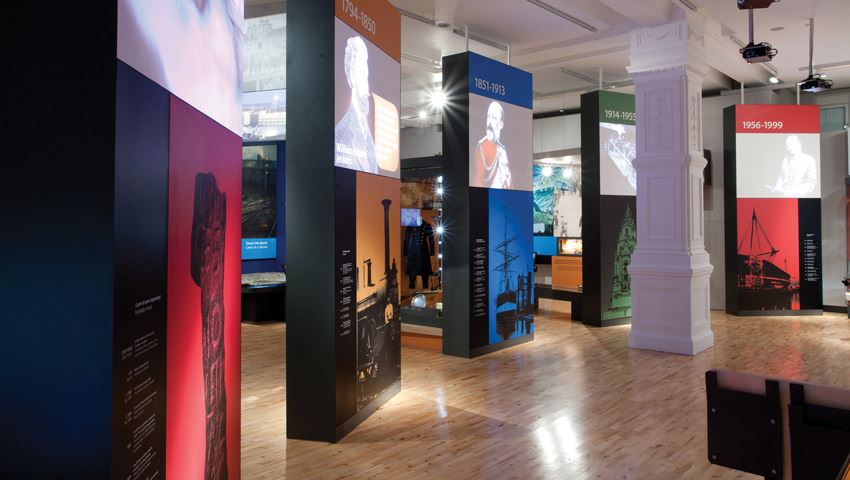 Time to Get Competitive 👪
Discover the wonderland that is Treetop Adventure Golf, hidden above St David's Dewi Sant. Pick between the Tropical Trail and the Ancient Explorer – with Pizza Cabana and other jungle snacks and refreshments to power you through your adventure. If you've still got a score to settle, head to Superbowl for a session of bowling, laser quest and arcade games.
Feeling Rebellious? Head to Tiny Rebel 🍻
A must visit for craft beer aficionados, South Welsh microbrewery Tiny Rebel have earned themselves up as a solid name and reputation amongst giants. Check out their red-brick bar, fuel up with American-style menu items, and a refreshing drink or two. Housed on Womanby Street, right opposite the Arms Park, Tiny Rebel is the home of the independent live music scene in Cardiff and certainly proud to play its part – hosting bands and artists in their upstairs bar.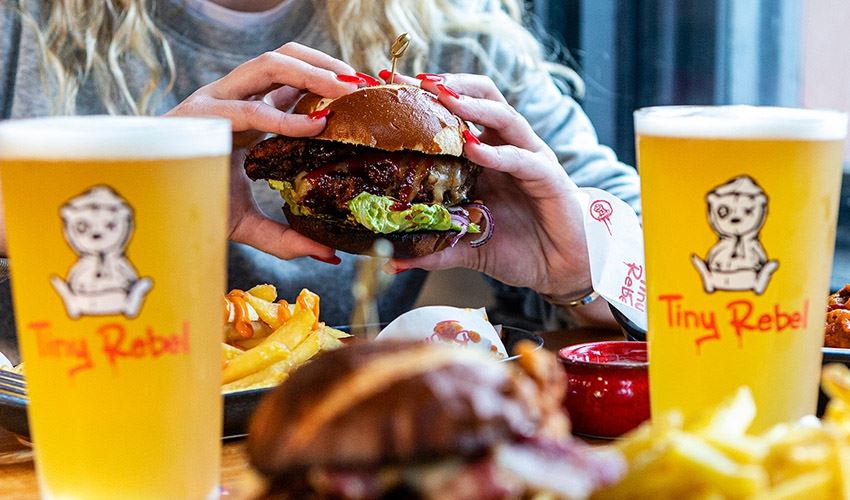 Let The Games Begin 🍻
Feeling competitive? Head to the bar owned by a legend from the footie world! Gareth Bale's Par 59 is home to a unique and sophisticated approach to adventure golf. Or, if you have a bigger group, book a session of interactive darts at Flight Club. Otherwise Boom Battle Bar, from classic shuffleboard to axe throwing, is the perfect chance to try something new.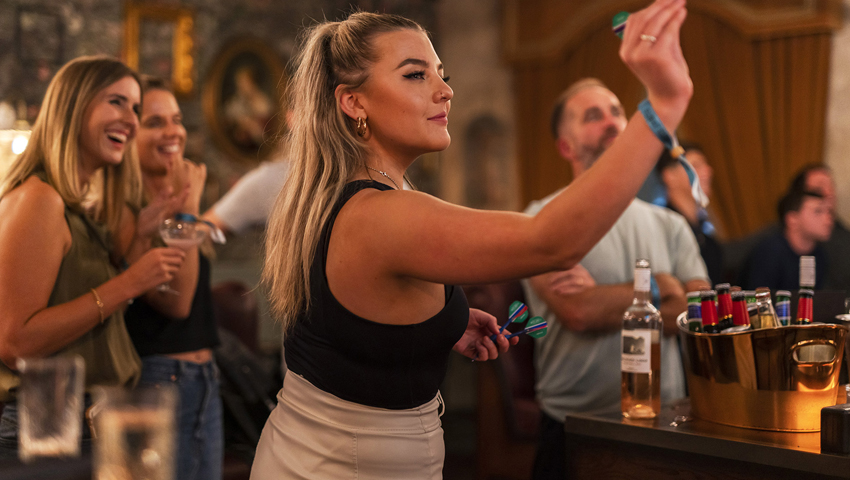 Saturday
Discover 2000 Years of History at Cardiff Castle 👪/🍻
While exploring the city, you may have stumbled across Cardiff Castle, the monument that anchors our city centre, historically a Roman fort, then a Norman stronghold that became a Victorian Gothic fantasy palace. Find out about all the about the many lives and iterations of the castle, upgrading to a guided tour to get the full experience.
Parklife 👪/🍻
Now you've discovered Cardiff Castle, the old quarters of the Bute family, why not visit the rest of the land they used to occupy in the city. Visit Bute Park and check out the Animal Wall, Stuttgart Garden, Dock feeder canal and nature activity trail. Get the Love Exploring App to be navigated around the park's best features.
Behind the Scenes at the Principality Stadium 👪/ 🍻
You've already checked out Cardiff Castle, one of the major landmarks in the city centre, but now it's time to check out another. Back to the sport theme, it's time to tour one of Europe's most well-known stadiums, and one of the only ones to feature a retractable roof. Find out about the history of rugby in Wales and the Welsh Rugby Union on a pre-booked 75-minute Principality Stadium Tour.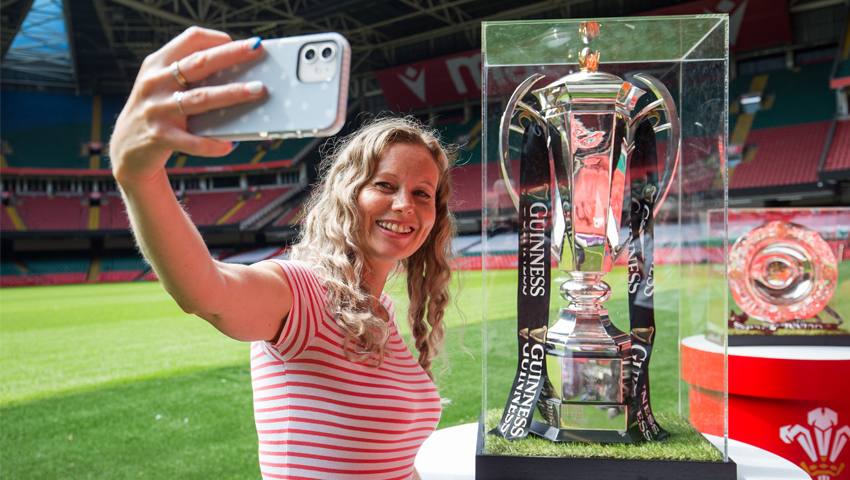 Fuel Up on Church Street or Mill Lane 👪/🍻
Get prepared for the big game, by making a stop at one of the city's many eateries. Venture down Church Street to find a selection of places to please the palette no matter what you're in the mood for. We'd suggest a visit to The Botanist, Franco Manca or Pho. If you're fancying a cocktail or two, with your meal, then a take a stroll down Mill Lane and make a stop at one of the many bars serving food there, such as Las Iguanas, The Coconut Tree or Pitch. Weekends are very busy, so don't forget to book your table in advance.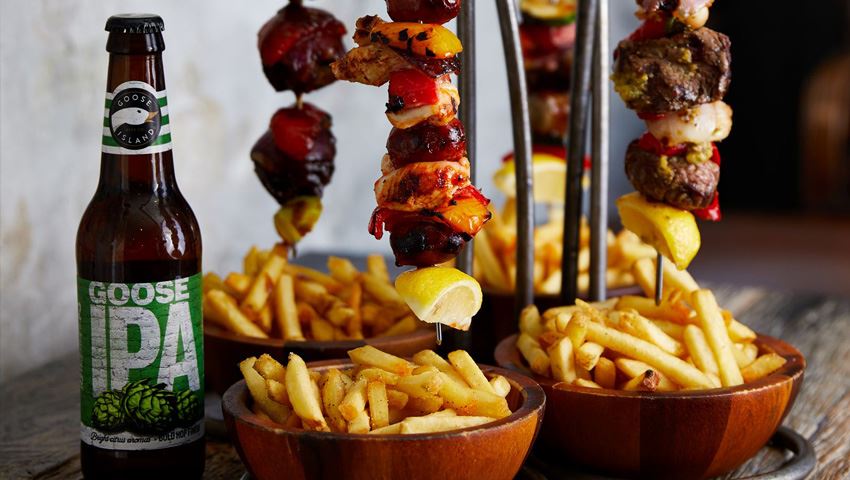 Match Time! 👪/🍻
Now's the moment you've been waiting for. You'll find the famous Cardiff Arms Park, on Westgate Street, with the game atmosphere perfectly intertwined with the buzz of the night-time economy in our city centre.
Gates open 1.5 hours before kick-off with bars, authentic street food and live entertainment. The likes of Cor y Gleision, Ragsy and Base 12 all regularly perform at Cardiff matches so make sure you take full advantage of the atmosphere!
At half-time there is often further live entertainment both on the pitch and in front of the clubhouse.
Win or lose, don't rush off at full-time as the Blue and Blacks welcome their supporters onto the hallowed turf as soon as they've thanked the opposition and created a tunnel. So get on the pitch and have a selfie with some of the biggest names in world rugby.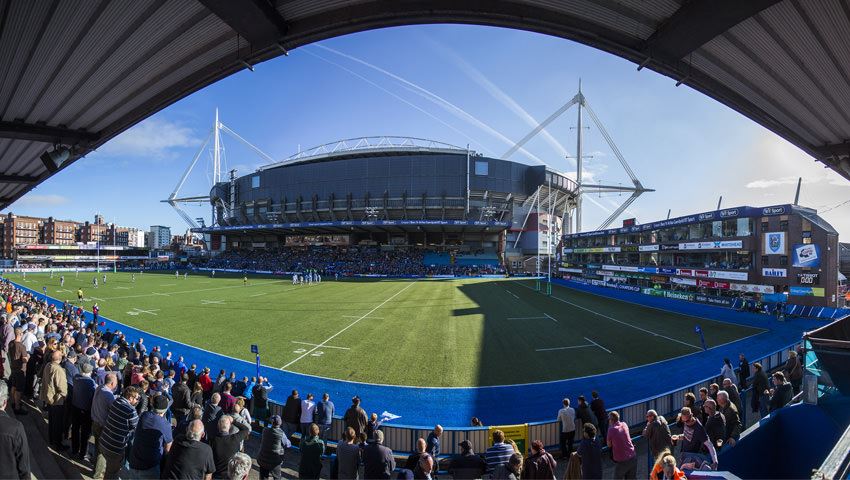 The Iconic Chippy Lane 🍻
Soak up the alcohol with a pit stop on Caroline Street, infamously known as Chippy Lane, a carb central post-party hotspot enjoyed by many after a night out – but like in sports, you can't sit on the fence, it's time to pick a side and for you to weigh in the longstanding Dorothy's vs Tony's debate. Let us know the score on social using #VisitCardiff.
Sunday
Retail Therapy 👪/🍻
From our seven historic Victorian and Edwardian shopping arcades, housing independent shops; to our flagship shopping centre, St David's Dewi Sant, home to over 200 stores with well-known designer brands, sitting in harmony alongside quirkier retailers. Don't forget to pick up some souvenirs if you haven't already from one of the Welsh craft stores to take home with you.
The Ultimate Sunday Roast 👪/🍻
A short walk from the city centre and you'll find yourself in the leafy neighbourhood of Pontcanna, home of a thriving food scene and one of our favourite places in the neighbourhood for Sunday roast is The Pontcanna Inn. Perfect on the off chance you've had one too many the night before. No, we couldn't imagine that happening either. If you don't fancy a little trek, stay in the centre and check out the newly opened Welsh House, focussed on using sustainable Welsh produce and with the backing of 4 Welsh rugby icons, it's certainly worth a visit.
Explore One Final Attraction Before You Go 👪/🍻
If you're travelling by train, take the chance to discover the history of broadcasting and a look behind the scenes at on pre-booked BBC Cymru Wales Tours. You can travel here with ease, using Transport for Wales Rail's hourly services between Cardiff and Greater Manchester.
Travelling by car? Make a stop at St Fagans National Museum of History – a museum like no other. This open-air attraction, voted Art Fund's Museum of the Year 2019, storytells the history of Wales, its people and our industrial revolution, through a mini village of restored historic buildings.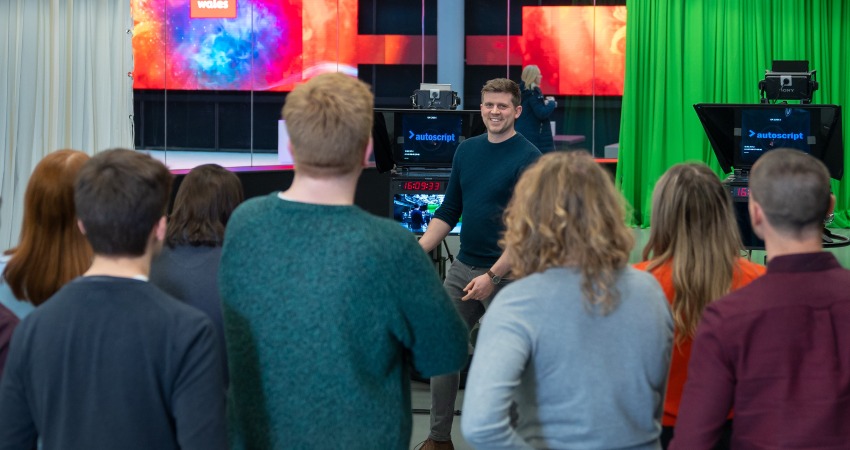 This is just a taster of the things you can do in Cardiff, so we'd love to know all about your rugby reccies. Let us see how you get on exploring the capital, by taking us on the journey via social. @VisitCardiff #VisitCardiff. 🏉